Since most of your rookie drafts will be launching in the days right after the draft, we have three weeks to prepare. We need to assess potential landing spots and fits for these running backs. This type of preparation will have you equipped when the time comes. Sometimes, there is a small window between the announcement of draft picks and the change in rookie draft spot value. If we can assess the possibilities ahead of time, we can make moves early and avoid the mad dash to maneuver for draft position later.
First, we will examine a few types of landing spots. This off-season, the available fantasy opportunity is pretty thin, and it became thinner after free agency. There are still opportunities for us to get depth with mid to late season upside. There could be situations that indicate a hidden gem if we are looking. We want the landing spots for the top prospects to be those with workhorse opportunities. Then we have those complementary roles where the drafted RB could be an injury away from a massive opportunity. Lastly, we have vacancies for niche roles (e.g., pass-catching backs, short-yardage backs). While we prioritize those players a little lower, they could be exposed to high-value touches.
Landing Spots
Workhorse Wanted
Atlanta Falcons
The Falcons had one of the lowest rushing volumes in the NFL in 2021 (29th), so this may not seem like an intriguing landing spot. However, we must consider that Marcus Mariota was brought as the near-term signal-caller. His playstyle is normally considered a benefit to running backs in their backfield. While Cordarelle Patterson had been brought back, he ranked 63rd in Running Back Vision Advanced Success Rate in 2021 (min. 50 attempts). Atlanta's scheme features Outside Zone and Gap schemes, in which Patterson was ranked 28th and 34th, respectively (min ten attempts per scheme). It's not far-fetched that Atlanta could be seeking some help here, but they have many other needs.
Buffalo Bills
Devin Singletary had quite a run to close out 2021, but it took a while for his opportunity to come around. After week 14, if you follow me and checked out the podcast below, you would have heard me screaming about Buffalo leaning on Josh Allen too much. They must have heard me because from week 15 to the end of the regular season, Singletary averaged 21.5 touches per game. This is a massive increase compared to the 12.5 touches per game he got up through week 14. Through the playoffs, he continued the high volume, averaging 17 touches per game.
The thing is, Buffalo knows and we know that Singletary has a ceiling as a role player. They will need a running back that can indeed carry the load with upside. Their primary scheme is a heavy Zone concept favoring Outside Zone with few Power/Counter wrinkles. Fortunately, most college schemes are heavy Zone so they should have their pick of the litter.
Runner's Compliment
Arizona Cardinals
Arizona has parted ways with Chase Edmonds and retained James Conner. Based on my RBV Signing Analysis of Chase Edmonds, the Cardinals lost a dynamic runner. Conner's tough running nature and goal-line prowess must have appealed to Arizona. They must also realize the explosive dynamic that will now be missing. I would expect them to fill that void with a more dynamic running back. As a heavy Zone team that favors Inside Zone slightly, we may look for a versatile complement for Conner.
Denver Broncos
We do not yet know what the Broncos will do with Melvin Gordon, who is a free agent at the time of this writing. If he ends up going elsewhere (reportedly talking to the Ravens), there could be a massive opportunity for a complimentary role in Denver. Javonte Williams looks to be in a prime position for a true workhorse role. This shouldn't preclude them from augmenting with a pass-catching specialist who can effectively spell him.
Los Angeles Chargers
We could see the Chargers look to compliment Austin Ekeler with a between-the-tackles banger in quite the opposite fashion. As a heavy Outside Zone team that utilizes Inside Zone and Gap as wrinkles, it is easy to see how a bigger-bodied inside runner could potentially help them. Austin Ekeler was the top Outside Zone runner per RBV, but his Inside Zone performance was 34th. Joshua Kelley, Justin Jackson, and Larry Rountree III were all worse for Inside Zone. Getting an excellent inside runner in the draft should not be a surprise.
New Orleans Saints
Alvin Kamara is under contract through 2026 per overthecap.com. He has typically had a complimentary back throughout his career that helps carry the load. Being spelled in this way allows him to stay healthy and explosive throughout the game, and we can bet this is a priority for the Saints. While Mark Ingram is still there, he could be cut for no dead cap hit before June 1st. It may make sense to keep him, but moving on could also make sense. It is possible that we could see the Saints acquire a back that plays in the same role as Ingram and Latavius Murray have in the past. As you know, this role has typically been productive for fantasy. We would want to see a successful Gap and Outside Zone runner land here for some hopeful upside.
New York Jets
Michael Carter was drafted to be the lead back to be featured in the heavy Outside Zone scheme that seems to be a staple of offenses derived from the Shanahan tree. He was pretty successful there, but I can't help but think they want a physical complement to Carter. Despite being trusted the most inside the 5-yard line, his TD conversion percentage was 37.5 (3/8 attempts). Five of the other 8 scores from within the five came from Braxton Berrios and Zach Wilson. It wouldn't shock me to see them get a 'hammer' to compliment Carter's 'lightning'.
Niche Roles
Miami Dolphins
The Dolphins have been loading up! They acquired Tyreek Hill, but they acquired Chase Edmonds and Raheem Mostert before that. Obviously, Mike McDaniel is trying to bring yet another clone of Shanahan's offense into the league. A glaring gap in their capabilities is short-yardage and goal-line situations. It is conceivable that the coaching staff won't prioritize this role, but if they get a guy that can push the pile or function in those tight spaces, these could be valuable snaps for fantasy. Again, this is a marginal advantage, but we cannot outright downgrade any prospect that lands here by default.
This run game could feature a "Deebo" element with either Jaylen Waddle or Tyreek Hill. This could impact any fantasy running back here, but in an Outside Zone scheme with Power as the wrinkle, there will be plenty of fantasy points to go around. Consider this: Miami's run game was third-worst in ASR, but the best scheme they executed with that offensive line was Power. Now that they have bolstered the left side of that line with Terron Armstead and Conner Williams, it could lead to some serious upside. Power can demand some tough running and power, so there is a slim opportunity here for a role player.
New York Giants
"But they have Saquon!" is something you may be thinking to yourself, but Barkley is on the last year of his contract. Additionally, he simply has not been the same since his ACL injury. In watching some of his recent tape, he doesn't trust his ability as much as he did. While pre-injury, he appeared to be overconfident in making plays happen out of the play structure. It seems that has wholly flipped now. His Outside Zone success rate is lower than his Inside Zone, probably because of this change. Devonte Booker was better in Outside Zone than Barkley to further cement that.
We must consider the potential 'niche' role of 'successor here. A few weeks ago, on the DynastyNerds podcast, there was some discussion about identifying landing spots where the primary runner is on the last year of their deal. This is especially true when there are 'studs' in those spots, like Saquon Barkley. This is a 'niche' role because the drafted rookie would play the role of 'strict backup.' As was stated on the podcast, we need to think forward in these situations. The Giants' situation is the most obvious example. Other teams in this situation include Philadelphia, Houston, Seattle, Las Vegas, Kansas City (to an extent), Buffalo, and Chicago (though they have Khalil Herbert in place).
Fits and Prospects
Workhorse
Breece Hall
An obvious fit in Buffalo from a body type and capability perspective, Breece Hall would be the dream landing spot. He is arguably in a tier of his own according to a lot of folks in the community. He has the physical profile of what Buffalo needs, and they simply do not have that type of runner on the roster. Despite his strengths for Inside Zone, he shows some of the necessities to succeed in Outside Zone. If he can learn to maximize the space in observed gaps, he could do some real damage here. Hall also would need to play to his size and abuse his size advantage in 1-on-1 situations. It seems reasonable that this could be coached at the next level.
Dameon Pierce
For Buffalo to acquire Hall, it would require them to spend an early pick because other teams are looking for a well-rounded runner to fall to them. Dameon Pierce could be a day three selection for Buffalo or even Atlanta. He doesn't fit perfectly into Atlanta's scheme, but their Outside Zone lean is right up his alley. As a more disciplined runner, he could be a better foundational runner than Patterson is. Similarly, he would fit Buffalo's preference for Outside Zone as well. Pierce could provide that between-the-tackles tenacity that Buffalo lacks in their current backfield. The relatively low treas should be attractive to franchises this draft season.
Kenneth Walker III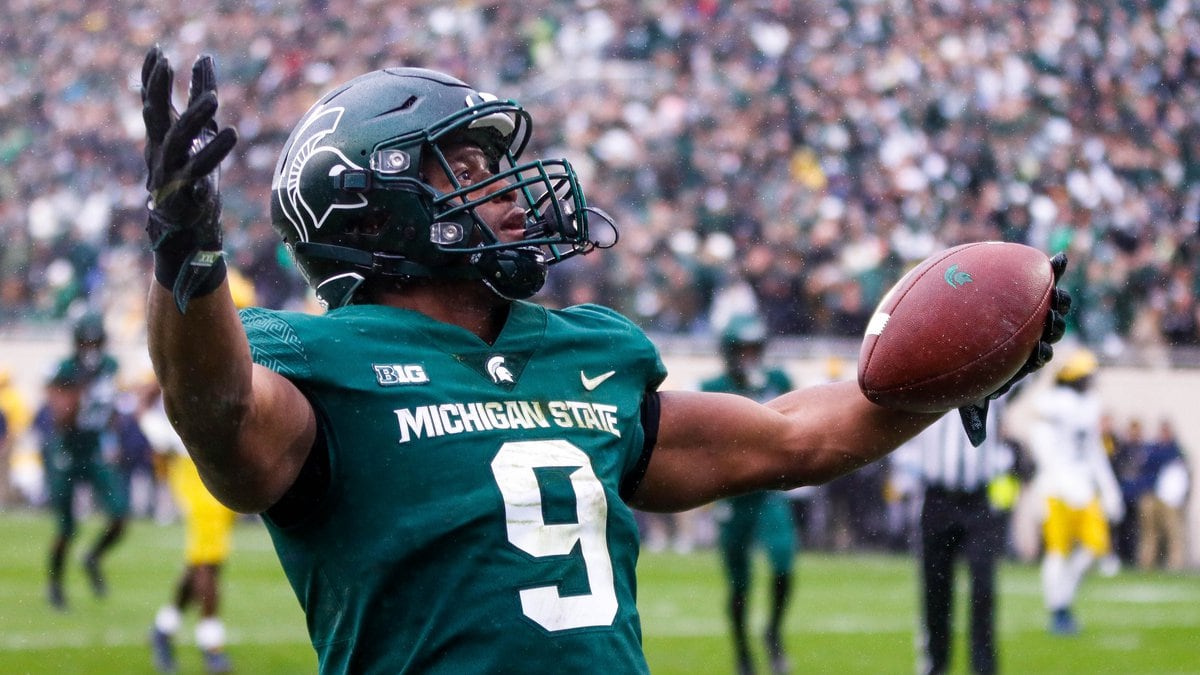 Walker performed well in the workhorse role at Michigan State. He was able to manifest his explosiveness to dissuade rotational absences from the field. While he has limited exposure in the passing game, he has shown he can catch the ball reliably. The "question mark" is his blocking ability. If Walker was going to land somewhere for an immediate workhorse role, he fits better in Buffalo than in Atlanta. This is primarily due to his success in Zone compared to Gap schemes. He could get better with exposure, but it is as challenging to trust in that development as it is his pass protection.
I believe Walker will be better in a complementary role in Arizona. I mention this because he could quickly become a workhorse given Conner's injury history. Starting out behind Conner would be sub-optimal for fantasy, but it would benefit him long term. His pass-catching ability should become evident early on and then his apparent explosive ability in space will shine.
Complimentary
James Cook
Like Dameon Pierce, James Cook had high-level success in all schemes per RBVision on similarly limited touches. This would typically mean he would be a fit anywhere, but the challenge is his build. As a lighter running back, it is unlikely he will be perceived as a primary runner. There are still plenty of opportunities for Cook. The aforementioned Arizona Cardinals would be an excellent location. Cook has shown to be a perfect between-the-tackles runner that can win by being slippery and reducing his tackling surface. This will work well in the Cardinals' heavy Inside Zone scheme. He will be most effective in the passing game, which compliments a deficiency in Conner's game. Conner can catch well enough, but he does not have Cook's explosive upsides.
Another prime fit for Cook as a dominant Zone runner in Denver. In the same way he would with the Cardinals, he could bring that downfield passing element out of the backfield. The added bonus is that he has the Zone running skills to spell Williams in the backfield successfully. This could be a more effective pairing than Michael Carter was to Williams at UNC. With Russel Wilson as the passer there, Cook landing there would spawn dreams of moon balls on wheel routes! Very exciting possibilities here.
Tyler Badie
Similar to Cook, Badie could fit as an explosive space player. While he was middle of the road on the ground with some struggles in Inside Zone, he is dynamic in the passing game. Badie is an excellent fit in Outside Zone. He would be a superb spell option for Williams. The Added bonus is he can contribute in pass protection. Denver can better hide their third-down intentions with versatile backfield personnel.
Zamir White
A different type of compliment would be the 'thunder' to the 'lightning.' Georgia running back Zamir White was constantly referred to as a 'hammer,' but that's not all he is. White can run hard between the tackles, but he also has the speed to the edge and desirable subtle agility. He was able to generate a positive outcome in 46.7% of blown block situations. He shows he can create extra yards by running through or around defenders.
The biggest challenges to White's potential as an NFL prospect are his injury history and the lack of evidence supporting his receiving ability. With only 17 receptions during his entire time in Georgia, it's tough to see him as anything other than a two-down back. The upside of this is there are a few locations where I believe he fits.
As a proven Zone runner with indications White can produce in man blocking schemes, he profiles well for the New York Jets and the Los Angeles Chargers. Both locations currently have an RB they trust in space on the ground and through the air. White would be a perfect complement to Carter or Ekeler. Neither of these teams has dependable RBs that can spell the main runner or offer a change of pace. For dynasty, this sucks for point-producing upside, but he would be an injury away from major production in either location.
Brian Robinson Jr.
In a similar way to White, Brian Robinson could fill this type of role for those teams. He simply runs with a violent attitude and extreme competitive toughness that comes out of Alabama. Per RBVision, Robinson was more productive in Inside Zone than White but produced similarly in Outside Zone running. He also had a more dependable sample size in Power schemes as well which showed good production there too.
The thing that I like about Robinson the most is it seems he knows his ability within the context of the situation. There are times when he will run against the obvious leverage of an engaged defender. Robinson can trust his burst to get beyond them or press the point of attack to cut it up back inside. These things elevate the mental processing aspect of his game, and this is an area we should talk about more with the position. Despite the lack of fantasy upside, he is likely in the same boat as White as far as interesting destinations.
Niche
We designated only one location as place for a 'niche' role for a short-yardage/goal-line back: Miami. White and Robinson could both fit here, but others could be exciting fits. These guys could fit into this niche short-yardage role in the meantime and grow within the scheme, behind players that either have an injury history or are developing one.
Hassan Haskins
He could be an underrated fit by scoring 72% or better in ASR for Zone and Power schemes. Haskins brings something to the table that I don't recall seeing from anyone in the Miami Dolphins backfield. He will be able to run with more power than Mostert or Edmonds. What he lacks in speed, he makes up in pad level and play strength. He's shown dependable skill in the passing game and pass protection as well, so why not add a player who offers something that isn't present in that backfield?
Rachaad White
Rachaad White is a true schematic fit to what we believe the Dolphins will be doing. As one that excels in the Power scheme while producing consistently in Zone, it seems White would be a match. He can produce in the receiving game as well. His total skill set seems to be a fit here as well as other team vacancies as well such as the Jets or even the Chargers. His playstyle is a little less dissimilar from the incumbents such that he could be mixed in a little easier.
A location we haven't really discussed is the Giants. The Giants ran the fourth most Power in 2021. White had the second-best Power grade among prospects with at least ten carries in the scheme at 89.6%. If the Giants are looking to figure out the future in their mix of Zone and Power, then White is somewhere they should look. Houston would also be a great match because Marlon Mack only got a one-year "prove-it" deal.
For either of these locations to work, White must improve the use of his build when engaging. His lack of trust in himself in situations where he has an obvious size advantage could be the Achilles' heel in his total upside. This would be a shame given all the other things he can do well.
Other Successor Fits
The 'successor' role is a challenging one to assess. What if the incumbent goes off in 2022? Where would that leave the poor soul that just happened to get drafted behind them? It is a risk, yes. But the upside of opportunity if the 2022 draft pick were to assume the role in 2023. Yes, there are a number of running back prospects coming out in 2023 to which this crop pales in comparison, but not every team is willing to spend top capital on the position. Therefore, they may spend low-end capital this year and roll the dice on a de-valued position. Here are some landing spots to consider in the 'successor' context:
Heavy Zone Teams (Eagles, Chiefs, Raiders, Seahawks) –

Abram Smith (Raiders and Seahawks)
Jerome Ford (Raiders and Seahawks)

Zone teams with a Power Wrinkle (Giants, Houston) –

Hassan Haskins
Rachaad White
Dameon Pierce
Zamir White
Brian Robinson Jr.
Conclusion
The draft is only a few weeks away. We will then truly know what teams are thinking regarding the position, their situation, and the available prospects. At that time, I will circle back to revisit the selections and provide a grade on the compatibility of each selection. This is always an exciting time of year, and it is one where GMs can seldom afford to make mistakes if competing.
Until next time, follow me @FFB_Vern to keep up with my insights, and follow @RBViz to get specific nuggets regarding Running Back Vision.
Rookie drafts are approaching fast. Be prepared with the #1 mock draft tool on the market. And it's FREE. Available for iPhone and Android. Become a DynastyGM subscriber and sync your leagues with the Dynasty Nerds App to mock draft your actual teams.