Dynasty fantasy football is a year-round affair. A sharp manager will be thinking about all aspects of the dynasty season at all times. Those managers who are keen enough to look ahead will be the ones that can grab themselves an edge over the competition. A large portion of the dynasty off-season will be spent discussing incoming rookies and the related topic, the NFL draft. It is easy for us to fall in love with the next workhorse running back or prototypical alpha wide receiver, but a manager that is in tune with the entire draft class as a whole will find themselves ahead of the game. Whether it is the next road-paving interior offensive lineman or genetic freak edge rusher, we can find ourselves at quite the advantage in April by building an entire picture of how the 2022 class will play out. Those that prepare ahead will not be often surprised at the outcomes. This one is about the run-happiest team, Baltimore Ravens.
The draft order used in this article reflects the order before NFL Week 12. Credit to the mock draft simulation goes to The Draft Network. Team needs are generated from Draft Network. Compensatory picks have not been assigned and will not be included in this exercise.
The Baltimore Ravens
The Baltimore Ravens have been a mixed bag this year. They are doing great at what they have historically struggled at while failing at the techniques they are known for. Example A is that Lamar and the passing game keep the team afloat. While Lamar has recently dealt with the interception bug, his arm is largely why the team has won their games. They lost their entire running back room to season-ending injuries and has old-man Devonta Freeman leading their backs. It's been great to see Rashod Bateman and Marquise Brown have great seasons so far. They will be key down the stretch and into the future seasons.
Meanwhile, the team's rushing is truly dependent on key blocks, red zone rushing, and Lamar Jackson. Of course, the blocking has been porous of late rather than the steadfast brick wall the Ravens are known for. That's due to the fact they have suffered so many injuries along that line. Ronnie Stanley suffered yet another season-ending injury. Ben Cleveland is on IR. Their RT is a revolving door of players since they dealt Orlando Brown Jr.
Meanwhile, on their defense, their corners are all injured. Marlon Humphrey was lost for the season in the game against the Steelers. Calais Campbell and Justin Houston are elder statesmen that will be free agents if they don't retire. Patrick Queen hasn't lived up to his hype. Brandon Williams is alone on the D-Line as the focal point of their attack. At least Odafe Oweh has overperformed his expectations. He's a great pass rusher, but one rusher does not make a defense.
As such, I'm saying this team needs a ton of depth. They need a right tackle, interior offensive line help, another edge rusher or two, cornerbacks to support Humprey and Marcus Peters when they come back, safety help if they don't plan on re-signing Deshon Elliot, and lots of linebackers. Thankfully, this draft is beyond deep at each of those positions. Couple that with the Ravens' minimum amount of at least ten picks, and the Ravens are sitting pretty. They could win this draft easily. Nailing this draft will set them up for many years.
1.27 – Nicholas Petit-Frere, OT, Ohio State
I don't think it's any type of a secret that the Ravens are desperate for offensive line help. Lamar has proven that the team can't rely solely on his arm to win. There must be an effective passing attack that keeps the tackle box full. That way, the Ravens' WRs are one on one with DBs. Petit is a legit tackle prospect who would be a steal here. The Ohio State OT weighs in at 315 pounds and stands 6'6. That's a massive man to try to move. Nicholas has a strong, wide base, enabling him to cover a lot of ground quickly. For a guy his size, you wouldn't expect him to be so fluid with his motions or as flexible. I'm not sure I'm that flexible. Petit knows how to use his leverage and explodes off the line. This allows him to be a rushing line specialist.
The best part about Nicholas is that he's solid in all his tools. Yes, he can improve and will improve, but he's not raw. He's technique-solid and someone that can start at the right tackle on Day 1. This is the only move for the Ravens. If they wish to contend in the AFC, they need an offensive line. An A+ grade for this draft would be them drafting Nicholas or another OT.
2.61 – Jaxson Kirkland, OG, Washington
This is how badly the team needs offensive line help. I have them going to that position back to back. Of course, that doesn't mean this is a reach. Instead, if Kirkland's still here at this pick, it's a smash. He would be an absolute stud, even if he went to Washington. While he played mainly at tackle for the Huskies, he's better suited to guard. Regardless, he reminds me of Marshall Yanda. A guard who can dominate in the run game with explosion, fluidity, technique, and power. There's not any real weakness in his game either. He's just solid all around. Kirkland would be an excellent get in the second round to protect/help Lamar.
3.93 – Tre'Vius Hodges-Tomlinson, CB, TCU
Well, as of this writing, the Ravens have lost their top-2 corners to season-ending injuries. Marcus Peters tore his ACL before the season, and Marlon Humphrey just tore his pec. Plus, the Ravens' corners have been beaten far too often. Marlon can't do it all on his own. Therefore, it's wise to add some top rookie talent to the corners. Especially this year in what is one of the deepest cornerback drafts in recent history. While this isn't Noah Daniels, getting the #2 corner in TCU isn't a bad get. The Ladanian Tomlinson nephew has blossomed into a great cornerback. While he's a bit small at 5'9, 177 pounds, he still gets the job done.
He moves like water with loose hips, which allow him to change direction at any second. Meanwhile, his footwork and hands are typically in a good position. His feet follow his eyes. Hodges can play in either zone or man, which only raises his value to the Ravens. He can make tackles and stop receivers in their tracks despite his size. He plays above his size. This would be a valuable pick to the Ravens.
3.101 – Phidarian Mathis, IDL, Alabama
With nose tackle Brandon Williams yet another veteran player scheduled to be a free agent, the team could go much younger in replacing him. That's why I went with Mathis. The senior from Alabama had a great season. He's a solid run defender who profiles as a 2-technique in the NFL. That's important when you have to stop Nick Chubb, Kareem Hunt, Joe Mixon, and Najee Harris six times a year. While I don't put much stock in sacks, it's always nice to see that a nose tackle was second on Alabama with 5.5 sacks this year. He has the speed and quickness to become a 3-technique, and getting that kind of value at this pick is impressive. The Ravens would be silly not to take Mathis.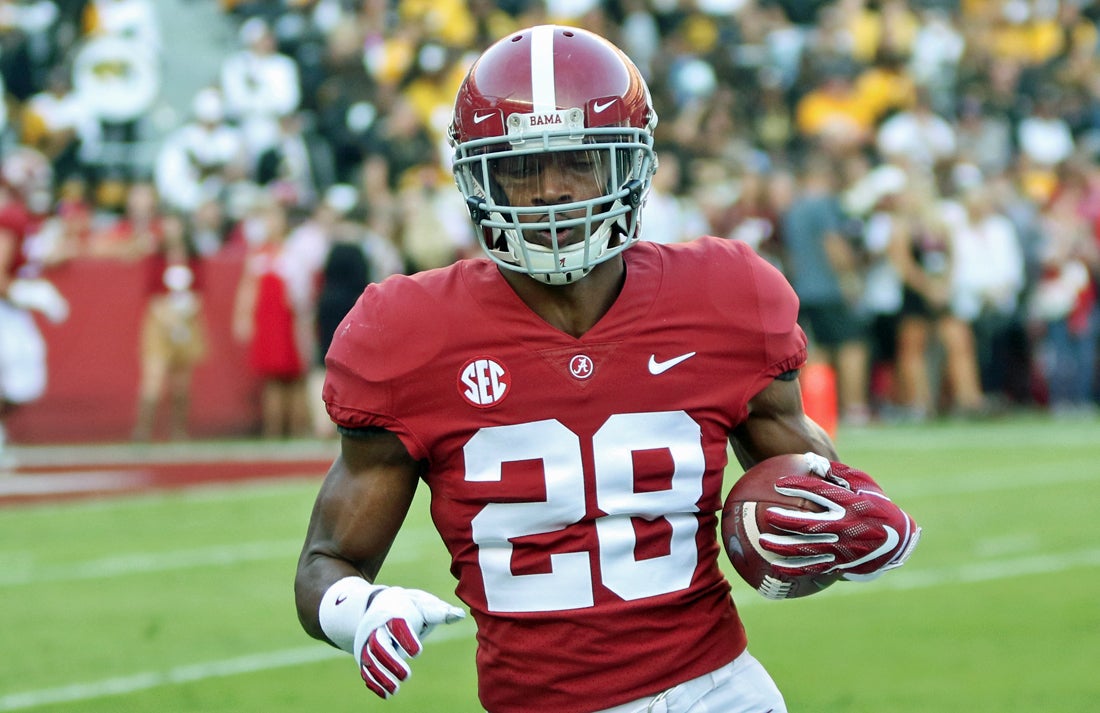 4.114 – Josh Jobe, CB, Alabama
Josh is the CB1 from Alabama. The recent news that Josh Jobe underwent season-ending foot surgery might negatively affect his draft stock and allow the Ravens to get a massive steal. Josh has started 24 games the last two seasons in which he had 31 tackles, one tackle for loss, six passes defended, and two interceptions. He has excellent size at 6'1″ and 192 pounds. He's able to mirror the WRs and catch up to any speed differences using his long strides. He would fit right in with the Ravens with his attitude. He has a tenacious spirit filled with competitiveness and energy. This is a pure upside pick, one that could pay off well. Josh has all the talent in the world if he can put it together. Learning from Marlon wouldn't be a bad move.
4.131 – Jeffrey Gunter, Edge, Coastal Carolina
The Red-Shirt senior is a top-10 edge rusher, in my opinion. He's 6'4″ and 260 pounds. Gunter is versatile in that he can line up as a 4-3 DE and as a 3-4 OLB. This will allow him to remain on the field for nearly every snap. Plus, pairing him with Odafe Oweh would be a talented duo to pass rush. Gunter manipulates his length to constantly bull-rush opposing linemen. He sees the ball carrier and attacks without vengeance. Furthermore, despite being slow, he launches off the line of scrimmage like a rocket. In his college career, he's racked up 38.5 sacks. Impressive. He needs some coaching to put all his tools together into one complete package, but WATCH OUT once he does. This is yet another great player for the Ravens to target here.
4.134 – Dohnovan West, IOL, Arizona State
In what might be a tiny-bit Arizona-themed draft for the Ravens, they take standout guard Dohnovan West. He's a versatile guard that can play either spot or center. Plus, he'll provide crucial healthy depth behind the veterans. Furthermore, should the team let center Bradley Bozeman or Patrick Mekari reach free agency, he might be a fit to replace either of them. Anyone that knows anything about football knows that the path to a Super Bowl win starts in the trenches. It'd be wise for the Ravens to put most of their efforts into ensuring that the O-Line has solid performers, depth, and health throughout. Doing so will create wins for the team. Using West's quickness, balance, and power to strengthen the interior is a wise call indeed.
4.137 – Cade Mays, IOL, Tennessee
As we have seen from the Ravens, their offensive line is entirely in need of help. They need healthy contributors who can do their job. That way, they can allow Lamar Jackson and the rushing attack to get on track. It's been proven that the Ravens can't win on Lamar's arm. They must be a rushing team with a full squad of mauling bears pushing the line hence why I give them so many O-linemen. That's where Cade Mays comes in. He's a solid senior guard standing at 6'6″ and weighing 325 pounds. Extremely versatile, Cade has significant experience at center, left, and right guard. Cade could potentially be his replacement, with the Ravens center being a free agent. What's better? Well, Mays' well versed in power and zone rushing schemes. He's a perfect fit for the Ravens.
4.138 – Smoke Monday, S, Auburn
Should the Ravens lose DeShon Elliot to free agency, they will hunt for a new safety. Smoke could be that guy. One of the key players from Auburn's vaunted defense, Smoke's a versatile player. In addition to that, his size is excellent at 6'3″ and near 200 pounds. He'll provide plus physicality, effort, and athleticism. Each of those is a hallmark of being a Ravens DB. He's a former 4-star recruit that allowed only six catches in 200+ coverage snaps in 2019. Plus, he's known for being able to do man or zone coverage as well as play in the box. He can read the play.
This would be a steal for the Ravens. In IDP, he will provide a lot of upsides if he can reach his high potential. I'm talking high-end DB2 potential. Therefore, worth a later-round rookie pick.
7.222 – Rachaad White, RB, Arizona State
You can never have enough running backs if you're the Baltimore Ravens. After the team lost J.K. Dobbins, Gus Edwards, and Justice Smith to season-ending leg injuries, they've relied on Devonta Freeman, Latavius Murray, and former raven Lev'eon Bell. Surprisingly, the duo of Freeman and Murray has kept the rushing attack afloat, barely. Thus, the Ravens will gladly take a late-round flier on an RB, knowing he might become a significant contributor. Plus, Gus is going to be 26 and coming off a torn-ACL. They get a good back in White too.
For some reason, pundits think White isn't that great due to his age and his team. He's a power back that knows how to run. He's a 6'2″ aND 210 pounds senior that's on pace to break a 1,000 yards rushing. His lateral quickness and agility are his best attributes. He can jump cut without losing any speed at all. Plus, he can even receive. White knows to find the hole and blast through it with his limited explosion. He will succeed if he ends up on a power-rushing scheme like the Ravens. In short, he's the perfect fit for the Ravens. It's good for fantasy, too, as he would be a valuable handcuff.
Ravens' Post-Draft Offensive Fantasy Impact
There isn't much in terms of actual offensive fantasy players to look at. While White would be a great fourth-round flier to take, he isn't someone you're spending a ton of capital on. He's got tremendous upside. However, if the draft capital isn't there, he isn't likely to see the field real soon.
Yet, the bigger impact from this draft would be the massive boost to the offensive line. The line desperately needs it. Getting a healthy, effective offensive line would significantly increase the rushing game. Dobbins would be walking into wide-open lanes to rush through while allowing Jackson the same advantage. Furthermore, Jackson wouldn't be forced to throw quickly or evacuate the pocket so fast. He could take time reading the routes. This would boost everyone on the offense for fantasy.
Ravens' Post-Draft Defensive Fantasy Impact
If you play IDP, this is a big draft for you too. Gunter would be an excellent dart throw in late rookie rounds since he's an edge rusher. You can't get enough of those on your squad. Plus, Jobe and Tomlinson make for a promising rookie duo of CBs that can impact IDP. They might take a minute, but they would still contribute by the end of their rookie year. Finally, Mathis would be a huge get. A pass-rushing and run-stuffing nose tackle would immediately jump to a higher value thanks to playing along the DL. The DL is the hardest position to fill in IDP. If Mathis can play better than Brandon Williams, you have a flex/starter at DL every week.
This draft would fix so many issues for the Ravens. While it's not flashy or exciting, you win by getting good in the trenches. Just look at all the Super Bowl winners. They all had good offensive and defensive lines. The Ravens need to put their attention there. Otherwise, they won't be sniffing a Super Bowl any time soon.
Make sure to subscribe to the #NerdHerd, where you get exclusive content, dynasty/rookie rankings, and DynastyGM! Additionally, if you want 15% off of ANY SUBSCRIPTION, USE PROMO CODE 'MAYTHEFORCEBEWITHYOU' or CLICK HERE.
Give me a follow on Twitter @DarthDbacks. I love to talk football, baseball, movies, shows, Star Wars, Marvel, and of course to interact with the fantasy football community. Join Fantasy Football Chat and get tons of access to the best fantasy football chat group where many Nerds hang out in. It's free too!
As always, May the Force be with You…