Dynasty fantasy football is a year-round affair. A sharp manager will be thinking about all aspects of the dynasty season at all times. Those managers who are keen enough to look ahead will be the ones that can grab themselves an edge over the competition. A large portion of the dynasty off-season will be spent discussing incoming rookies and the related topic, the NFL draft. It is easy for us to fall in love with the next workhorse running back or prototypical alpha wide receiver, but a manager that is in tune with the entire draft class as a whole will find themselves ahead of the game. Whether it is the next road-paving interior offensive lineman or genetic freak edge rusher, we can find ourselves at quite the advantage in April by building an entire picture of how the 2022 class will play out. Those that prepare ahead will not be often surprised at the outcomes.
The draft order used in this article reflects the order before NFL Week 12. Credit to the mock draft simulation goes to The Draft Network. Team needs are generated from Draft Network. Compensatory picks have not been assigned and will not be included in this exercise.
The Carolina Panthers have a solid defense and good offensive weapons, but they need an offensive line and a quarterback to be a competitive NFL franchise. I do not think there are any surefire franchise quarterbacks in this draft, so I chose to attack the offensive line in this draft, selecting a guaranteed day one starter and three other offensive linemen who could compete for starting jobs.
1.9 – Evan Neal, OT, Alabama
The Panthers have a desperate need for a left tackle, so when the best offensive tackle fell to the Panthers at ninth overall, I couldn't pass him up. Neal has played left guard, right tackle, and left tackle in his career at Alabama; however, he should stick as a left tackle in the NFL. At 6'6" and 350 lbs, Evan Neal is a massive individual who would add some much-needed skill and size to the Panthers' offensive line. They cannot afford to pass him up if he's available when the Panthers are on the clock.
4.104 – Rasheed Walker, OT, Penn State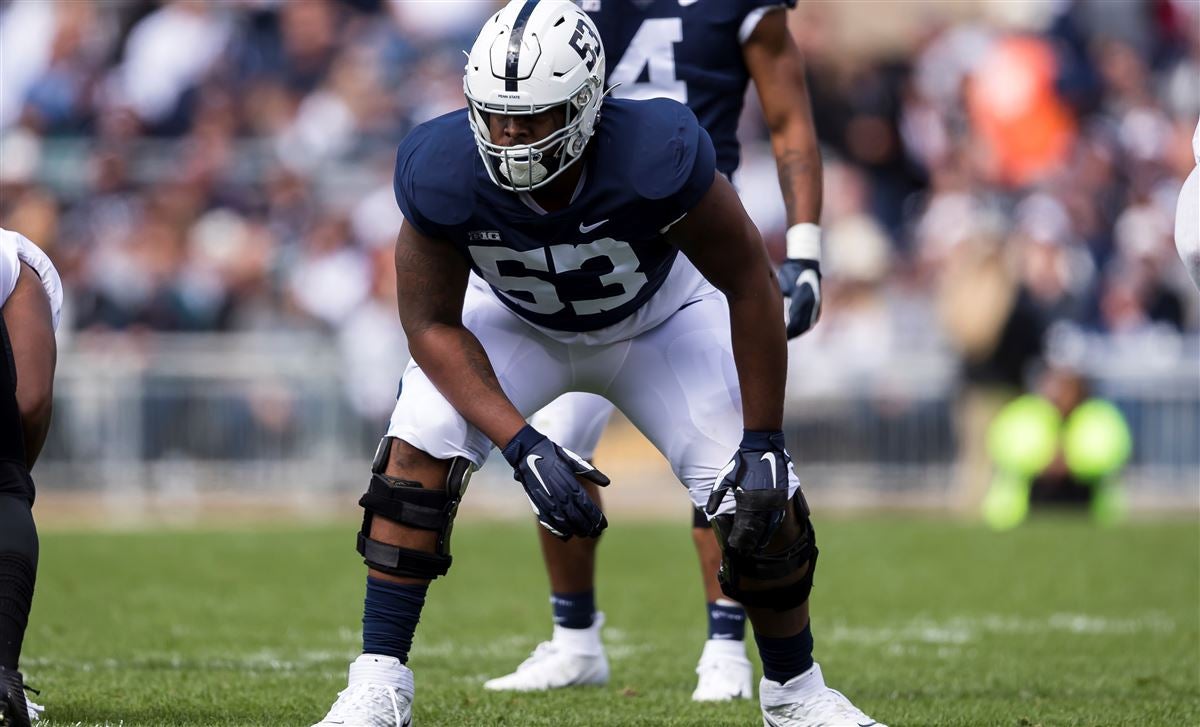 The Panthers did not see quarterback as needed after trading for Sam Darnold in 2020. If they had drafted Justin Fields, they could have had a quarterback competition and made sure that they found a long-term solution to an important position. Hopefully, they learned from their mistakes. I drafted a second left tackle in the fourth round for this very reason. Rasheed Walker would compete with Evan Neal at camp for the left tackle position; however, if Walker loses that battle, he could be a starter for the Panthers at guard. Walker has only ever played tackle at Penn State, but he has the intelligence and athleticism to make the switch inside if need be.
5.146 – Cade Mays, IOL, Tennessee
I continued to target the weakest unit on the Panthers. Cade Mays has NFL guard written all over him. Cade has played tackle and guard throughout his college career; however, guard seems like the best position for him to succeed at the next level. His lack of elite athleticism occasionally got exposed as an offensive tackle; however, he has the size and strength to create space in the run game. He could come in and immediately start at right guard for the Panthers.
5.151 – Jarrett Patterson, IOL, Notre Dame
And with this selection, the rebuild of the Panthers' offensive line has been completed. Matt Paradis has struggled to stay healthy and has been inconsistent since his signing with the Panthers. He will be a free agent this offseason, and the Panthers will most likely be searching for another center. Jarrett Patterson has started at center on a dominant Notre Dame offensive line. He is 6'5" and 307 pounds, so that he will fit right in on this new look Panthers offensive line.
6. 194 – Bubba Bolden, S, Miami
In the sixth and seventh rounds, teams usually look for special teamers with upside. Bubba Bolden has upside written all over him but will likely drop to the late rounds because of character concerns. On a football field, Bolden has tremendous athleticism and size for his position. He is versatile enough to pair alongside Jeremy Chinn, allowing both players the flexibility to switch roles and keep an opposing quarterback guessing.
6. 201 – Xavier Thomas, EDGE, Clemson
Xavier Thomas has not played up to the potential that it seemed like he had coming out of high school; however, he has the physical tools to succeed in the NFL. He may have to slide inside and become a defensive tackle because of his lack of length. He should test well at the combine, and his athleticism will make him a welcome addition to the Panthers' depth along the defensive line.
7. 247 – Zacch Pickens, DT, South Carolina
The Panthers add even more depth on the defensive line with this selection. Zacch Pickens is likely to stay at school if he continues to project as a day three selection because Pickens has day one upside. He needs to improve his technique, and he needs to improve his consistency. Zacch, however, has flashed an ability to get into the backfield and hurt an opponent's run game. Pickens needs to be reliable in rushing the quarterback, but he has the potential to have a bright NFL career.