Dynasty fantasy football is a year-round affair. A sharp manager will be thinking about all aspects of the dynasty season at all times. Managers who are keen enough to look ahead will be the ones that can grab themselves an edge. A large portion of the dynasty off-season will be spent discussing incoming rookies and the related topic, the NFL draft. It is easy for us to fall in love with the next workhorse running back or prototypical alpha wide receiver, but a manager that is in tune with the entire draft class as a whole will find themselves ahead of the game. Whether it is the next road-paving interior offensive lineman or genetic freak edge rusher, we can find ourselves at quite the advantage in April by building an entire picture of how the 2022 class will play out. Those that prepare ahead will not be often surprised at the outcomes. This one is about the Indianapolis Colts' upcoming 2022 NFL Draft.
Draft order used in this article reflects the order before NFL Conference Championship weekend. Credit to the mock draft simulation goes to The Draft Network. Team needs are also generated from this site. Compensatory picks have not been assigned and will not be included in this exercise.
2021 Season Recap
The Colts had a 99% likelihood to make the playoffs entering Week 17. They were riding high fresh off beating the Arizona Cardinals on Christmas Day. Then, they lost to the Raiders. So, all they had to do was beat the lowly Jacksonville Jaguars in Week 18 to make the playoffs. They did not. That was shocking indeed. It turns out that Carson Wentz can't do it all on his own, neither can Jonathan Taylor. When your offensive line is littered with injuries, your WRs are a mess, and the defense had no safety or defensive line help besides Kwity Paye, maybe you don't deserve making the playoffs.
Regardless, the Colts have some significant holes to fill if they plan on fulfilling their aspirations for the playoffs next year in what should be a Wentz-led team. Luckily, they are projected to be eighth in cap space, allowing them to spend in free agency. As such, I'll be focusing on filling holes hard to find in free agency or the best player available as GM Chris Ballard often does.
2.47 – Wan'Dale Robinson, WR Kentucky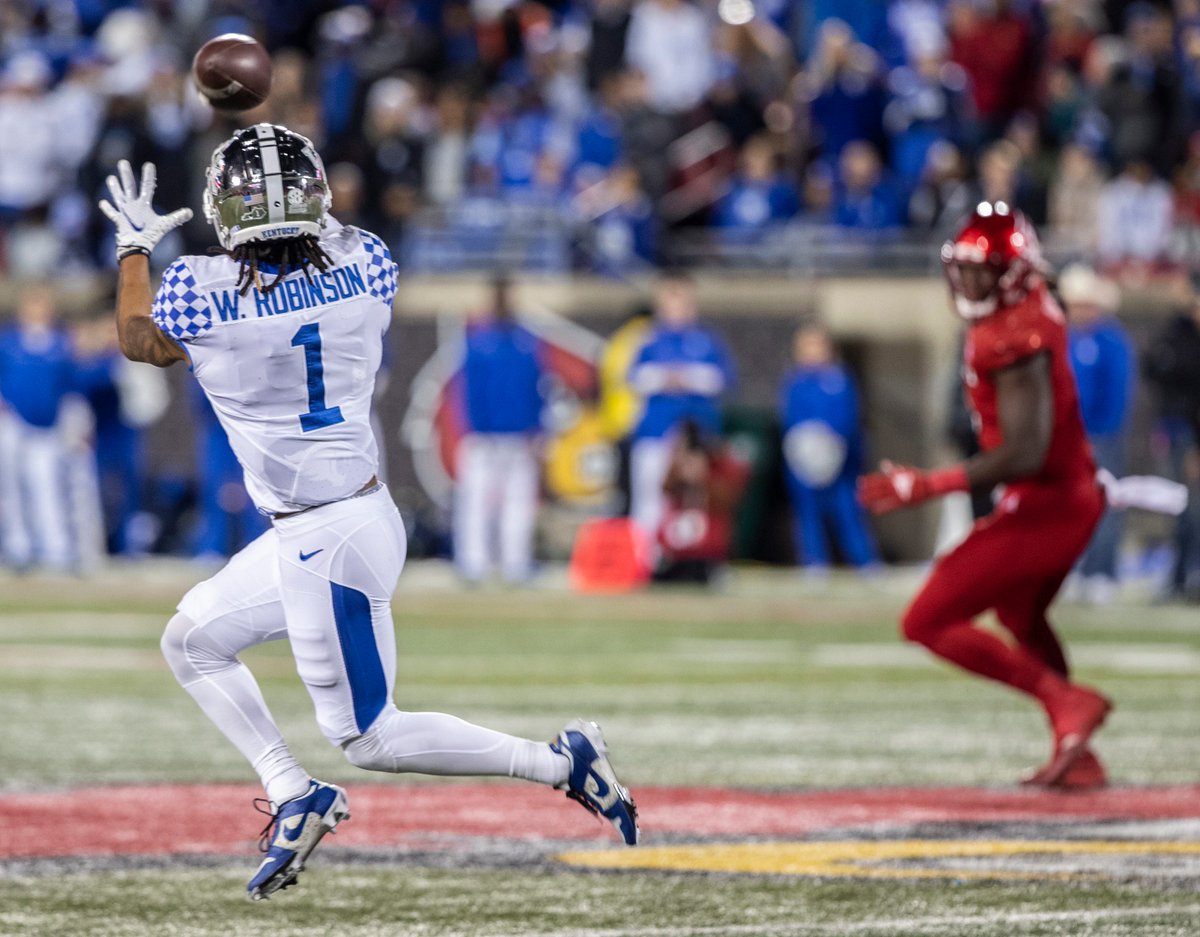 The Colts are in desperate need of playmaking WRs. Besides Michael Pittman Jr., their WR room is aghast. Thus, who else would fit a playmaking need better than a talented playmaking WR in Robinson. Besides being a fun name that Pat McAfee can say on Draft night, he's one of my favorite WRs in this draft class. He would bring speed, shiftiness, and versatility to the Indianapolis Colts offense. Robinson is 5'11 and 185 pounds, but that's pure muscle.
In his year at Kentucky, he piled up more than 1,100 yards receiving and 104 catches. It's fun to watch Robinson in open space evading tacklers. This is the type of player that Coach Frank Reich dreams about developing plays just for him. He reminds me of a slimmer Deebo Samuel in that I can see him easily rush, catch, and move all over the field. That's exactly what the Wildcats did. Robinson is the perfect slot WR for the Colts to pair with Pittman. Wentz needs another sure-handed target. Go get him, Colts!
3.82 – Jaxson Kirkland, OT Washington
Unless the Colts plan to re-sign beleaguered LT Eric Fisher, they need a brand new left tackle. As such, why not replace him with a talented rookie tackle who would be a steal at this pick. I don't know why Kirkland isn't getting more recognition. Perhaps it's because he played at Washington, but this man is a mauler. He fits a zone-blocking scheme and would create a massive wall with Quentin Nelson in front of Wentz. He's fast off the snap, engaging with the defender powerfully. His anger allows him to block with authority.
In passing downs, he is smooth and can switch off defenders if needed. Kirkland needs to learn how to use his massive mass to his advantage, which will help in pass-blocking. If he can, it'll help clean the pocket for Carson to work in. However, his issues are with the technique, which will be fixed. Don't worry about Kirkland, as this is an excellent pick for an OT-needy Colts team.
4.119 – Romeo Doubs, WR Nevada
Doubs is a talent – explosive off the line of scrimmage and possesses enviable straight-line speed. He would give Wentz a huge deep threat and become a younger, better version of T.Y. Hilton. He'll turn any play into positive yardage, perhaps even to the house. His speed allows him to separate well from corners, especially in intermediate routes. Defenses won't stack the box since they'll have to leave a safety deep to cover Doubs. JT-believers cheer!
Doubs will learn how to develop new routes in the NFL. However, you can't coach those hands. His hands allow him to win plenty of 50/50 balls. He's a perimeter WR but can be moved around. Versatile enough to make multiple plays happen in a game from various spots. I would be so happy to get Doubs on my dynasty squad. If I could get him in the second round at any point, I'm ecstatic. He's got a bright future in the NFL.
5.157 – Matt Hankins, CB Iowa
This could be the steal of the draft if he develops. Hankins has the feel to me of being a top-tier corner in the NFL if he continues to build up his football IQ and has good coaching, two things the Colts have. He's wiry and plays in a calm yet frantic manner if that makes sense. Hankins isn't afraid to punish whoever has the ball. He seems to not care for his safety by throwing his whole body into the tackle. Hankins is a solid tackler and logged three INTs this past year. Thus, he has some ball skills that will aid this Colts DB corps. He got left out on a lot of analysts' top lists because he played for Iowa and that team generally struggled this year.
The Colts will love his aggressiveness and use it well. Hankins is versatile, and I wouldn't be shocked at all if he broke out in year two. A starter since 2017, he's well-prepped for the NFL and should start day one on the outside for the Colts or at the very least be in their mix. In IDP, I like Hankins a lot as in college, he had at least 40 tackles in every season. Tackles are great in IDP, especially if a CB combines them with pass breakups, and I could see him becoming a perimeter Kenny Moore. A steal if that happens for the Colts.
7.235 – Steven Gilmore, CB Marshall
A fun fact about Steven is that he is indeed the younger brother of Panthers CB Stephon Gilmore. Yes, that means that their parents named them Steven and Stephon. Anyways, Gilmore is an extremely fast corner that best fits outside. He's smart and waits for his victims, er WRs, to fall into his trap. He is quick to undercut throws and either deflect or intercept them, ala his older brother. Additionally, Gilmore has made some huge plays when needed on special teams. This is big for a young player who likely will start out on special teams.
Gilmore is a strong-armed tackler in open space, rarely letting go of his opponents. I'm not 100% sold that he's a starting-NFL perimeter corner, but I think he would be great in the nickel or dime slots. His physical limitations and questions about how his play will adjust to a bigger, faster, and more demanding NFL competition do exist. However, to get this kind of player in the seventh round would be a boondoggle to the Colts' CB room. They need depth and this provides it.
7.236 – Ali Fayad, EDGE Western Michigan
To start Fayad's career with the Colts would be a blessing for him. Why? Well, the Colts are shaping up to need D-Line players unless they make some signings badly. This would allow Fayad to get some needed developmental playing time. However, expect him to make his biggest impact in the Special Team's unit.
He had a terrific season in the MAC his senior year by being named the MAC Defensive Player of the Year. Fayad won that due to logging 12 sacks and 17 tackles for loss. That means he's skilled at getting after the QB. Fayad is a developmental linebacker who needs to learn how to stop rushing attacks and different skills at getting after the QB. Otherwise, he'll surely be a backup. This isn't bad for the Colts, though, as even backups can make impact plays. To find a depth player with the upside of being a starter in year two or three if all goes right this late in the draft is a win indeed.
Indianapolis Colts Mock Draft Fantasy Outlook
Due to the Colts trading their first-round pick for Wentz, many would presume that means the Colts won't get any impact players. That couldn't be further from the truth. They would get two extremely talented WRs in this draft in Robinson and Doubs. Robinson would immediately become the team's WR2. This means that I'm drafting him in the range of 1.10-2.02. I'm a believer in his talent, and if he's getting passes in that offense, great. I trust Frank Reich to use him well and I think he's a great target for Wentz.
Meanwhile, Doubs would enable Wentz to throw deep again. This brings out some of Wentz's best talents and opens up pathways for him and JT to rush. Another benefit to Wentz and JT is the fact they get a talented left tackle that can start Day 1 in Jaxson Kirkland. He will stabilize the left side of the line. This means that JT can rush to the left again! Giving Wentz more time in the pocket will let him get back to being his MVP-caliber self. Combine that with the second year in the same system and I think this Colts offense explodes out the stables.
Additionally, getting three defenders, including Hankins, will help the Colts stay in games. They won't have to rely on Moore and Darius Leonard as much to make plays. Perhaps Hankins becomes Moore 2.0. Wouldn't that be something? Nonetheless, this is a winning draft that allows Chris Ballard to keep their window open. Watch out for the playmaking Colts if this happens.
Make sure to subscribe to the #NerdHerd, where you get exclusive content, dynasty/rookie rankings, and DynastyGM! Additionally, if you want 15% off of ANY SUBSCRIPTION, USE PROMO CODE 'MAYTHEFORCEBEWITHYOU' or CLICK HERE.
Give me a follow on Twitter @DarthDbacks. I love to talk football, baseball, movies, shows, Star Wars, Marvel, and of course to interact with the fantasy football community. Join Fantasy Football Chat and get tons of access to the best fantasy football chat group where many Nerds hang out in. It's free too!
As always, May the Force be with You…