Dynasty fantasy football is a year-round affair. A sharp manager will be thinking about all aspects of the dynasty season at all times. Managers who are keen enough to look ahead will be the ones that can grab themselves an edge. This article is all about the Chargers and whether they can take the next step with Justin Herbert and make the playoffs. Of course, if their head coach hadn't called that time out at the end of overtime, maybe we would be talking about them competing for the Super Bowl.
A large portion of the dynasty off-season will be spent discussing incoming rookies and the related topic, the NFL draft. It is easy for us to fall in love with the next workhorse running back or prototypical alpha wide receiver, but a manager that is in tune with the entire draft class as a whole will find themselves ahead of the game. Whether it is the next road-paving interior offensive lineman or genetic freak edge rusher, we can find ourselves at quite the advantage in April by building an entire picture of how the 2022 class will play out. Those that prepare ahead will not be often surprised at the outcomes.
The draft order used in this article reflects the order before NFL Conference Championship weekend. Credit to the mock draft simulation goes to The Draft Network. Team needs are generated from this site. Compensatory picks have not been assigned and will not be included in this exercise.
Team Construction
The Los Angeles Chargers are assuredly a team on the rise. They have a young superstar QB in Justin Herbert, an elder yet young star WR in Keenan Allen, a great RB in Austin Ekeler, and a stud LT in Rashawn Slater. That's only for the offense. On defense, they have stud edge rusher Joey Bosa, all-around playmaker in Derwin James, and rising corner Asante Samuel Jr. They are a force for years to come, provided they nail this draft.
This isn't to say they aren't without needs. They badly need a young TE, a replacement WR for Mike Williams, more D-line help to stop the run and to help Bosa pass rush, and more corners. Oh yeah, they also need a right tackle after Bryan Bulaga's latest injury.
Luckily for them, they should be flush with cap space, close to 50 million. However, they are losing to free agency Linval Joseph, Chris Harris, Mike Williams, Jared Cook, Uchenna Nwosu, and numerous others. As such, that means there are plenty of holes to fill. They have an astounding 11 (some of which won't be included because they are compensation picks) draft picks in the 2022 draft. Five of them are in the seventh round, but that's huge if you nail those picks. That's how you build up your team's depth. SuperBowl contenders have players that can start in a pinch all over the roster. I'm looking at you, Arizona Cardinals.
Thus, let's take a look at how we can improve that atrocious run defense, the pass rush, aid Justin Herbet by getting him some protection and weapons, and what depth we can find.
1.17 – DeMarvin Leal, IDL Texas A&M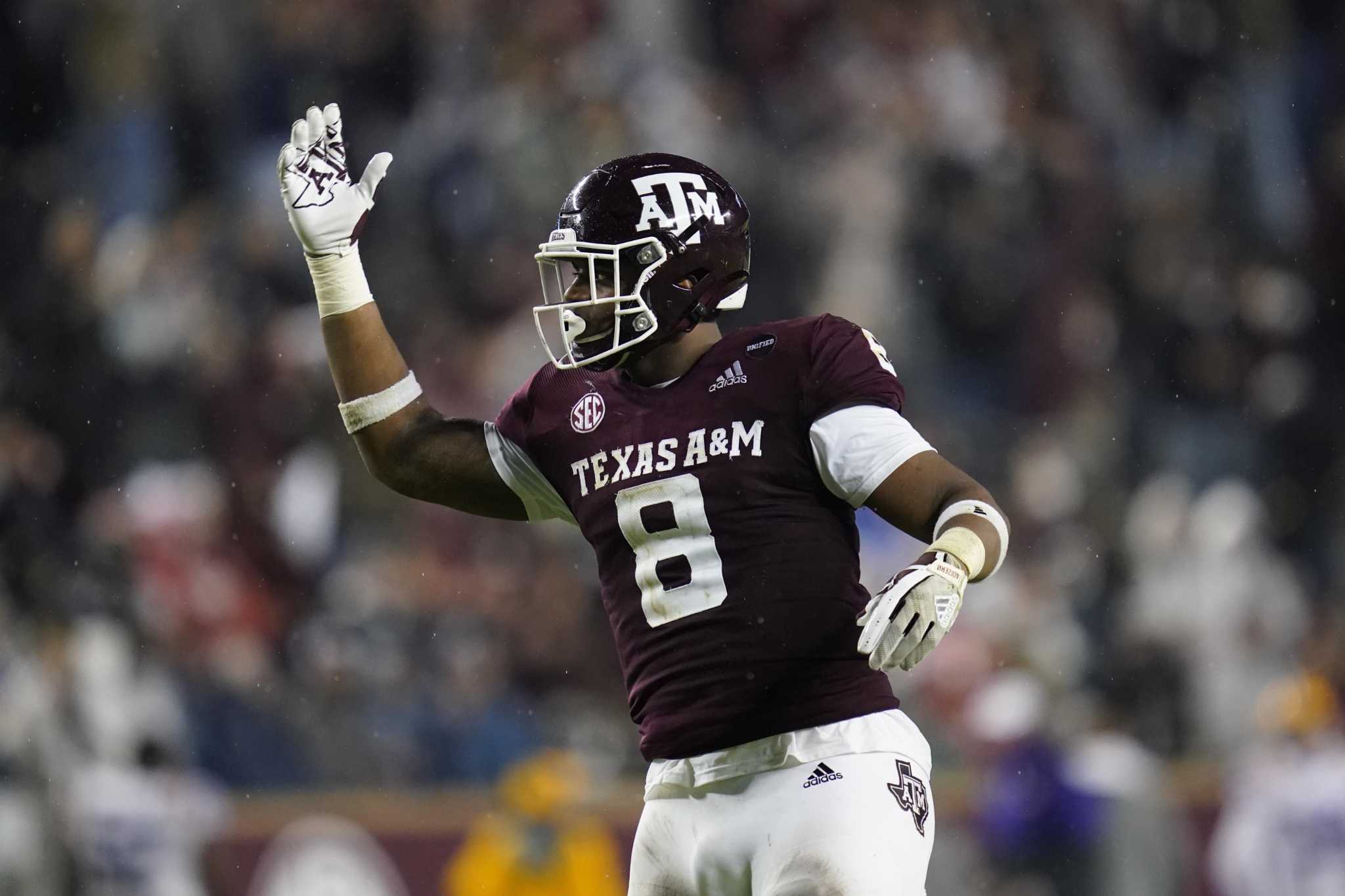 It's no secret at all that the Chargers struggled massively with their rushing defense. Far too often, opponents were running through wide-open holes. Even in their defensive drive of the season, they couldn't stop Josh Jacobs when it mattered most. As such, it should come as no surprise that with so many departures from their D-Line in free agency that their first pick goes to the 2nd-best interior defensive lineman in the draft.
Leal is an excellent pick at seventeenth overall as he satisfies their most significant need. Imagine they sign veteran Akiem Hicks to pair with Leal. What a turnaround on rushing defense that would be. Although, what does Leal bring to the table, you're wondering? For starters, he has a rare combination of size, athleticism, and strength that make him a menace on the D-line.
He can handle double-teams and will even collapse the pocket. That's despite being double-teamed. Best utilized on the interior, he'll provide the Aaron Donald role to Bosa's Von Miller role. I don't think there's a single center in the NFL that could take Leal 1-on-1.
Leal has a great swim move and displays a fluid motion going from a crouch to standing to move around the field. He understands what the rushing offense is doing and knows how to disrupt the play. This allows him to consistently get into the backfield, negating any kind of gain.
On passing downs, Leal needs to focus and maintain his motion towards the QB. Sometimes, he'll get bogged down after his first try didn't work. Rather than slow down, he needs to rev back up and try a new technique that I'm sure he will learn with NFL coaching.
Overall, this is a home run pick. It's one that the Chargers desperately need to make. They can't afford not to improve that rushing defense. Make this pick, Chargers. Make your fans happy!
2.48 – Martin Emerson, CB Mississippi State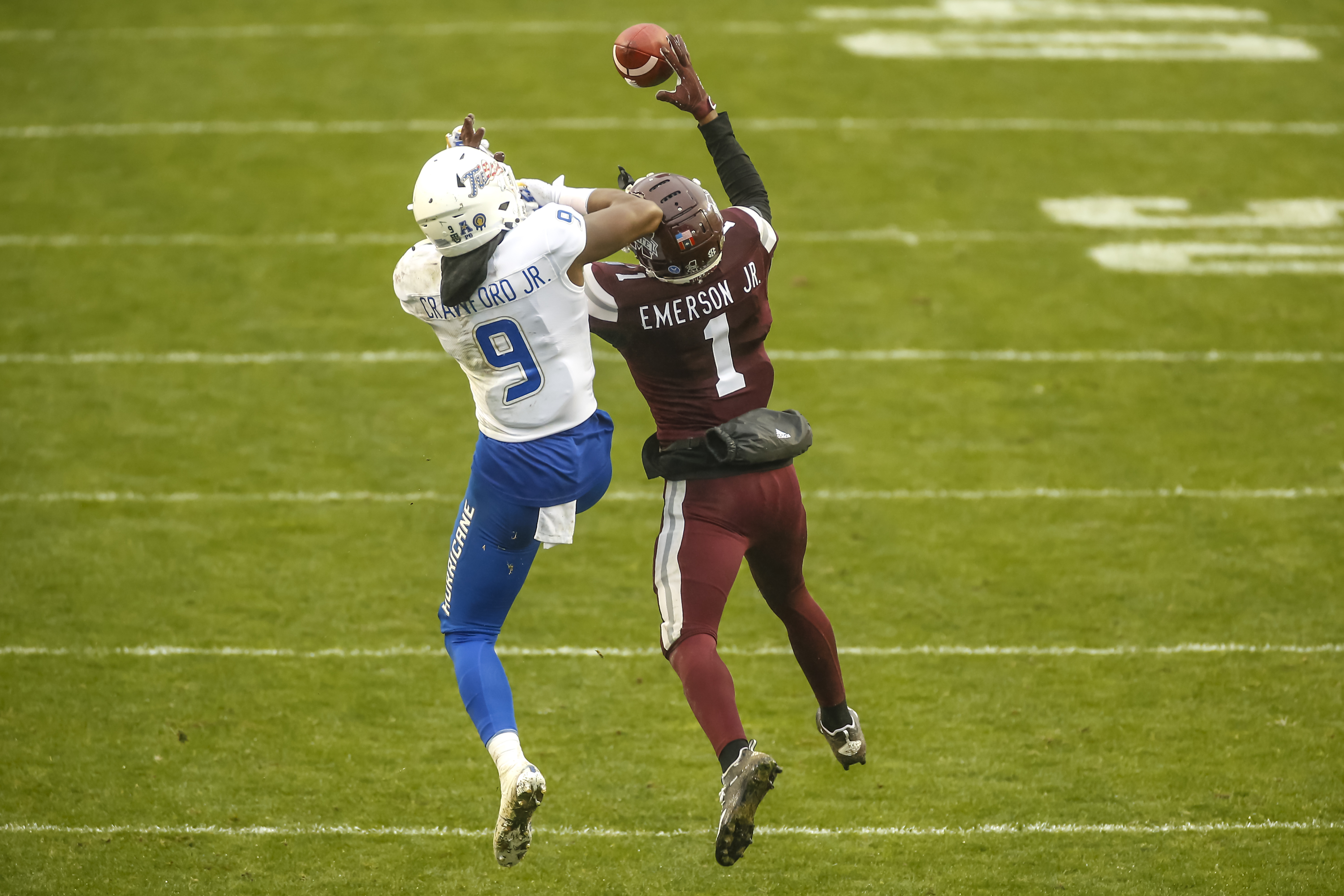 The Chargers need help at the corner position, especially if they lose Harris to free agency. Samuel is a stud, but he can't do it alone. That's where another stud rookie comes into play. His name is Martin Emerson. He developed a lot at Miss St., where he played 30 games. He can quickly smother the WR and frustrate them as they try to get into their route in press coverage.
Emerson is a tall and lanky corner which will only help him as he translates to the NFL. He'll be able to maintain eyesight on the QB while reaching over and breaking up passes. However, Martin has to work on not holding WRs. He relies on his gadgets to stay close to wideouts and ensure that he can break up the pass. Too often, he'll get caught at the top of the route holding. This can be fixed through conditioning and being taught where to place his hands.
Emerson is a young corner, one that needs better coaching. However, he already knows how to press, play zone, and tackle. He's a sure-handed tackler that can read screens and stop it in its' tracks. His football IQ is great after playing zone defense for most of his college career. He can diagnose plays, which helps him understand what to do before the play starts. In an excellent CB class, getting a top-10 corner this late in the second is huge for the Chargers. Trust Staley to fix what is wrong with Martin while improving what he already does well. In IDP, I'm avoiding him since he's not a ball-hawking cornerback.
3.79 – Rasheed Walker, OT Penn State
The Chargers had a revolving door at right tackle last year. Or at least that's how it felt. After yet another Bulaga injury, they relied on a cast of misfits, led by a guy named Storm. Trust me; they don't want to rely on those guys again. Why not draft a young stud rather than overpay on another older free agent? Hence the selection of a multitalented OT by the name of Rasheed Walker.
Walker is a workhorse tackle that started for the Nittany Lions for three years. This is a low price to draft him at too. He drops anchor and doesn't let anyone by him. He's extremely quick for his size. Additionally, Walker can remain balanced on his feet while mirroring edge rushers, which allows him to prevent them from breaking through. He's able to change direction on a quarter. That will enable him to solidify his side of the line and give the QB time.
He needs to improve on one area, and that's run-blocking. Walker isn't bad at all. It's just that he's more of a brick wall than a moving blocker. He is terrific for zone blocking or inside rushes. However, if the Chargers want Ekeler to bounce it outright with blockers ahead of him, they'll need to train Walker or give him help. Walker is a solid prospect that needs a little grooming before he's ready to be a very good starter. This would help both Ekeler and Herbert be even better in fantasy. I know that's hard to imagine, huh?
4.119 – Tyreke Smith, EDGE Ohio State
The Chargers taking an edge rusher from DLU should be no surprise. The 6'2″ and 260-pound senior has displayed incredible agility and athleticism for his size. He can use many skills to get past O-linemen and knows how to switch from speed to power instantly. However, he does lean on his strength a bit too much and doesn't have the length one typically wants. One bonus is that he's able to do some coverage when needed, which is a massive plus in the NFL.
Another bonus is that Smith is versatile along the line. Whether inside or outside, he's able to pass-rush and get the job done. This will allow Bosa more freedom to do what he does best. Furthermore, I can imagine the fun that Coach Staley will have developing plays for Smith.
The biggest knock on Smith would be his football acumen. He can fail to read the play or be slow off the snap, which is less than ideal. Due to that, he'll not be going high in the draft. Another knock is how deep this EDGE class is. However, getting him in the fourth round is a steal. Smith will only aid Staley's defense get stronger against the pass/run and provide incredible depth behind the starters.
5.158 – Justyn Ross, WR Clemson
What better way to replace a Clemson star WR in Mike Williams than with another Clemson star WR in Ross. He suffered a freak neck injury back in 2019/20 and missed the whole 2020 season. There were concerns that his career would be over. However, he returned to football despite a fused neck/back and did just fine. Ross managed 46 catches for 514 yards in what was an off-year for Clemson. Honestly, he reminds me of a younger Mike Williams, which may be why this is the perfect fit.
Ross is a high-point WR that can generate a lot of YAC when he breaks loose. The Chargers offense has plenty of play-action and RPOs, which is precisely what Ross is used to playing in. Furthermore, he's a big body that can play well opposite Keenan Allen. With Herbert's precision passing, Ross would have no trouble making the catches to move the ball down the field. I think that this is the ideal landing spot for Justyn. He has playmakers around him. Plus, he has an amazing vet in Allen who can mentor him into being the best WR he can be. If I had a dynasty rookie draft and this was his landing spot, I'd take him in the third round without hesitation. Stick him in your taxi, and you're good to go.
6.194 – Jerome Ford, RB Cincinnati
While the sixth round seems late for Ford, don't be surprised if he's still there. This is a deep RB class in terms of there's a massive tier where they could go anywhere between the fourth and sixth round. I think that Ford survives to the sixth and winds up a steal. He would replace outgoing Justin Jackson to be Ekeler's backup.
It is an ideal role for Ford, as he can be the thunder to Ekeler's lightning. I don't want to see Ekeler out there for those two yards to gain downs anymore. That's risky for injury. We need Ekeler healthy and to be able to survive the whole season. Now, if it's one yard to the endzone, put Ekeler in, please. Regardless, the leading rusher for the surprise Cincinnati playoff team would have a perfect role here. In 2021, he rushed for 1,319 yards and 19 touchdowns. That's good, despite the competition. Another bright spot is that he doesn't fumble. He has only six fumbles in over 400 carries.
He's a pro-ready running back that is meant to Legarrete Blount-lite. He can pass block, which will only solidify his role as the actual backup. If the Chargers can get Ford here in the sixth, they have to. He will provide immediate insurance to Ekeler. I'd target Ford in the fourth round of rookie drafts, maybe in the third if I had Ekeler.
7.215 – Nick Ford, IOL Utah
Ford is a pure depth pick. One that can sit and develop. He has the upside of being the sixth lineman. That means that he knows how to play at every spot on the line. His versatility will allow him to cover any of those positions at any time. It might take some more coaching, but Ford has the skills to make this pick pay off in a big way. Look for him to help keep this offensive line healthy and performing so that there's no drop-off in play due to injury.
7.232 – Steven Gilmore, CB Marshall
Steven Gilmore is the younger brother of NFL stud CB Stephon Gilmore. Yes, that means that their parents named them Steven and Stephon. Anyways, Steven is a speedy corner who best fits on the outside. He's a project corner, but one that could pay in spades. He understands how to read QBs and knows how to make big plays. He should start on special teams and in nickel or dime packages from day one. Let Staley mold this young corner. In a year or two, he might be a starter. At the very least, he'll have a very useful career for the Chargers' defense.
7.251 – Braden Galloway, TE Clemson
Another Clemson player finds his way onto the Chargers roster. This time, it's in the form of a young but talented tight end. Galloway has only played football for a few years, but he's a big red-zone target. He is purely a receiving tight-end at this point. However, that works for the Chargers as he can be utilized on various packages. Galloway is learning to block and gives great effort every time. He might be a massive steal if he reaches his potential with proper NFL coaching and more time. Whether that happens or not, he's a terrific backup TE that can learn behind whatever vet TE the team signs. I see Galloway earning a big red-zone role on this team. However, I'm not sure that he fits into any dynasty plans just yet.
Fantasy Analysis
If the Chargers got these players, it would be a boon to IDP, Herbert, Ekeler, and perhaps Ross. Leal would be a fifth-round rookie pick in IDP. He's worth the flier in the hopes he becomes like Arik Armstead. If he doesn't, well, you didn't spend much on him in the first place. He's probably way better in real life than in fantasy.
However, getting Herbert more weapons in Ross, Ford, and Galloway is just unfair. He will put up even bigger numbers thanks to them and any other players the team signs. The most significant addition that will help Herbert is that of Walker. Having a reliable right tackle will allow Herbert to diagnose the defense and make the correct read. He won't be flushed out of the pocket as quickly. Nor will Herbert get forced to throw so soon before a QB hit.
Walker will help Ekeler a ton too. Now, Ekeler won't have to worry as much about the right edge of the line collapsing. He can rush through those gaps with less fear. This will give the Chargers overall rushing attack much more balance and nuance. They can run to the right side and do various plays as Walker grows and learns. No longer would the play be over so quickly.
Ekeler will be able to rest without fear of a bad play/fumble. This will help him stay healthy longer and give us multiple more seasons of RB1 stardom. Overall, this would be a terrific draft for the Chargers. One that would help them make the playoffs. Possibly, they will beat the Chiefs. The Chargers are rising. They will strike with lightning. Perhaps they'll become the team to watch in Los Angeles soon enough.
Make sure to subscribe to the #NerdHerd, where you get exclusive content, dynasty/rookie rankings, and DynastyGM! Additionally, if you want 15% off of ANY SUBSCRIPTION, USE PROMO CODE 'MAYTHEFORCEBEWITHYOU' or CLICK HERE.
Give me a follow on Twitter @DarthDbacks. I love to talk football, baseball, movies, shows, Star Wars, Marvel, and of course to interact with the fantasy football community. Join Fantasy Football Chat and get tons of access to the best fantasy football chat group where many Nerds hang out in. It's free too!
As always, May the Force be with You…