Dynasty fantasy football is a year-round affair. A sharp manager will be thinking about all aspects of the dynasty season at all times. Managers who are keen enough to look ahead will be the ones that can grab themselves an edge. A large portion of the dynasty off-season will be spent discussing incoming rookies and the related topic, the NFL draft. It is easy for us to fall in love with the next workhorse running back or prototypical alpha wide receiver, but a manager that is in tune with the entire draft class as a whole will find themselves ahead of the game. Whether it is the next road-paving interior offensive lineman or genetic freak edge rusher, we can find ourselves at quite the advantage in April by building an entire picture of how the 2022 class will play out. Those that prepare ahead will not be often surprised at the outcomes. This article is all about the new Tom Brady-less Tampa Bay Buccaneers. How will they continue their recent dominance without Tom Brady?
The draft order used in this article reflects the order before the Super Bowl. Credit to the mock draft simulation goes to The Draft Network. Team needs are also generated from this site. Compensatory picks have not been assigned and will not be included in this exercise.
Losing the GOAT
Alas, the end has come. All romantic stories end at some point. It's hard to believe that Tom Brady will not be on a football field next year. I know that I, and the rest of NFL fandom, should be prepared for that, but it doesn't feel right. At least, not yet. For as long as I've watched football, I've seen Brady play on Sundays. As for the Tampa Bay Buccaneers, who grew accustomed to Brady winning games the last two years for them, where do they go? They are losing their captain and leader while enduring a multitude of other losses to free agency.
Roster Construction
Surely, they'll re-sign some, but I doubt they can re-sign all. Some of the players set to be lost to free agency are Chris Godwin (fresh off his torn ACL), Ndamukong Suh, Jason Pierre-Paul, William Gholston, Ryan Jensen, Leonard Fournette, Rob Gronkowski, and many others.
Thus, if this team were probably in any other division in football and without Bruce Arians as head coach, they would be looking at a rebuild. Or at least, a retool of sorts. Therefore, instead of being your typical mock draft looking for views saying that the Bucs must take a QB with Brady gone, I will diverge from that path. In this mock draft, Tampa Bay doesn't take a QB. Instead, they will push even further all-in by getting a veteran QB, perhaps Jimmy Garappolo. Imagine the stories the media would tell of Jimmy G taking over for his old Jedi QB Master and achieving the rank of Master.
Regardless, the Bucs need youth in their D-line, at the center, and they can't afford not to improve at the corner position where they got blown up by the Rams. In addition to that, look for them to get a younger running back, perhaps a tight end, or maybe a WR if the value is there. Tampa Bay is no longer Tompa Bay, but they will still be just fine so long as they continue to draft well. Let's begin.
1.27 – Trent McDuffie, CB Washington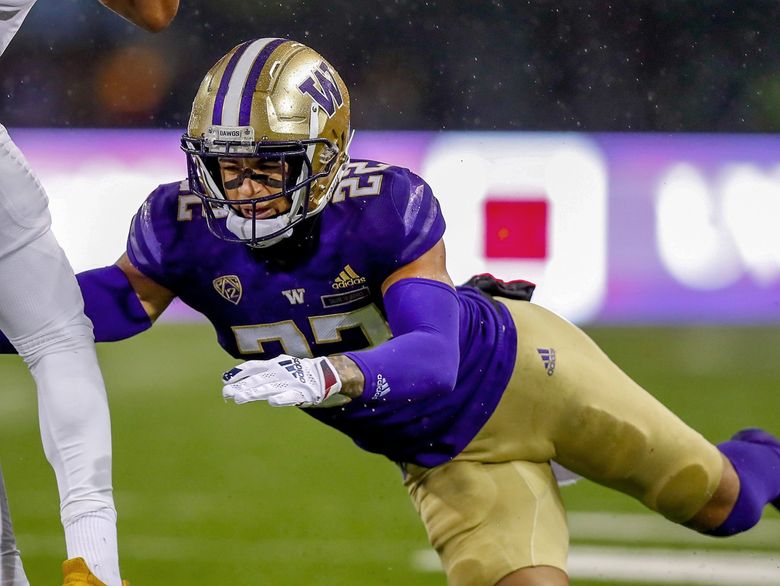 Please make no mistake about it; the weakest part of the Tampa Bay Bucs is their corners. That's what cost them the game against the Rams. Thus, this is why they go with a corner in the first round, one that has an extremely high upside. McDuffie is a perimeter corner that can play in any scheme. He's able to stay in close contact in coverage while rarely being caught out of position. McDuffie possesses good instincts and ball awareness. Plus, he's not afraid to move inside to the slot to help out there if needed.
Perhaps the best part about the former Huskie is that he's a physical athlete gifted with agility. He may be 5'11 and 195 pounds, but he hits hard. You won't find many more aggressive tacklers than McDuffie, especially as a rookie. One might say that he enjoys the physical punishment of the game a bit too much. Watch for him to be great in the run game, a la Jalen Ramsey.
Now, this isn't to say that he has no faults. McDuffie must learn how to re-route defenders. This way, the timing is interrupted between QB and WR. Another issue is that he will have problems with taller, bigger WRs due to his length issues. This shouldn't prevent him from being a great CB, though. Immediately, McDuffie is their CB1 if Tampa Bay drafts him. As for IDP, look to grab Trent in the fourth or fifth round of IDP leagues. He won't immediately make an impact, but he'll show up eventually.
2.59 – Kingsley Enagbare, EDGE South Carolina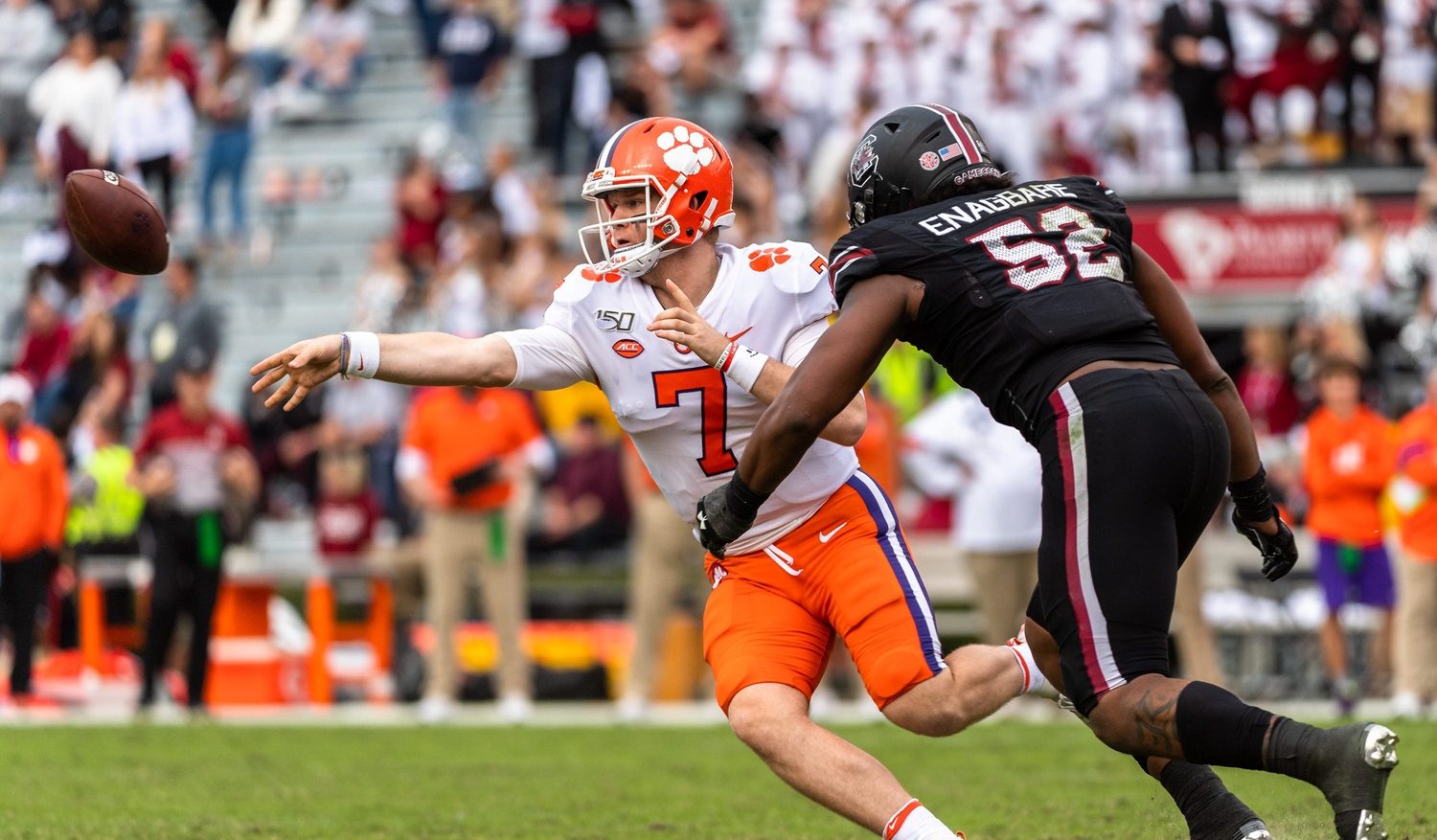 This is a player that is not getting near enough hype. Honestly, while this is a deep EDGE class, I have Kingsley right around fifth overall. He's a stud. His playing showcases a ferocious pass-rusher that resembles Myles Garrett. His size is massive as a pass rusher at 6'4″ and 270 pounds. Kingsley is versatile and able to line up anywhere on the line, adding to his value. Enagbare can play in a 3-4 or 4-3 system. This allows him to remain on the field no matter the scheme. Another plus is that he's able to drop in coverage for plays. Imagine getting tackled in the open field by this monster of a man.
If I were 270 pounds, I'd be slow-moving, most likely. Well, Enagbrae runs like he's 220 pounds. He moves like a dancer. Combine that with his heart and motor, and you get a star. He's passionate about the game. He's constantly learning. Enagbare has mastered swim and push-pull techniques while delivering knock-out hits. I'd rather face Drax than Enagbare. In 2020, he ranked second in the SEC with .75 sacks and .38 forced fumbles per game.
Sometimes, Enagbare will get excited and over-pursue or get caught with a lapse in play recognition. His athleticism is without a doubt his best feature, combined with his power and strength. If JPP comes back, learning from two (Shaq Barrett being the other) of the best pass rushers would be huge for him. Enagbare's potential is that of a yearly 10+ sack player. Getting this young player to start day one for the Bucs is a boon to their defense.
3.91 – Rachaad White, RB Arizona State
With Leonard Fournette and Ronald Jones set to be free agents, look for the Bucs to draft an RB. In their current cap situation, it's untenable to pay an RB. Untotherefore, what better back to replace Lenny with than a back that reminds me a bit of Lenny. That back is Rachaad White, a deep sleeper that's only starting to get his much-deserved hype now.
First off, if the Bucs take White, I'm taking White at the beginning of the second round, maybe earlier if I need an RB. He's the real deal. White is 6'0″ and 210 pounds while entering the draft in his Redshirt Senior season. White is smooth as silk running the ball with every step calculated for max efficiency. He dices and slices up defenses like no problem at all.
Additionally, one thing you worry about with backs is their ability to cut. Can they cut without losing any speed? White can. In fact, I'd say he gets quicker the more he cuts. He moves as fast sideways as he does north-south. Finally, he's got the King Henry ability in that if he breaks through the second wave of defenders, sayonara.
Don't worry about his hands as this man can catch the football. White understands routes and how to place his body in the optimal position to make the catch. However, he needs to learn that he doesn't have to run upright. Instead, he needs to attack the defenders while running. White does a great job following his blockers. This is important, as he will avoid unnecessary yard losses. In 2021, he rushed for over 1,000 yards with 15 touchdowns. Sprinkle in 43 catches for 456 yards and another TD, and White is the complete package.
4.129 Haskell Garrett, IDL Ohio State
As aforementioned, the Bucs need help along their D-line, especially in the interior, where all they have is Vita Vea. That's where Garrett comes in. He's a solid 3-technique, solo-gapper penetrator on the D-line. He's explosive off the LOS and plays with leverage to upend his opposing offensive lineman. With Vita getting the double-teams, Garrett can win one-on-one and collapse the pocket or stop the back in the backfield.
Garrett has good mobility for his size and maintains his forward motion despite being blocked. He needs to improve his reading plays, fatigue, and improve his technique against double-teams. However, getting a starter or near-ready starter this late in the draft would be excellent for the Bucs. It'll allow them to focus elsewhere for needs after the draft. In IDP, I don't think I'd draft Garrett until he proves his play.
5.168 – Luke Fortner, Center Kentucky
Regardless of whether or not Tampa Bay brings back Ryan Jensen or not, they need youth in the interior line. Jensen is getting older, and you can't trust him to remain healthy. Furthermore, it would help if you had good depth in the trenches to win or do anything in the playoffs. Thus, that's why they take the center out of Kentucky. Fortner used to play at guard before moving over to center in 2021. He took well to the position. There were concerns he wouldn't be athletic enough, but he proved them wrong. He was extremely talented when being allowed to roam the field for blocks/screens.
While Fortner will need development before becoming a full-starter at the center position, I would be shocked if he wasn't starting by year three. He's already nearly ready as a guard, which allows him to see the field quicker. His versatility helps him stay on the field. Watch for Tampa Bay to take an offensive lineman in the fifth round.
7.244 – Jerreth Sterns , WR, Western Kentucky
I love this guy named Jerreth. He caught the majority of passes thrown by record-breaking Bailey Zappe at Western Kentucky this past season. He reminds me of an unheralded Rondale Moore. He's the same size and does the same plays. Stearns is fast, has reliable hands, and always makes plays. In 2021, Sterns caught 150, YES 150, passes for 1902, YES 1902, yards along with 17 TDs. While he was playing against weaker competition, those stats are still eye-popping.
Sterns could take over the slot for the Bucs' new QB while helping out in punt/kick returns. Sterns' ability to consistently win against his corner isn't ignored. He also has a solid route tree. Furthermore, he's versatile enough to remain on the field for any play. Sterns can play inside, outside, slot, or even running back. This is a smash steal for Tampa Bay. One that if I'd draft in the late third/early fourth round of rookie drafts. He might sit on your taxi for a year, but it will be worth it.
Tampa Bay Fantasy Analysis
If the Buccaneers could get this draft, the team and fans would be thrilled. Why? Well, this is assuming they already signed/traded for a QB and not relying on Kyle Trask. Irrespective of that, they would get a day one starter at four positions and potential future starters at two more. White would become an immediate RB2/3 in fantasy and rise draft boards a ton.
Enagbare would take off in IDP mocks as I would take him in the first round, maybe early second. He's that good. Playing opposite Barrett will allow him more opportunities for sacks too. McDuffie covering a WR will force opposing QBs to remain in the pocket longer, something they lacked against the Rams. Meanwhile, Garrett would allow Vea to no longer be alone in the defense's interior. Fortner is an up-and-coming future interior offensive lineman starter, and you already know how much I love Sterns.
Tampa Bay would accomplish their goal of filling out their roster with playmakers that are young and ready to win now. This allows the team to extend their window and push for yet another divisional crown, if not more. Also, please get Jimmy G in Tampa. It just makes far too much sense.
Make sure to subscribe to the #NerdHerd, where you get exclusive content, dynasty/rookie rankings, and DynastyGM! Additionally, if you want 15% off of ANY SUBSCRIPTION, USE PROMO CODE 'MAYTHEFORCEBEWITHYOU' or CLICK HERE.
Please give me a follow on Twitter @DarthDbacks. I love to talk football, baseball, movies, shows, Star Wars, Marvel, and of course to interact with the fantasy football community. Join Fantasy Football Chat and get tons of access to the best fantasy football chat group where many Nerds hang out in. It's free too!
As always, May the Force be with You…