Dynasty fantasy football is a year-round affair. A sharp manager will be thinking about all aspects of the dynasty season at all times. Managers who are keen enough to look ahead will be the ones that can grab themselves an edge. A large portion of the dynasty off-season will be spent discussing incoming rookies and the related topic, the NFL draft. It is easy for us to fall in love with the next workhorse running back or prototypical alpha wide receiver, but a manager that is in tune with the entire draft class as a whole will find themselves ahead of the game. This article focuses on the #1 AFC team last year, the Tennessee Titans, who shockingly lost to the Bengals.
Whether it is the next road-paving interior offensive lineman or genetic freak edge rusher, we can find ourselves at quite the advantage in April by building an entire picture of how the 2022 class will play out. Those that prepare ahead will not be often surprised at the outcomes.
The draft order used in this article reflects the finalized draft order. Credit to the mock draft simulation goes to The Draft Network. Team needs are also generated from this site. Compensatory picks have not been assigned and will not be included in this exercise.
2021 Season Recap
The Titans certainly had a mixed bag of last season. Somehow, despite loads of injuries to stars like Julio Jones, AJ Brown, Derrick Henry, and more, they still finished with the #1 seed in the AFC. This speaks volumes to how good a coach Mike Vrabel is. Additionally, doing it without your rookie first-round draft pick Caleb Farley, who missed most of the season with an injury, just adds to the amazing run.
While finishing first was great, their playoffs were decidedly not. In the divisional weekend game against the Bengals, the Titans lost on a late-4th quarter Ryan Tannehill interception. That sealed the game for the Bengals' win. Unfortunate for Tannehill is the fact he started and ended his season on an interception. The bright side is that Henry was able to come back and play in that game. Now he has a healthy off-season to rest up for next year after missing 9 games this past year. The same goes for Jones and Brown who both missed games.
The Titans have a ton of contributors entering free agency. On the defensive side, they potentially will lose linebackers Rashaan Evans, Jayon Brown, Zach Cunningham, Center Ben Jones, TEs Geoff Swaim, and Anthony Firkser, #1 edge rusher Harold Landry, and many more guys. Currently, they have no replacements at center, RT, LB (besides David Long), TE, CB, a WR3, or an edge. There are rumors that the team will re-sign Landry, but being 8 million over the cap will make it hard. As such, the team will be hard-pressed to refill its starters and depth through the draft, one that they don't have a 2nd round pick in due to the Julio Jones trade.
1.26 – Devin Lloyd, LB, Utah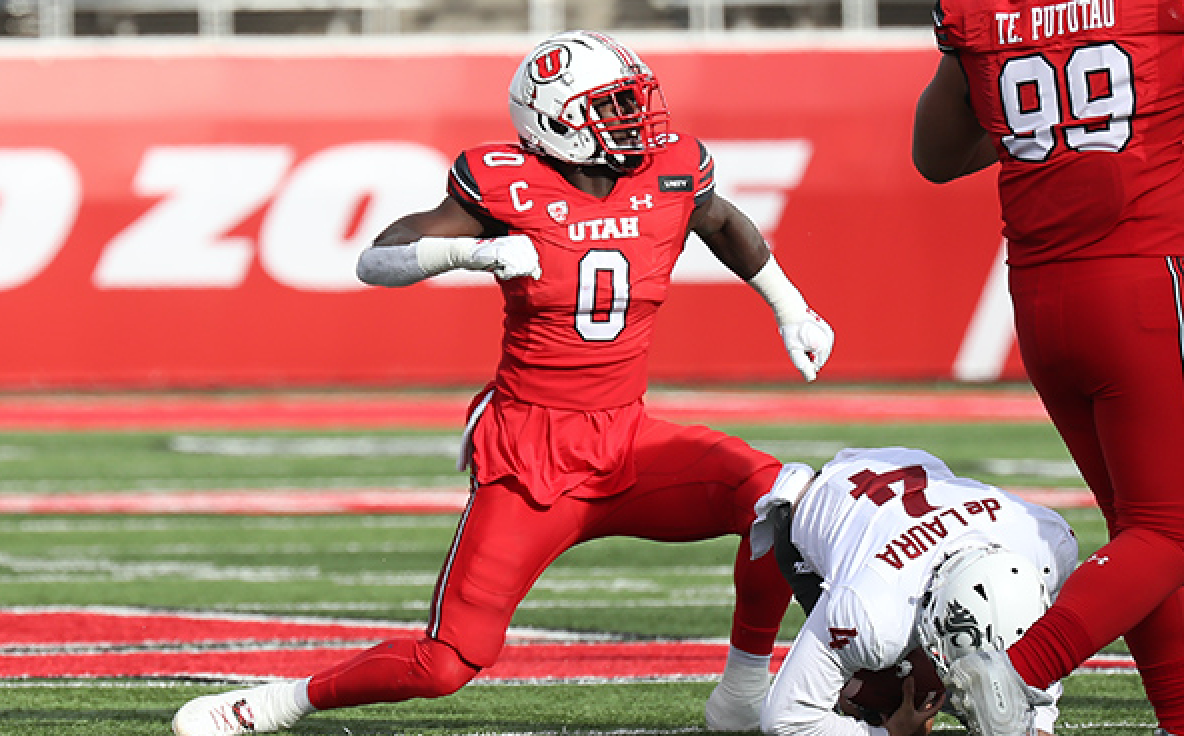 Devin Lloyd is the 2021 PAC-12 Defensive Player of the Year and a Consensus All-American. He finished the season with 111 combined tackles, 22 TFLs, 7 sacks, and 4 interceptions. Thus, Lloyd is a true playmaker. He will be one of the first linebackers taken in the upcoming draft. Lloyd is a sideline-to-sideline backer who can cover, rush, and tackle as good as nearly any other LB in the league. If there weren't so many good defenders in this draft, I would be mocking Lloyd higher, but he seems to be going unheralded. Although playing for a non-premium Pac-12 team like Utah will do that.
Based on raw talent, Lloyd is a top-10 player in the class. He falls to the Titans here thanks to him playing a less-premium position. From my viewing, he can help the Titans in so many ways. He'll stay in the box against running backs, be able to maintain the middle linebacker revolving door in Tennessee, and wear the green dot. In the passing game, he can rush from inside or outside. He understands zone schemes great. In the run game, he's a hitter who runs downhill physically. He's a three-down player that will never come off the field. Devin's a leader on the defense.
Lloyd doesn't any huge or even minor flaws that are hurting his game. He's a roving tackling machine that excels in the pass rush and coverage schemes. He reminds me of a better Devin White. To get the Titans, a premium linebacker is key to their defense growing. With Brown, Cunningham, and others out the door, pair Lloyd with David Long, and that's a great combo.
3.90 – Rasheed Walker, OT, Penn St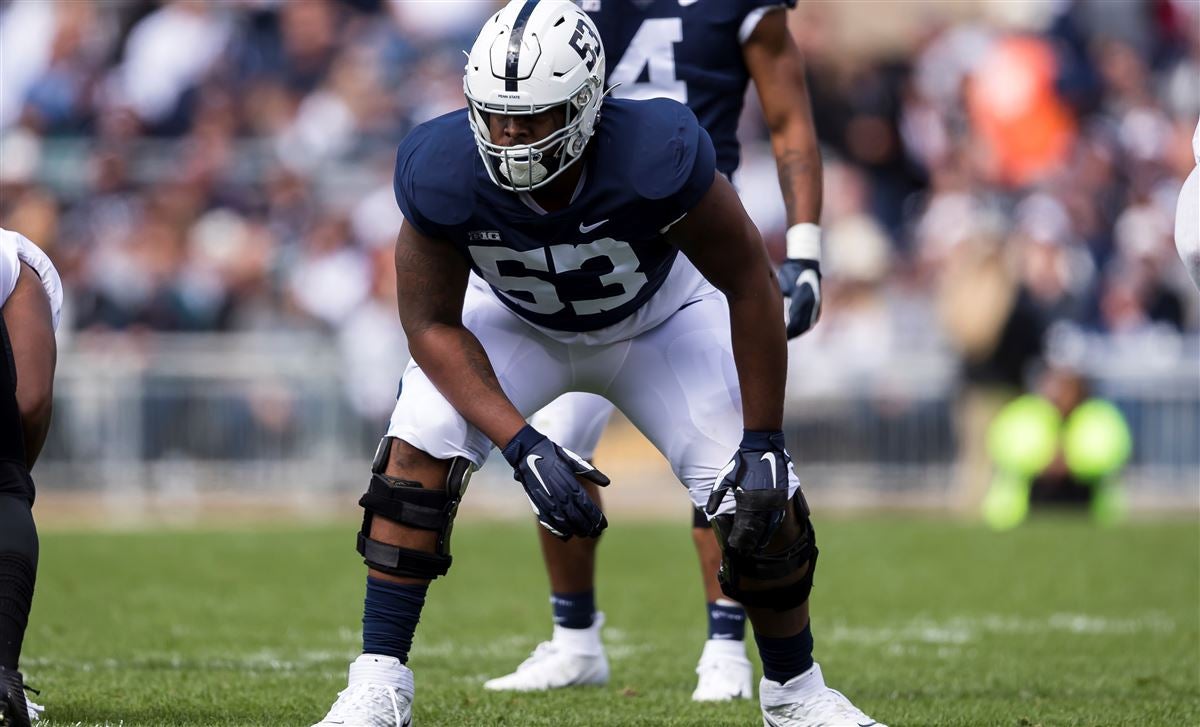 After the failed Isaiah Wilson experiment, the team had basically a ghost at RT. Quessenberry struggled mightily. Better yet, he's now a free agent. Thus, trust me; they don't want to rely on those guys again. Why would they not draft a young player that has the potential to be a franchise right tackle? That's why I have them selecting a multitalented OT by the name of Rasheed Walker.
Walker is a workhorse tackle that has started for the Nittany Lions for the past three years. I think he should be drafted earlier than this, but he isn't getting much hype. He drops the anchor and refuses to let anyone by him. Plus, he's extremely quick for his size. Additionally, Walker can stay balanced on his feet while mirroring edge rushers, which allows him to prevent them from breaking through. He's able to change direction on a quarter. This will enable him to solidify his side of the line and give the Tannehill time. Plus, he abuses the defenders rushing him, just watch this video of what he does after a block.
He needs to improve on one area, and that's run-blocking. Walker isn't bad at all. It's just that he's more of a brick wall than a moving blocker. He is terrific for zone blocking or inside rushes. However, if the Chargers want Ekeler to bounce it outright with blockers ahead of him, they'll need to train Walker or give him help. Walker is a solid prospect that needs a little grooming before he's ready to be a very good starter. This would help both Ekeler and Herbert be even better in fantasy. I know that's hard to imagine, huh?
4.128 – Jelani Woods, TE, Virginia
There's no question that the Titans need a TE. They sorely missed Jonnu Smith's blocking, red-zone, and third-down presence. Woods can fill that role and more. Jelani emerged as a First-Team All-ACC selection in 2021. Due to his height, weight, and wingspan, Woods has the makings of a mismatch anywhere on the field. Woods has good hands and is taller than anyone trying to cover him. He doesn't need to jump, and the QB can throw the ball high. While still developing his run-blocking, he is strong. Woods can power through blocks and use his size/leverage to gain momentum. Due to not playing tight end until 2020 (he was a QB before that), his route-running and hands aren't as good as they will be.
Perhaps due to his size, his feet are anchors when he runs, but when he gets going with those long giraffe strides, he can really run. With additional coaching, time learning, and working, Woods should settle in as TE2 in fantasy and as the TE1 on the Titans. He led with 24 reps on the bench, 4.61 40-yard dash, fastest by TE standing 6'7 since 2003 in the NFL Combine. Impressive numbers for how huge a tight end he is. Look to get Woods in your dynasty rookie drafts in the 3rd round.
4.142 – Dare Rosenthal, OT, Kentucky
Every team needs a lot of offensive line depth, and the Titans need it even more. Especially needing an LG, RG, and RT, getting a long-term starter here is a dream. Rosenthal could be that starter to fulfill a dream. The Kentucky red-shirt Junior is 6'7″ and 327 pounds. He helped lead Kentucky to another bowl game this year. The Titans run a ton. They play action a ton. That's right in Dare's wheelhouse. Let him get angry and use his strength to punish rushers.
Rosenthal is a hard-nosed, strong, precise blocker that consistently finds leverage and delivers pancake blocks. He plays fast, hard, and is smooth in pass blocking. He's not scared of adjusting to what the defender is doing. Rosenthal's run blocking is fair but could improve with some good coaching. Likewise, having a fiery, angry, powerful motor will help him shove defenders into the ground as King Henry runs on by. His weaknesses are that he can be too tall in his blocks and will be tight with his hips. With NFL conditioning and strengthening, that will be fixed. Getting a stud guard/tackle this late in the draft would be a steal indeed.
5.167 – Bo Melton, WR, Rutgers
Rutgers wide receiver Bo Melton projects as a WR3/4 in an NFL WR Room. He's posted consecutive 600+ yard receiving seasons for Rutgers over the past two seasons. Melton is the type of player you want to script plays for. Bo has decent initial quickness and acceleration but has displayed excellent open-field vision while running underneath routes. That's the quickest way he racks up yards after the catch. Melton was named the 2021 MVP on offense. Furthermore, he's a good punt/kick returner after serving that role at Rutgers.
Bo was Rutgers' top receiver (55-618-11.2, three TDs). Melton is a rising WR in this year's draft. Why? Well, he ran a blazing 4.34 40 at the Combine. Additionally, his 3-cone was an impressive 6.98. While it's hard to acknowledge how much it helps his draft stock, it does raise his profile. A WR that can catch, run fast, break long runs with agility, and show decent route running will find the field. Joining a Titans' locker room that has struggled with injuries and performance from names other than AJ Brown or Julio Jones, he would be a worth flier in your rookie draft. I'd take him in the 3rd round. Chances are, he outperforms that selection.
6.203 – Tyler Allgeier, RB, BYU
Tyler Allgeier is a former linebacker turned-Running back. He grew to fame, serving as the running back under Zach Wilson in 2020. Then, in 2021, he ran for 1,601 rushing yards, 5.8 ypa, and 23 touchdowns. That's pretty good. So, why is he way down here in the 6th round? Well, let's go over his weaknesses first. He struggles to maintain fluidity while cutting/slashing. His pass protection leaves a lot to be desired. He's got average speed, and his hands are not great. I guess you could say that he's a much worse version of Derrick Henry when Henry entered the league.
To make that comp work, let's look at what Tyler excels at. He blows through defenders, not going down unless you lay a massive hit on him. He's extremely well-built and can sustain a huge workload. Tyler absorbs contact and displays good vision. Allgeier understands zone schemes. Basically, if this were the mid-2000s, he would be a 1st/2nd round pick. Unfortunately, it isn't that period. However, the Titans run a lot of zone scheme rushing and have a back that does everything Tyler excels at.
When King Henry got hurt last year, the offense struggled to replicate his energy and anger. That's what Tyler can do. He's a great backup back who, perhaps with some more NFL coaching/training, can take over for the King in a couple of years. Look for Allgeier in your late-3rd/4th rounds of rookie drafts if he goes this late in the NFL draft. He might be a better NFL player than a fantasy player.
6.218 – Luke Fortner, IOL, Kentucky
Whether or not Tennessee brings back Ben Jones, they need youth in the interior offensive line. Ben Jones is in his 30's and is a free agent. Furthermore, it helps if you have good depth in the trenches to win in the playoffs. Thus, that's why the Titans should take the center out of Kentucky. Fortner used to play at guard before moving over to center in 2021. He took immediately to the position. While there are concerns he wouldn't be athletic enough, he proved them wrong. Luke proved that he's mobile and agile. He led the Kentucky O-Line in protecting Will Levis to a bowl win.
While Fortner will need development before becoming a full-starter, I would be shocked if he wasn't starting by year two or three. He's already practically ready as a guard, which allows him to see the field quicker. His versatility will keep him on the field. Watch for the Titans to take an offensive lineman in the 6th round.
Titans' Fantasy Analysis on picks
Admittedly, this would be a rather boring draft for fantasy. Or would it? Devin Lloyd is a surefire Round 1 rookie pick if you play IDP. He's a future LB1-tier player that would start day 1. That's hard to pass up in IDP. However, if you don't play IDP, I understand your wariness on this draft. Getting new offensive linemen will help Tannehill, Henry, and the pass catchers to be able to stay on the field. Tanny won't be forced into bad throws or sacked as much. Bigger and better rushing lanes will open up for the king.
Getting a WR3 in Bo Melton will aid Tanny in not having to rely too much on AJB and Jones. Plus, getting a strong TE will enable them to use the 12-personnel more often and throw to their TE. Yes, another target for the defense to cover helps the entire offense. Tyler Allgeier can step in as the backup to Henry. That will help the Titans cover their bases and stay healthy. When injuries happen, they won't have to adjust their offense too much.
Make sure to subscribe to the #NerdHerd, where you get exclusive content, dynasty/rookie rankings, and DynastyGM! Additionally, if you want 15% off of ANY SUBSCRIPTION, USE PROMO CODE 'MAYTHEFORCEBEWITHYOU' or CLICK HERE.
Give me a follow on Twitter @DarthDbacks. I love to talk football, baseball, movies, shows, Star Wars, Marvel, and of course to interact with the fantasy football community. Join Fantasy Football Chat and get tons of access to the best fantasy football chat group where many Nerds hang out in. It's free too!
As always, May the Force be with You…