Are you in on Dobbins' bounce back?
The fantasy world stopped when we found out JK Dobbins tore his ACL during the Raven's final preseason game. Dobbins was coming off a rookie season where he finished the last seven games with double-digit fantasy points. He would have broken 1100 rushing yards and 14 rushing touchdowns at that pace. He finished first in yards per carry during that season and was the 1A in the backfield. In 2021, fantasy experts had big expectations for Dobbins, even with the consistently productive Gus Edwards playing second fiddle.
Fast forward to now, and we are looking at a very similar situation we saw before 2021. Unfortunately, Dobbins is coming off an ACL injury which nowadays isn't too big of an issue for running backs. If Cam Akers can come back from a ruptured Achilles, Dobbins should be fine. We've seen stars like Adrain Peterson, Davlin Cook & Frank Gore deal with this serious injury and return to have all-pro worthy seasons following the injury. While a guy like Saqoun Barkley hasn't returned to the rookie form we all fell in love with, Dobbin's return shouldn't follow the same results.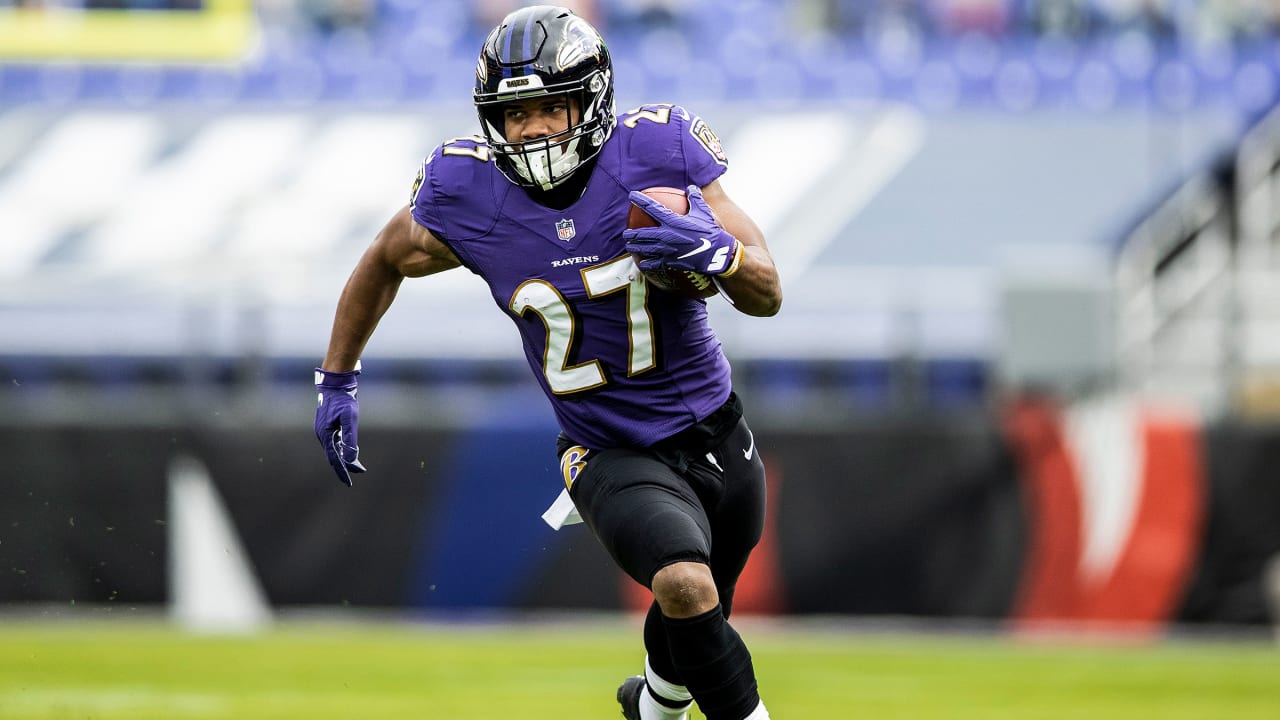 The excellent news for Dobbins outside of his injury is the Ravens continue to be a dominant running team. Even with them losing their top three running backs to injury, they were able to pick up some old guys to be productive. Devonta Freeman and Lavatuis Murray combined kept the backfield usable in fantasy. They had 14 top 36 finishes and eight top 24 finishes in half PPR leagues. Let's be honest; they were both past their primes, so a healthy young Dobbins should be back to glory. Freeman had a team-high 42 targets, something that a Raven's running back hasn't done since 2018 during Jackson's rookie season. Dobbins's passing game value was always in question. Hopefully, this gives hope in 2022. Dobbins should be brought in most places right now.
Who's the receiver you want, Hollywood or Bateman?
The Ravens have been slowly but surely building their wide receiver core over the last three seasons. The former first-rounder in the 2019 draft, Hollywood Brown has made progress every year in his young NFL career. This past season, the Ravens invested a first in Rashod Bateman, who was quiet but missed the early part of the season. The Ravens offense hasn't been too pass-happy over the years with Lamar Jackson, but this was the first time the Ravens threw over 4000 yards in Lamar Jackson's career. Who is the receiver that's going to be the best to help you get that championship?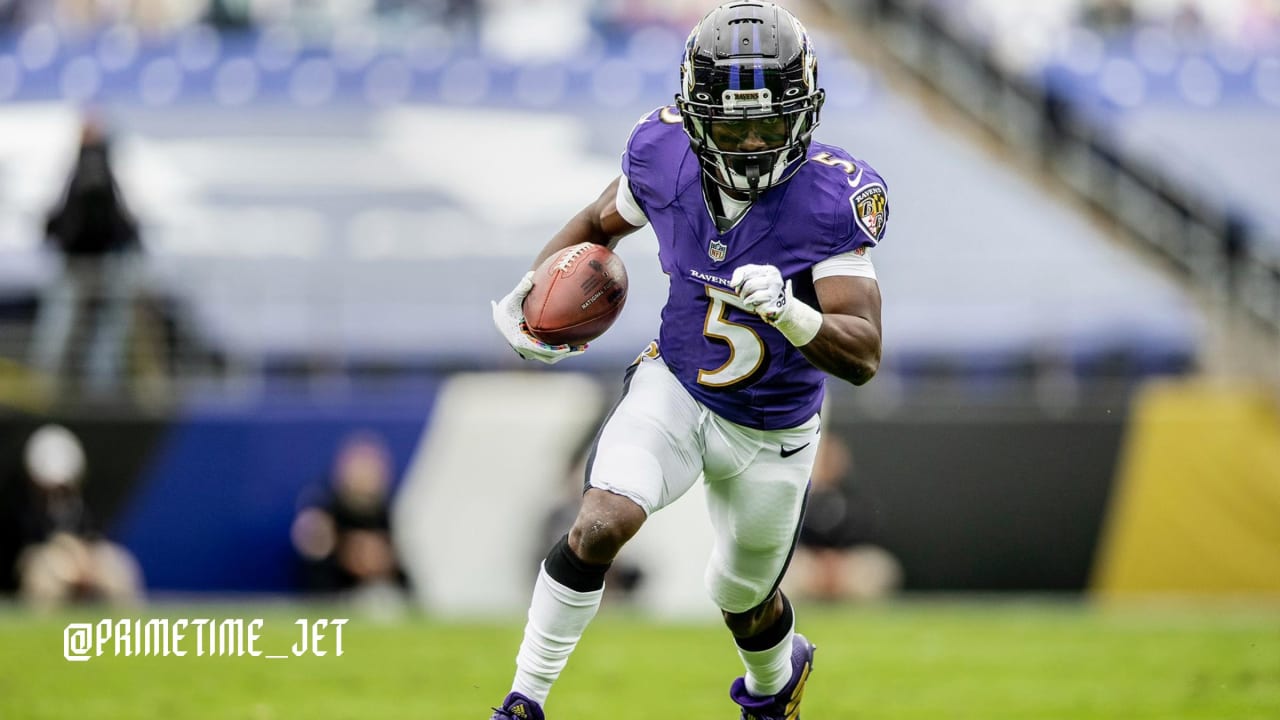 Hollywood Brown
Hollywood Brown was more of the stretch receiver with big downfield play early in his career. This season, he turned into a possession-style receiver and stepped up as the WR 1 for the team. During the first half of the season, Brown continued his hot streak from 2020. Brown was WR 5 and on pace for a career season in the first nine games. Unfortunately, in the second half of the season, he was WR 54 with Bateman coming on board and Jackson dealing with injuries. Had Brown not seen this second-half slump, he was on pace for 1449 yards and six touchdowns.
The Addition of Bateman seemed to hurt Brown since week six on; Brown was WR 38. Brown scored one touchdown with Bateman on the field after having five the first five weeks. Even with the second-half fallout, Brown managed to have a career-high in receptions targets and yards. He has also seen six touchdowns in each of his first three seasons. He finished 12th in receptions and 9th in targets, so he was used as a WR 1.
Rashod Bateman
Bateman started his career on the IR after having core muscle surgery in early August. He returned in week six and slowly started to stand out. He had five games where he produced 50 plus receiving yards and had a top 36 finish in each one of them. Following the bye week, Bateman had more top 36 finishes than any other receiver on the team. Bateman coming out of college had a ton of potential with his route running and contested catchability. He seemed more motivated than he did his last year in college. He showed his physical ability being 7th in contested catch rate.
It could be an obvious answer for some folks, but it's a tricky question who do you want in Dynasty. Bateman's youth is the easy answer, but it would come with a price. He should see an increase in targets with Sammy Watkins's departure, with 49 targets in 2021. Brown is the cheaper guy that still can put up big numbers in the offense. While he may not reach 140 targets again, he has been Lamar Jackson's guy for the last few seasons now. Brown has continued to improve each year in the offense, and to be honest, you may be able to get away with a couple of second-rounders to acquire him.
Has Mark Andrews ascended to TE 1 now?
Travis Kelce has dominated the TE 1 spot in Dynasty for the last three or four years. George Kittle and Darren Waller have been put into that conversation before the 2021 season, but not many talks about Mark Andrews. Even after his 2019 season, folks pegged him to see a significant regression and unfortunately did. In 2021, Andrews dominated the fantasy world with 107 receptions, 1,362 yards, and nine touchdowns. He finished 2021 as the TE 1 in fantasy football and dethroned Kelce. Is the passing of the torch coming?
Andrews is coming into the age of 27 years when Travis Kelce had his first big fantasy season. Andrews heated up as the season went on, and in week ten, he finished with 30 more fantasy points than the TE 2. His second-half pace had around 1600 yards and 12 touchdowns which would have been a historic season. He was able to have a high target share even with Brown at 22% of the targets. Andrews even saw more targets per game when Bateman finally started playing as he went from seven to nine targets per game.
Folks will put his final four games where he had at least 110 yards, and touchdown came with backups, Tyler Huntley and Josh Johnson. If anything, that should show how important he is to the offense; it runs through Andrews in the passing game. Even in the first 12 games with Jackson, he was TE 2 and only seven fantasy points from TE 1. He finished first in all targets categories, reception, yards, and fantasy points per game. He had such a good season that he was fourth among wide receivers.
Why does this feel different than his mini breakout in 2019? He was playing as a touchdown machine and an inconsistent target player too often back then. This time he is producing the giant games we expect from Kelce and seeing closer to double-digit targets than the seven to eight games in 2019. Andrews is a major buy-in dynasty right now.
Rookie drafts are approaching fast. Be prepared with the #1 mock draft tool on the market. And it's FREE. Available for iPhone and Android. Become a DynastyGM subscriber and sync your leagues with the Dynasty Nerds App to mock draft your actual teams.