Is Trevor Lawrence the answer in dynasty? 
In February 2020, many in the fantasy and draft communities fell in love with Jacksonville Jaguars QB Trevor Lawrence as the next coming QB Andrew Luck.
Draft experts raved about his talent and had him pegged for the first pick in the 2021 draft. The NFL world's worst teams were saying, "Tank for Trevor."
He won a National Championship and posted some fantastic stats in his three years with Clemson. Lawrence had an average completion perfection of 66% with 10,098 passing yards, 90 passing TDs, and 17 interceptions. He also had 943 rushing yards and another 18 touchdowns.
In most SuperFlex leagues, Lawrence was the first pick off the board in rookie drafts. He had a dreadful rookie season under dysfunctional head coach Urban Meyer.
Lawrence would finish the season as the QB24 in a very turnover-riddled season. He finished top three in both danger plays and interceptable balls and tied for a league-high 17 interceptions.
Lawrence is now in a prestigious group of quarterbacks with Peyton Manning and Luck, whom all threw over 17 picks in their rookie years, and we know how their careers went.
The Jaguars' offense didn't move the ball well and had minimal scoring from Lawrence. He had a decent start with seven touchdowns in his first six games.
Lawrence would go on and have just five more passing touchdowns to finish the season.
It's hard to score passing touchdowns when your receivers led the league in dropped balls, and you lose your number one wide receiver four weeks into the season.
One positive note is that Lawrence could use his mobility to gain fantasy points with 334 rushing yards and two rushing touchdowns. An ability like that will give him more value in the future.
Will Lawrence Breakthrough in Year 2?
There can be a lot of excuses for Lawrence, like coaching, offensive line, or the talent around him. The traits I didn't see from Lawrence coming out of college were still absent.
Lawrence is a skilled shot area passer which might work for his NFL success but doesn't always help fantasy owners. His deep ball game, I thought, had issues as he ranked 27th in deep ball completions, and under pressure, he wasn't able to just run out of the pocket as much, which led to bad plays.
When pressured, Lawrence ranked 32nd in completions and 28th in the red zone completions. I understand fantasy owners are likely not willing to m ove on yet, but something tells me that Lawrence isn't the "next coming" of Andrew Luck.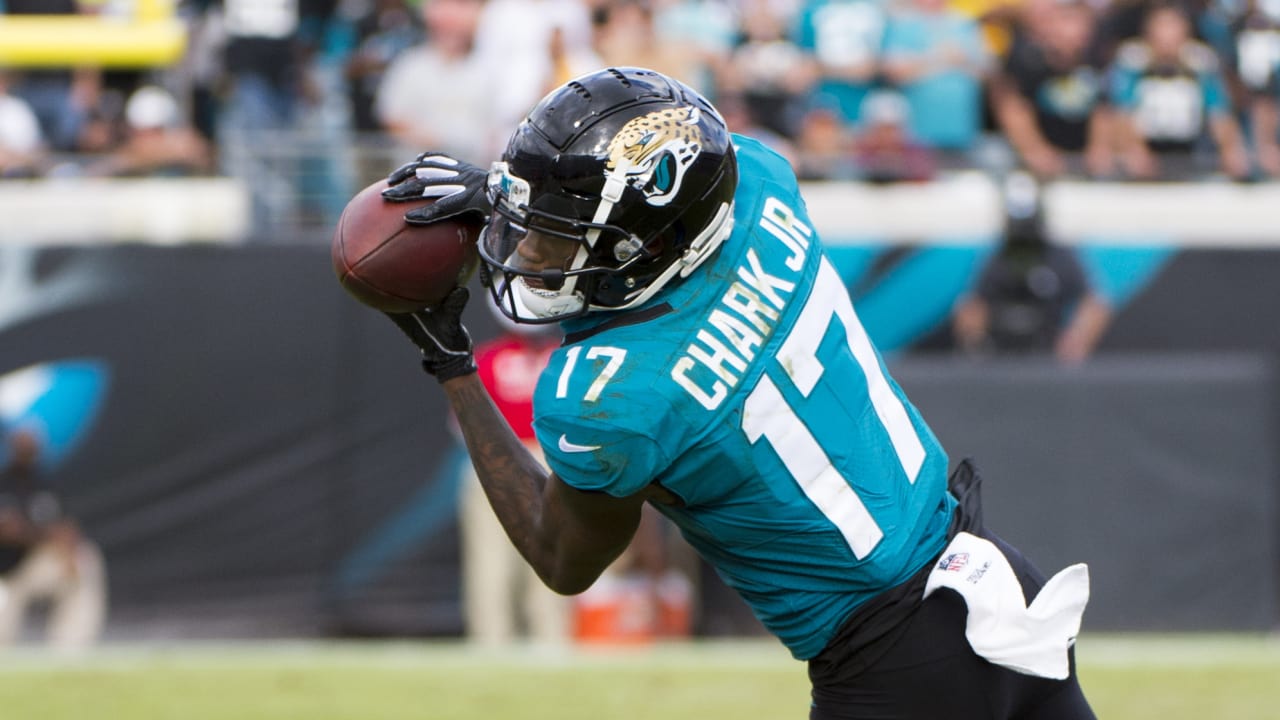 Who would you rather have, D.J. Chark or Laviska Shenault? 
We've seen flashes from these two receivers, but they haven't put it all together on the field and fantasy just yet.
Beginning with Chark
WR D.J. Chark has seen the best production between the two so far with his breakout 2019 year. On the other hand, WR Laviska Shenault may not have done that yet. However, he's a weapon if used correctly in any offense. With these two projected to be on the roster for the next couple of years, which receiver would you want moving forward in dynasty?
In the 2019 season mentioned above, Chark went for over 1,000 receiving yards and eight touchdowns. It came out of nowhere after a quiet rookie year. The Jaguars quarterback at the time, Gardner Minshew, and Chark dominated the first half of the season.
During those first nine games, Chark was the WR6 and averaged about 14.3 fantasy per game. After the strong start, Chark cooled down. Since that stretch, we have searched for that same success from him but have yet to find it.
In 2020, he regressed while missing a few games and dealing with a carousel at quarterback. There was hope going into 2021 with Lawrence under center.
Unfortunately, his season was cut short due to injury. He produced two of his four games with 12 plus fantasy points.
Transitioning to Shenault
Meanwhile, Shenault didn't live up to the hype heading into the 2021 season. Fantasy experts loved the combination of Sheanult with Meyer. That was especially true after 600 receiving yards and five touchdowns in his rookie season. While Shenault saw a significant uptick in targets from 79 to 100, his receptions only rose by five.
He compiled similar yardage but failed to reach the endzone for a team that continuously had to come back from behind. Shenault's rushing stats dropped too. He fell from 18 carries to 11 in 2021.
It seems like Shenault has the talent to be used, almost like WR Deebo Samuel or WR Cordarrelle Patterson, but he wasn't used that way.
If I had to pick one that still has the opportunity to reach a high-end WR2 level again, I'd go with Chark since he's a free agent. He possesses a more typical WR1 type playstyle.
Shenault operates more of a gadget type and will likely not see that possible rushing value with RB James Robinson and RB Travis Etienne in the backfield. While both are cheap, I believe Chark's value is lower based on age and the fact he didn't play most of the season. Both could be good buy lowes, but Chark intrigues me the most.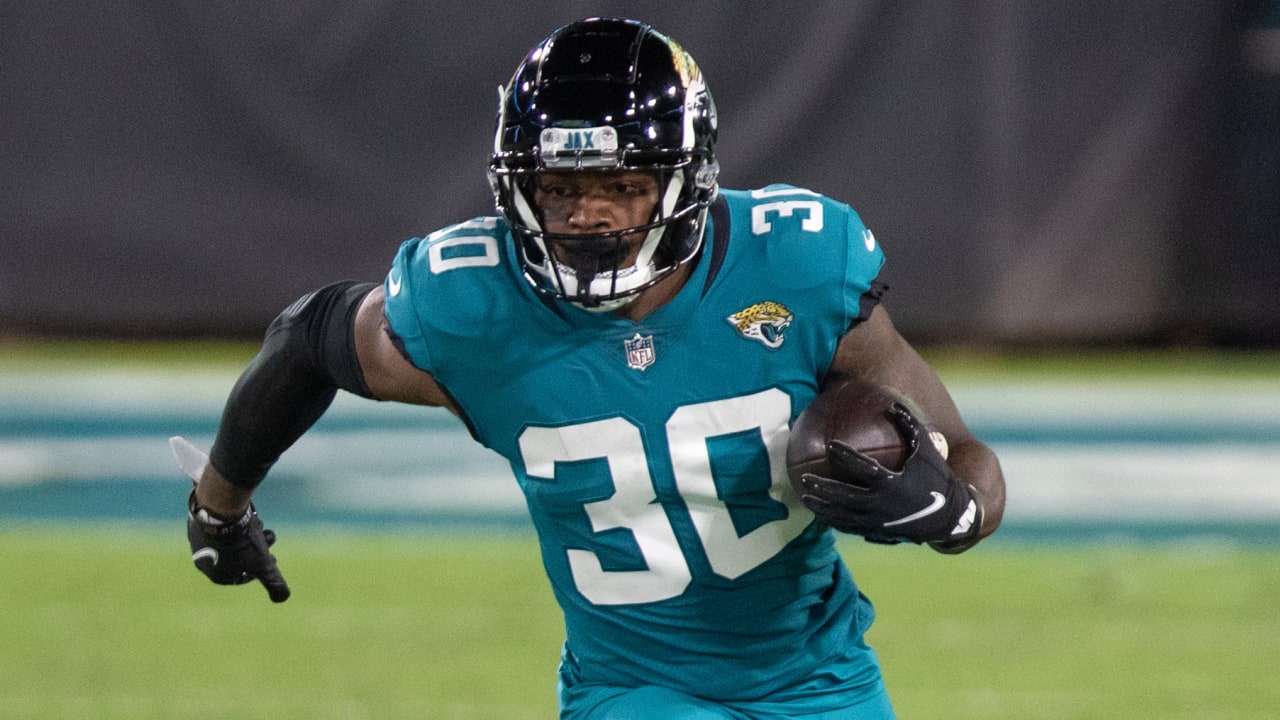 Can Etienne and Robinson co-exist? 
The easy answer is no. While the NFL today continues to have more and more backfield committees, this isn't one to trust.
The Jaguars' offensive line ranked 24th in the league via PFF. It showed that without RB James Robinson, the running game struggled. New head coach Doug Pederson had worked in multiple backfields, but they were inefficient. I'll tell you now that Robinson is the one you want to buy low on and sell high if you can on RB Travis Etienne.
Robinson proved that he's a good NFL running back as he was the RB7 through the first six weeks of the year. He had eight RB2 or better performances which were on par with his 2020 season.
He has a nose for the endzone and runs up the middle hard. You can look back on Pederson's time with the Philadelphia Eagles with RB Jay Ajayi and RB LeGarrette Blount. Pederson's Eagles combined for 83 rushing touchdowns in his five seasons. A healthy Robinson should command the workload or see most goal-line work. Also worth noting, Pederson finished four of five seasons with a top 12 rushing unit.
As for Etienne, he was a reach for the Jaguars in the first round after a down senior year. Now, he's coming off a Lisfranc injury in 2022. If you don't know, it's a foot injury and usually does take some time to get comfortable and confident.
If you remember, Samuel suffered a Lisfranc injury that downed his 2020 season. Etienne's best skills are in the passing game, which would require good footwork. If he doesn't have a confident mindset, that could be bad news. We'll see if he participates during the offseason work.
So far, Pederson's offensive scheme has been up and down for pass-catching running backs. In 2019 and 2020, Eagles RB Miles Sanders combined for 105 targets as the lead guy while Boston Scott had 62. I can't imagine Etienne starting 2022 as the lead man, so he will likely be the backup to Robinson.
In Pederson's early days in Philadelphia, his highest target leader for a running back was 35 by Wendell Smallwood in 2018, which again doesn't bode well for Etienne.
The new coaching staff has no ties to either running back, but you've seen the film, and Robinson's likely to be the lead guy. I can't imagine both running backs being weekly flex options with a terrible offense. We saw from these Jaguars that fantasy production happened when one running back had a workload. A late first for Robinson should work, while you may be able to get a mid-first for Etienne still.