This offseason's NFL free agency period was filled with tons of money being thrown around, and those decisions have big impacts on your dynasty football rosters. Making sure to optimize your tight end and wide receiver groupings is important, especially now before the NFL Draft happens in April.
Not all players were impacted positively. Many TE or WR options have lost relevance, making it tough to decide if you should move on from them or stay the course. Regardless of the depth chart, here are some helpful pieces to help you make some offseason decisions.
Tight Ends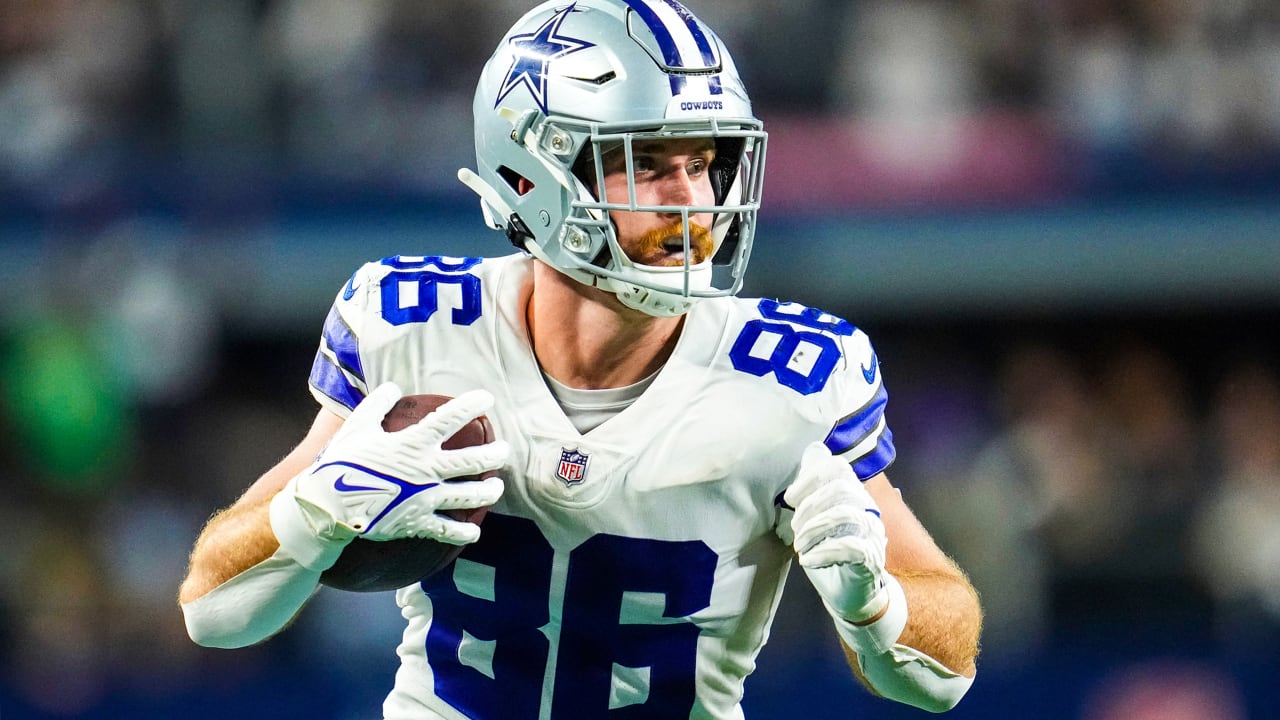 Dalton Schultz
Amari Cooper and Blake Jarwin out of the picture in Dallas. The Cowboys will be reliant on TE Dalton Schultz to carry over his uber-successful 2021 campaign into 2022 and beyond.
The 6'5″ Schultz produced the overall TE3 season, catching 78 passes (104 targets) for 808 yards and 8 TDs. He averaged just over 12 fantasy points per game (12.3). Schultz parlayed a solid but unspectacular 2020 season into a breakout year, earning the franchise tag from Dallas on the way.
Schultz (82.4%) more than doubled Jarwin's snap share this past season, converting his time on the field into 11 weeks of TE1 play. With a clean bill of health during his NFL career (outside of a slight ankle injury from the '21 preseason), Schultz looks to be entering into regular TE1 territory for fantasy purposes, and only being 25 years old means he has plenty of good years ahead of him.
Schultz is a buy based on his sheer opportunity in this offense, and shipping out an upside player like Albert Okwuegbunam plus a '22 2nd round selection would be a smart buy.
Robert Tonyan
Robert Tonyan's ADP flew skyward after his 11-TD season in '20, blowing any sort of reasonable buy window closed. But after he tore his ACL during the '21 season, any sort of success suddenly went out the window.
As Davante Adams (trade) and Marquez Valdes-Scantling (free agency) have departed the Green Bay Packers, many targets have opened in this offense, a role that Tonyan hopefully can slide back into. His TE6 season back in '20 showcased the trust that Aaron Rodgers has in him, and with his ADP having declined after his season-ending injury, now is the window to buy back in.
Expecting Green Bay to address pass-catchers in the draft is smart, but Tonyan was brought back for a reason. So, if the team that currently rosters Tonyan would take a 3rd or less for him, jumping at that opportunity can help start your TE reclamation this offseason.
Dawson Knox
Choosing to move on from Dawson Knox will be seen as controversial, but hear me out – now is your window.
Moving on from Knox, who led the TE position with 2.3 fantasy points per target last season, is a difficult decision. Especially with how barren the TE landscape is outside of the top names. His 13.2% target share (22nd) was not as high as his nine total TDs would have described, and with Stefon Diggs extended, Gabriel Davis taking on a larger role, O.J. Howard being added in free agency, and the Bills likely looking to add a pass-catcher within the first two days of the NFL Draft, Knox's role is going to shrink.
Targeting the Josh Allen roster should be your first step, but if that's not an option, target Pat Freiermuth. You should be able to get Freiermuth and more in a package deal in return for Knox.
Wide Receivers
JuJu Smith-Schuster
Could JuJu Smith-Schuster ultimately end up as the WR1 for the Kansas City Chiefs this season? Possibly – but that role likely will fall to Travis Kelce, even with Tyreek Hill having been shipped out.
Smith-Schuster, will become a solid option in the Andy Reid offense after signing there in free agency. Riding the offseason hype train can force you into a heavy reliance on storylines and not actual production. Going from Ben Roethlisberger to Patrick Mahomes certainly will be a drastic improvement. Still, Smith-Schuster likely could fetch a '22 2nd or even a mid-'23 1st, two options you should consider heavily in your leagues.
Smith-Schuster has not had a full season since 2020. While he did well in a stagnant offense, expecting him to burst onto the scene after his season-ending shoulder injury isn't realistic. If you decide to move on from him, then his value will have dropped compared to now.
DeVonta Smith
The Philadelphia Eagles will likely use a first-round selection on a pass-catcher, providing DeVonta Smith WR in his second year. While adding premium competition usually means a decline in opportunity, this would actually help Smith.
Providing another target for Jalen Hurts will only improve the efficiency of this offense. While Smith excelled in his rookie year (64/916/5), he has the skill set to be a 1,000-yard WR in his sophomore season. If you have a league where the team that has Smith doesn't believe in Hurts and is worried about their draft pick usage, throw over an offer of Gabriel Davis and a '22 2nd and see if that is enough to get them to bite.
Allen Lazard
Allen Lazard has played 2nd/3rd/4th fiddle for Green Bay, but with two top targets not there, his value can skyrocket.
His role won't be the WR1 for Rodgers to target, so thinking he'll produce WR1 numbers is not realistic. But thinking that he has earned the trust of Rodgers is fair and something that'll boost his value in '22.
If you want a lottery ticket option that could pan out, holding onto Lazard is the play. Lazard will be a WR3/FLEX option, which you likely obtained for little to no cost.
But, if you need to add proven talent to your roster and your window of competition is wide open, sending Lazard out before the NFL Draft is a great way to capitalize on talent. Green Bay choose not to do anything for their WRs in free agency. Lazard is currently the top in-house option. I would try to get a selection in either the 2nd or 3rd round should be your asking price.