What do you do with DeShaun Watson?
Watson is a significant issue in the dynasty world right now. We all know Watson is dealing with a serious legal situation that caused him to miss one year of football already. Well, that's more of his hatred for the Texans. Watson has all the talent in the world but missed a year due to team issues and could miss more time due to legal problems. Is it worth the headache to keep Watson in your dynasty league knowing his future's so unknown? 
Before 2020, Watson had three straight seasons as a top-five fantasy quarterback. Over those three seasons, he has averaged 4280 passing yards, 28 passing touchdowns, 470 rushing yards, and five rushing TDs. By the start of the 2022 season, he will be 27 years ago, which is still very young for a quarterback. At this point, if Watson were to play, it's likely not going to be for the Texans but a new team in a better situation.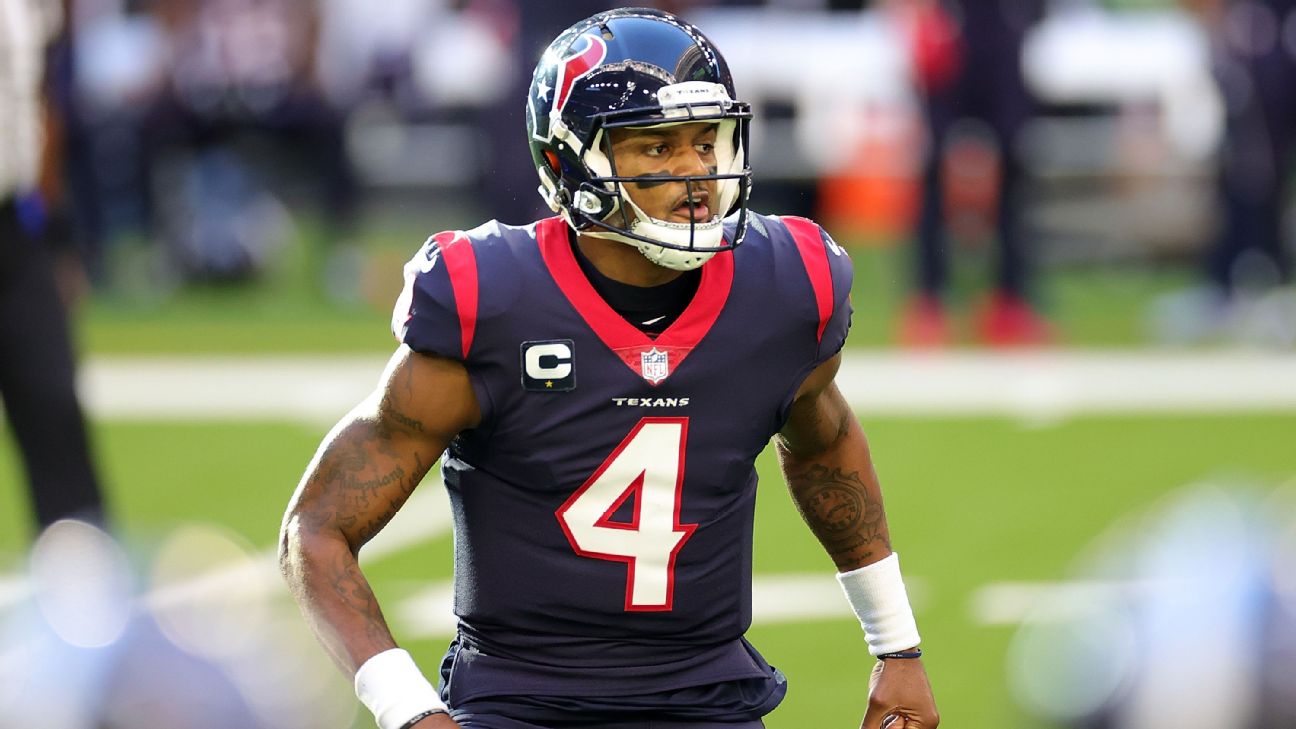 As much as we know about Watson's legal situation, it's very little. At the end of January, Tony Buzbee, Watson's attorney, said: "13 of 22 plaintiffs have been deposed so far by Watson's Legal team." Watson's deposition is scheduled to begin in late February. If you don't know what a deposition is, it will be the final step of the Watson situation. We may have answers by the draft, which would help make decisions for your fantasy teams way before the season starts. 
Unsure Value
Whatever you do now to trade him will likely be at a loss than when you drafted or traded for him. The best thing to do is hold out and wait to see what is determined from his situation. Best case, Watson is cleared, the NFL decides not to suspend him, and he is good to go in 2022. There is a slight chance he could see a small suspension for being put in that situation. Worst case, Watson loses, and whatever legal determination comes from that and NFL would like to suspend him. Sadly, we have seen the NFL bring back players for the worst situation, so he would likely play again. Watson is a gambling situation where you either have or buy a talented player. Or hold a player who isn't going to play for a significant time. 
Can Davis Mills be the long term answer? 
We all know that the Watson situation is still a big unknown, but the Texans spent their first pick in the 2021 draft in the fourth round on Davis Mills. Mills was a high-graded high school prospect coming into college. Unfortunately, his college stats don't tell a whole story of his talent since he only played in 14 games over three years. Granted, in his final year at Stanford, he only played in six games. He averaged 300 yards and a touchdown per game. 
Fast forward to 2021, Mills was projected to sit for a majority of the season as the team was either waiting on Watson or allowing journeyman Tyrod Taylor to play the season. Unfortunately for Taylor, he was injured in Week 2, which permitted Mills to see work early on in his career. Mills didn't start on the right foot as in Weeks 2 to 9; he was QB28. While he managed to have two QB1 performances, he did have four other games under 10 FPs and dealt with eight interceptions. Granted, he was working with the worst supporting cast in the NFL outside of Brandin Cooks. That didn't matter to Houston, so they returned to Taylor in week nine as he was deemed healthy. 
Mill would see opportunity again as Taylor continued to be inefficient for the offense. Mills started again in week 14 and played the final four weeks as the QB12 in fantasy. He looked more poised in the pocket and made big plays in the air. It helped the run game go slightly to take the pressure off the pass. Mills would cut down on the turnovers to throw two picks in those four games. I didn't even add that in the season finale week 18 games, he had a perfect game of 300 yards and three touchdowns in a hard-fought comeback attempt. 
The Starter for 2022
Mills might have been the best rookie quarterback in this supposedly loaded draft class. He has four 300 yard games while the rest combined for four. He has five two-plus TD games as the rest combined for 15, and half were by Mac Jones. Mills showed the ability to be accurate with the ball with fourth in deep ball completions and seventh in clean pocket completions. He did have a few struggles vs. pressure and was 32nd catchable ball rate. He still needs to grow as a passer.  
Mills showed flashes of potential, but his situation is up in the air. It seems like the Texans are heading toward Mills starting the season. He is worth a buy-in dynasty as an early second to see if his potential can be reached.
Brevin Jordan a Target in Dynasty?
In any TE premium dynasty league, Jordan should be on everyone's radar currently. In the fifth round of the 2021 draft, Jordan was picked in a favorable situation. The Texans have used Jordan Akins as their starting tight end over the last two seasons, and you could call him inconsistency at best. An upgrade was needed since the TE position in Houston hasn't seen a player produce over 500 yards since 2016 with CJ Fiedorowicz. 
Jordan is a very athletic player who has a ton of potential but needs to develop his skills. He wasn't' the best route runner and needed to be more aggressive in contested situations. Jordan played more like a receiver than a tight end but was about to adjust for the ball given separation. In his final year at the University of Miami, he had 38 receptions, 576 yards, and seven touchdowns in just eight games. 
Jordan got his first action on the field in week eight, and he went on to be TE 20 the rest of the season. While we know that anything outside of the top eight tight ends isn't something to brag about, it still shows promise to a developmental prospect player. He did manage to have three TE1 performances in those eight games played. He had at least 20 yards in half his games and a touchdown in three of them. Jordan had shown enough promise to buy low and see if he could develop into something more. 
Read our recent article on the Houston Texans' Coaching Change HERE.
Get ready for your rookie draft with the DynastyGM!! Rankins, trade calculator, league analyzer, and much more. Just $4.99/month or better yet, bundle with the Nerd Herd for just $6.99/month and get extra podcasts, the Dynasty Prospect Film Room, and more.