Can Clyde Edwards-Heliare rebound to his draft capital?
Clyde Edwards Heliare was the most hype player in the 2020 drafts when the Chiefs selected him in the first round. Before the draft, CEH was clearly behind the talents of Jonathan Taylor, JK Dobbins, and DeAndre Swift. CEH was coming off that LSU Championship run with 1414 rushing yards and 14 touchdowns. In the passing game, he produced 55 receptions and another 453 yards. Now two seasons in his NFL fantasy career and has yet to crack the top 20 in fantasy. Can CEH rebound with the high draft capital many fantasy owners invested in? 
There was promise in CEH's first season, but we all expected more from him. He finished RB 24 despite missing three games due to injury. CEH's 17 game pace would have put him over 1000 yards and up to 70 targets which would have been exciting for his value. He ended with 800 yards and 50 targets which gave many fantasy owners hope he would explode in the Chiefs' high power offense.
2021 was set to be a big year for CEH, but it left us feeling disappointed once again. He played in ten games, and in eight of them, he was able to produce RB 36 or better. His production seems to come based on the offense production as a whole. When healthy, he saw double-digit carries in seven of those ten games. At the same time, his red-zone usage is nothing to brag about with only 17 touches. He has seen back-to-back seasons with five all-purpose touchdowns. 
There is plenty of reason to doubt CEH since he has as many receptions as his senior year at LSU over the last two years. Everyone liked CEH initially because of his opportunity in the receiving game. The chiefs aren't using him naturally, which could be a product of his adequate blocking ability. Darrel Willimas is being used confidently on passing down roles and in two-minute drills while CEH takes a stand on the sideline. In trailing and tied situations, Willimas has 30 targets while CEH had only 12 on the season. Granted, CEH has missed games, but that's also a factor since he has missed ten games over his first two seasons.
I don't think CEH will live up to that high rookie draft capital that the Chiefs and we brought into. He can be a possible low-end RB 2 in fantasy. He won't see the workload we all want if the playoffs indicate that he had four targets over the two games and was being pout produced by Jercik McKinnon. While it's unlikely you're going to get a first for him at this point, using CEH as a package to get an elite-level talent might be possible since he will only be 23 by the 2022 season. Based on what the Chiefs showed us with CEH in two years, it doesn't scream workhorse running back.
Is it time to get out under Kelce?
Dynasty fantasy football hates age, and fantasy owners do everything to keep a young team. The Chiefs have two aging superstars in Travis Kelce and Tyreek Hill, slowly falling off their prime years. Kelce has been known in the TE landscape as an elite level that was untradeable for so many years. He is now pushing 33 years old and finally did not finish as the TE 1 in fantasy football.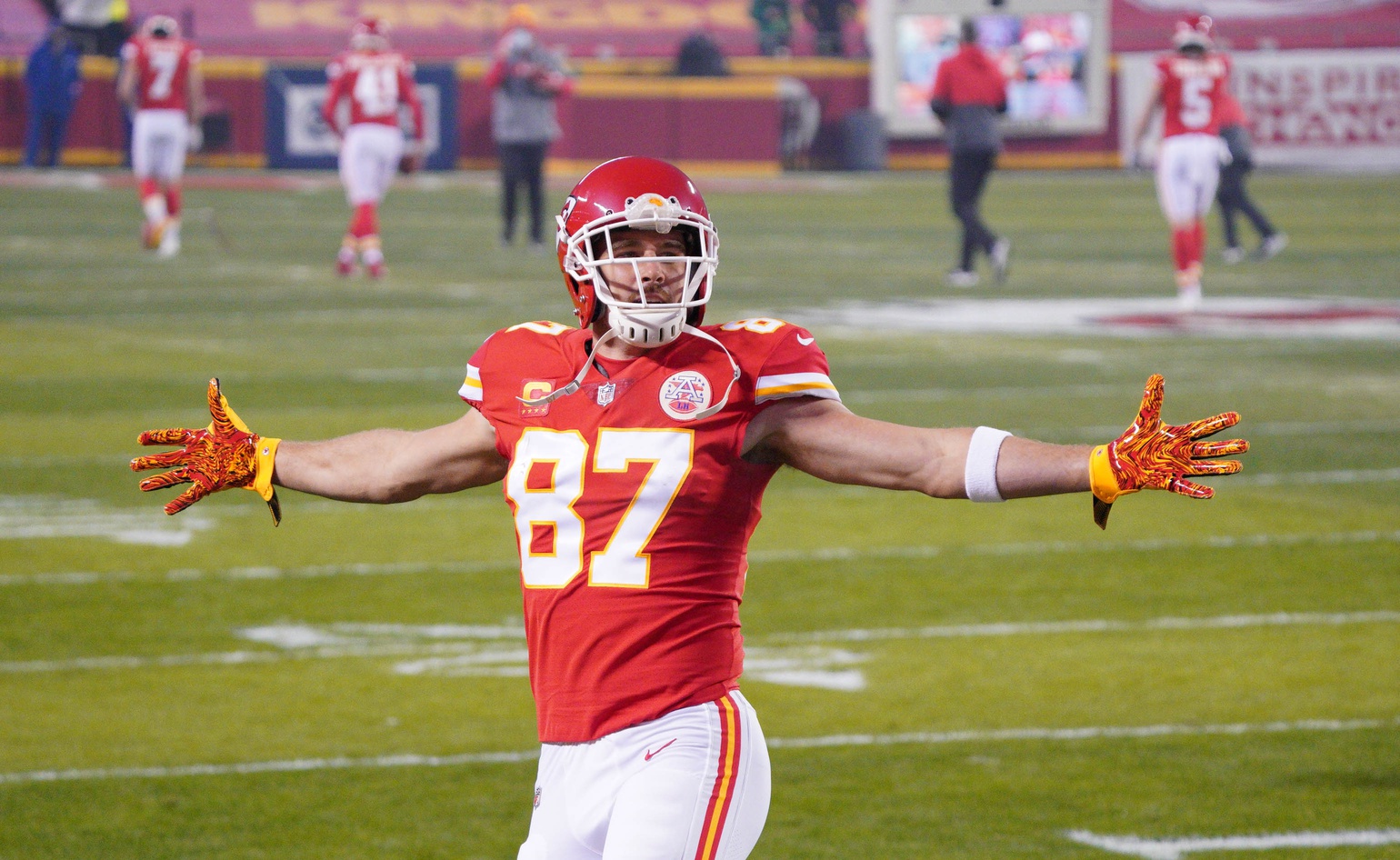 Starting with Travis Kelce, is it time to get out from under a 33-year-old NFL player? Likely yes, that's the typical strategy to do. There are times in dynasty that some players you ride out the storm with, and that's Kelce. Everyone has a different situation where trading Kelce makes the most sense for their fantasy team. I compare Kelce to one of the great tight ends in Tony Gonzalez when looking at Kelce dynasty value. After the age 32 season for Gonzalez, he was about to produce four of those final five seasons with 800 receiving yards. Gonzalez played with Matt Ryan, who was good during that time, but nothing like Travis Kelce will get with Patrick Mahomes.
While Kelce's 2021 season went on didn't see as many elite games. He showed he is still more than capable of putting 150 yards in any outing. Kelce will benefit from playing with Tyreek Hill, and defenders need to worry about covering both. It's safe to say that Kelce might not put up an elite 2020 season he had, but you can be confident he is still going to flirt with 800 to 1000 yard seasons in the future with the opportunity to score double digits touchdowns. Kelce is firmly held in most dynasty leagues because even a floor for him is better than about 25 other starting TEs.
Does Mecole Hardman have one last chance?
The former second-round pick in the 2019 draft, Mecole Hardman, has surely disappointed his believers over the years. Hardman was one of the most electrifying players coming out of his draft, and the "speed speed speed" was the label on him from day one. He has been slow in his production for three seasons, with 2021 being his best year yet. He put up career-high in targets, receptions, and yards while he hit career lows in touchdowns with two. Folks are waiting for the young receiver to break out in this high-power offense.
If you want to see him break out well, you probably should play Madden then. As long as Hill and Kelce control over 40% of the targets, I don't see a third option developing to that level. There have always been rumors that KC would bring in another weapon. I mean, they almost signed Juju Smith-Shuster the last offseason had he not gone back to Pittsburgh. While he finished seventh in yards after that catch, he didn't produce enough in fantasy points to be consistent. He finished with three games as a top 36 receiver which isn't going to cut it.
You could argue that the top target leaders are aging, and Hardman is only 24 years old, so there is hope in that regard, and he does have speed compatible with Hill. Hardman's value continues to drop, which opens the door to buy low, which you probably could offer up a third-round pick. Hardman might not reach that ceiling unless Kelce or Hill happens to be off the field for an extended period.
Did you hear the big news? The Dynasty Nerds YouTube channel is up and running. Now you can see the podcast straight from the NerdHQ!! Smash that subscribe button. Sign up for the DynastyGM tool to keep that edge over your league mates. Manage all of your dynasty teams, use the trade calculator, and we just added a player shares tool so you can see all players you roster in one place.