You've found a league you like, and you're happy enough with the way the startup went. Next step: win the rookie draft.
If this is skipping ahead for you, check out Intro to Dynasty Vol 1: The Basics and Intro to Dynasty Vol 2: The Startup.
Otherwise: let's go!
Even if you're an experienced player, stick around; there's some great resources below that might be new to you.
---
What is the rookie draft?
Dynasty leagues have a huge draft upon inception, called a "startup draft." We covered this here.
Each year thereafter- or sometimes later in that first season, if the startup was between the super bowl and the NFL draft- leagues have a "rookie" or supplemental draft.
Teams spend draft capital, assigned by various measures of year-end finish or acquired through trades, to select incoming rookies to add to their teams. Some leagues will also include free-agent vets in the supplemental draft.
---
When is the Rookie Draft?
The timing of the rookie draft varies from league to league. Some leagues hold theirs before the NFL draft; some do it just before the preseason. The most common time for leagues to schedule their supplemental drafts is in the month after the NFL draft takes place.
---
Rookie Draft Picks: the Currency of Dynasty
Your draft capital is effectively the cash of the dynasty world. It's a fixed, intangible asset whose value stays (more or less) constant. The value of picks does in fact wax and wane throughout the year- we'll talk about that more in a little bit- but it doesn't change nearly as much as the value of a player might.
On the other hand, the vicissitudes of an NFL football player are sudden and often unfortunate. The value of a running back like David Johnson or Todd Gurley can plummet in the span of just a few months, be it from injury or declining play.
---
In 2018 drafts, Gurley or Johnson were common choices for 1.01; Antonio Brown was another candidate. By fall of 2019 both Gurley and Johnson had fallen to the third or fourth round, RB2 territory; this year, Gurley is going around pick 80 (in SF) DJ is going around 100 and we're not even sure if AB plays football this year; he goes as a late-round flyer.
On the other hand, you might have picked up a Preston Williams with a nearly-valueless 4th rounder, scooped up Ryan Tannehill off the scrap heap, or bought low on Kenyan Drake. If you grabbed those players this fall you have seen a massive increase in value in the past six months.
It goes both ways; players are volatile assets, for better or worse.
A 1st round pick, on the other hand, is always a first-round pick. It might be worth a little more or less depending on the strength of the draft class or the time of year, but it's generally a stable asset.
As has been said (I'd credit the originator if I knew who it was) picks are like cash or bonds, while players are like stocks. Picks hold their value, but don't significantly appreciate; whereas players are investments than can quickly increase or decrease in value.
A common metaphor says that as dynasty players, we're playing the stock market, trying to buy low and sell high to acquire assets and build an unstoppable team. This jives with the reality for skilled dynasty managers. Just don't forget that the point is to win a championship, not to accrue the next up-and-coming asset. At a certain point you need to pick your window, spend your assets, and go for the 'ship.
So why is this important?
---
Making Picks vs. Trading for Players
If players are stocks, rookies are the hot young startup company with the next great idea. They might hit huge, or they may bust entirely, and despite the best efforts of many smart minds, we can't often predict which way the chips will fall. Go back and look at what fantasy analysts and draftniks said about Corey Davis in 2017, about Josh Rosen in 2018, or about N'Keal Harry last year. Even the best of us are just making educated guesses.
---
---
Vets, on the other hand, are the proven, blue-chip titans, the Apples and Microsofts of the dynasty world. They're expensive to acquire, and often less sexy, lacking that shiny-new-rookie gleam, but they're generally going to perform well. You're not often going to get a stud WR like De'Andre Hopkins or D. J. Moore for a single high-first-rounder; in the draft, you're just hoping and wishing on a star that that first-rounder turns into that type of player, and it's rare that they do.
---
Rookie Hit Rates
The historical hit rate for rookie picks is far from great. Plenty of analysts of studied this; Jacob Rickode from RotoViz has done several pieces on it (find them on RotoViz) and there's a great 2018 piece (link here) by Matt Mesisca from which I'm going to draw some data now.
Matt mapped out the hit rate for the 2012-2017 draft classes, counting "hits" as top-24 RB / top 30 WR / top 12 QB /TE.
Here's what he found for hit rates, by draft round:
1st round Hit Rate: 45.8%
2nd round Hit Rate: 30.6%
3rd or late Hit Rate: 9.3%
1st round 2+ Starter Level Seasons Hit Rate: 31.7%
2nd round 2+ Starter Level Seasons Hit Rate: 18.3%
3rd or later 2+ Starter Level Seasons Hit Rate: 4.2%
Here's a visualization:
---
Yikes. That's not great! The hit rate is substantially better for picks near the top of the first than it is once you get to back half, but it's still not much over 50%.
Some quick basic math: if you can trade two mid / late 1st rounders (with a sub 32% two-season hit-rate) for a non-rookie-player with "1st round talent" – a player that you can be confident you can get two or more "hit" seasons from- you're drastically improving the likelihood of those picks paying off.
Here's another article that breaks down rookie pick hit rates in a slightly different manner, this one by Mike Tagliere.
---
---
What's the Takeaway Here?
There are no sure things in the rookie draft. There's certainly prospects with many indicators of success in their profiles- we'll get into scouting in a just a minute here- but there's still players every year that look great on paper and great on college film and yet perform terribly in the NFL.
---
---
For every AJ Brown, there's a J.J. Arcega-Whiteside going in the same range. Drafting one of those players is fun and profitable; the other, not so much.
So, though the rookie draft is one of the most fun, exciting parts of playing dynasty fantasy football, it's often a good idea to consider trading away your picks for proven players. Of course, this will also depend on your team composition and its place in the win-now / rebuild spectrum.
---
Trading picks for players
We're going to discuss trades in-depth in one of the subsequent articles in this series, so we're not going to get too deep with it here. But we often hear that understanding how to value picks and players is one of the hardest things for new players, so, let's get you some resources to help you out.
First, and this might be one of the most helpful tricks anyone taught me in dynasty: any time you're trading a startup or a rookie pick, always think of those picks as players. Go find ADP or a recent draft chart and assign a player or player range to the pick in question. When you put a player to a pick, it starts to make more sense in terms of how to compare them to other players.
Any time you're trading a startup or a rookie pick, always think of those picks as players. Go find ADP or a recent draft chart and assign a player or player range to the pick in question
But comparing rookies to vets is still hard; we don't really know who a rookie is until they've played. You really have to compare them to the rookie profiles of the NFL players to have it be apples-to-apples, and even that can easily yield a flawed analysis.
Another tactic is to try using a chart like this one. It also helps solve the rookie-to-vet comparison problem. I made it for the "startup" article of this series a few weeks back- you can see how much ADP has changed in the past month!- but it's very much so useful for trading as well.
---
---
Look at where the rookie picks were drafted; it's safe to assume that the managers in this draft (all pretty sharp players) valued those picks similarly to the players going in the same area of the draft. So you can assume that the 1.01 (for these managers) was about the same in value as Miles Sanders or A.J. Brown.
I also slapped some "pick ranges" on the side and top of the chart. They demarcate what I (subjectively) see the value of the players in those areas in terms of rookie picks. The "pick ranges" are meant to be gradients, not hard lines.
Don't take the chart as gospel- there's some bad picks in that draft that were reaches or panic picks (some by me!)- use it as a tool, applying common sense and judgement to your own situation, getting the best deal you can.
Thirdly, you can try a trade calculator. Most aren't free, and for good reason; it takes a lot of work to build and maintain these tools, and their developers want to get paid for their time. Dynasty Trade Calculator is a good one; I've interacted with DTC founder @DTC_IzzyE and found him very helpful and conscientious about providing as good a tool as is possible.
Fourth, ask for help. Trade polls are fine but can sometimes get distorted from people not reading the settings carefully and so on. It's also ok just to ask for feedback from specific people,; just understand that not every analyst loves being group-tagged for questions. Some don't mind, some prefer you tag them solo or not at all.
I personally don't mind if you tag me; I'll answer any questions I have time to.
---
The cycle of the rookie draft value
I mentioned earlier that there's a substantial amount of fluctuation of the value of rookie picks throughout the year. This is an effect that one can capitalize on to maximize purchasing power when buying or selling picks.
My colleague Kyle wrote a nice piece on this in 2019. Here's a link.
---
---
The short version is this:
Pick values peak:
After NFL season
around the combine when rookie fever hits a high
when OTC
"Next year" picks have a spike right after the current year rookie draft
Pick values dip:
During preseason
At start of season
At trade deadline
Player values peak:
At the beginning of the season when teams start to try to add assets to compete
Around the trade deadline when playoff teams are acquiring assets for a championship run
I took Kyle's work and fashioned it into a graphic to help illustrate the idea:
---
Keep this in context though; your moves need to fit your team. If you're in a rebuild, you're likely trying to acquire picks; in win-now, you're likely trying to add players.
---
So, You Have Some Draft Capital…
Trade for proven players, or make your picks? As I mentioned above, trading away your picks can be a safer investment than making selections in the rookie draft, but it's not necessarily the smartest move for every team. As a manager, you need to assess your assets honestly and make moves that suit your team.
Are you heavy on win-now assets or peaking players? Is your team likely to compete this year? Is it likely that adding one or two more studs will push you over the top? If so, trading for vets might be the way to go. It's rare that all but the most talented rookies make a huge impact right away; even some stud running backs take some time to work their way into their team's system (see: Miles Sanders, 2019). The Barkleys and Zekes of the FF world are few and far between.
If, however, your team is more developmental, full of young breakout candidates rather than proven studs, or, it is more than just a piece or two away from being a contender, it might be wiser to make your picks. With that type of team composition, you don't want to be trading for an RB at the end of their rookie contract or a WR that might have begun to decline. If you can land a young cornerstone- a DJM, or a Kyler Murray- without overpaying, it's always a good move. But if you spend too much of your capital on one position, it can be hard to fill holes at other spots.
The fastest way to rebuild can be a good draft or two. If you've traded for some extra cap, you hit on a few picks, and some of your developmental guys start to hit your stride, it's not impossible to go from worst to first in just a season or two.
The trick is to hit on those picks!
---
Prepping for Draft Day
How to give the short version of a scouting tutorial? There are countless books on the subject.
There are legions of smart football men that make their livings scouting, and even these actual pros get it wrong with frequency.
But, in the information age, there are literally limitless resources at a fantasy manager's disposal if you want to do your own scouting.
There's curated libraries of film available at the touch of a button.
There's dynasty gurus that put out volumes of free content and hour upon hour of audio breaking down prospects.
There are endless streams of data, and analytics experts that want nothing more than to talk about it to your on twitter and on pods.
You can put as much or as little time into scouting rookies as you like, but, for many dynasty buffs, it's the most enjoyable part of playing fantasy football, and it's a labor of love.
Here are some resources to use for scouting; take what you like, leave what you don't.
---
Rookie Rankings
Don't have time to grind film / dig through data? Someone's already done it for you.
Dynasty Nerds has great consensus rankings from our content producers. DLF is another good resource. Larger media outlets like PFF, RotoBaller, and FantasyPros get in on the action as well.
Rookie Mocks
Not sure which players you should be targeting in each area of the draft?
Check out these recent rookie mocks we did with the Dynasty Nerds writing team. We'll do another after the NFL Draft to keep you updated on changing values.
---
---
Dynasty Podcasts
There's more dynasty podcasts than I can count, and many of them spend the time between the super bowl and the NFL draft breaking down prospects. Here are a few of my favorites:
-DynastyNerds
-Dynasty Rewind
-Dynasty Crossroads
-DLF Podcast
-Destination Devy
---
Dynasty Nerds Film Room
The film team at Dynasty Nerds does the heavy lifting for you by curating a film library broken down by prospect and game. They edit game film to include only the plays that the player was involved in, condensing them down to five or six minutes of only-relevant action. It's amazing, and I rely on it heavily for my own scouting.
---
Film Nerds
Don't know what to watch for when scouting? Spend some time with the FilmNerds.
Every week Garret, Nick, and Jared break down game film for your viewing enjoyment & edification. Last week they had Deejay Dallas on as a guest to break down his own game film!
---
---
Twitter Threads
There's tons of other awesome resources out there that you can learn from for free.
Matt Waldman and his crew over at the Rookie Scouting Portfolio (Jay Moyer, Mark Schofield, Dwain McFarland) make volumes of free threads, and these guys know their stuff. Waldman's RSP itself is a wealth of information and can be well worth the investment.
@angelo_fantasy puts out a lot of free threads analyzing movement/perception for rookies as well as for vets. There's plenty to be learned from watching his work.
Zach Reed (@tacitassassin13) has a pinned tweet with his film notes on the rookie class
Nick Whalen (@_NickWhalen) & Jared Wackerly (@JaredWackerlyFF) are two solid follows on twitter that cut up film and talk it through, both with tons of experience as analysts and in the football world
FF Astronauts have draft profile breakdown videos on their YouTube channel
---
Scouting Academy
Want to get deep with grinding film? The scouting academy provides affordable, online classes for people that want to learn the trade. Vernon Meghan from DynastyNerds wrote a great piece on his experience there in 2019. Here it is, check it out.
---
Data & Analytics
Analytics- prospecting through data- is like the dark side of scouting: there are some powerful tools, but you need to know how to use them.
There are oceans of data out there; some of it can be misleading. A good analytics-driven scout knows where to look to sort out the descriptive and predictive metrics from the noise.
I'm no analytics guru, but I can define some of the most important terms for you and steer you toward some more resources to learn more.
First, you need to be wary of raw production and raw efficiency metrics. The college game has such a varied level of competition, of surrounding talent, and of style of play that these numbers can be very unreliable in predicting NFL success.
For that matter, you need to be careful to consider the level of competition with nearly all these metrics; Keelan Cole put together a 60.7% Dominator Rating as a prospect, but he was beating up on small school kids in the GMAC D-2. He's a good enough player to play in the NFL but he's not someone that helps your fantasy team.
Shout out to Peter Howard (@pahowdy) both for providing me with some of the data here and being one of the first to introduce me to these concepts on his pod, Dynasty Crossroads.
Dominator Rating: Dominator rating is a WR metric that combines a player's market share of yards and TDs from his best season, generally in the form of a percentile.
Dominator tells us to what degree an offense flowed through a particular player; it combines opportunity and productivity and does so in a way that takes into account the system the player worked in. It tells us to what degree the player was the alpha on his college offense.
A Dominator of 35% or more is considered excellent.
Dominator can also be applied to RBs, though for RBs it's generally the % of the total offense the player accounted for
Breakout Age: Breakout age is determined differently by different analysts, but it's generally the age where a player accounted for a certain % of the yardage or yardage and TDs of an offense. Some use a threshold of 20%, some of 30%; others use a certain amount of yardage per game.
We know Breakout Age correlates to success at the NFL level; the theory is that a younger player in college is at a disadvantage relative to stronger, more experienced upperclassman, so the player that succeeds young must be exceptionally talented.
A Breakout Age of 18 is great; 19 is good; 20 can still be ok, but isn't desirable.
Similarly, we like seeing prospects come out early rather than returning to college for their senior years.
College MS (yards) / College MS (targets): These stats are very similar to dominator rating but they leave out the touchdowns. Many analysts have begun using MS/Y instead of Dominator as gaining yardage is more "sticky" or repeatable than is scoring TDs.
We're looking for Average MS/YDS to be at minimum of 20%; the 12 year average for top 36 WRs is 27.26%.
Yards / Team Pass Attempt: Y / TPA combines opportunity, efficiency and production into one WR metric. It's a better metric than raw yardage or Y/R because the output considers the type of offense; Player A may have 500 more yards than Player B at the same Y/TPA if Player A was in a prolific passing offense and Player B was not; the metric intends to take that offense out of the equation.
The average Y/TPA for top 36 WRs over the past 12 years is 1.49.
Athletic Testing & Measurables
Another area in which the analytics people play is in the physical & athletic measurables- height, weight, BMI, speed-score, 3-cone, and so on. Do measurables matter? And if so, which ones?
For the most part, measurables- and events like the combine or player's pro days- are most useful for filtering out players that don't make certain thresholds. They can also help place players within an athletic cohort; it's never bad to be a 90th % SPARQ athlete. Unfortunately, great athletes don't always make great football players, so we have to be careful about placing too much emphasis on athleticism.
Still, a great combine or pro day can boost an athlete who also looks good on film and has also been productive. This year, that was Denzel Mims and Jonathan Taylor, both of whose testing put them in elite athletic company; Taylor went from many people's RB3 to a near-consensus RB1, and Mims rose from a flyer to a top-10 WR.
40 Time / Speed Score: we like to talk about 40 times, but Speed Score is more relevant. It takes into account the players weight; running a 4.4 40 is a lot more impressive at 220 lbs than it is at 180 lbs. Speed Score is an asset for an RB's profile, but not a guarantee of success.
The average running back who makes it to the NFL has a Speed Score of about 100. Here's a good article about Speed Score on Football Outsiders.
It's important both RBs and WRs clear a certain threshold for speed, which tends to be about 4.65 or so. Any highly successful RBs running slower than that are outliers (ahem, Devin Singletary).
Adam Levitan wrote a great athletic testing thresholds article about the 2019 draft class; you can find a link here. Obviously he's talking about last year's rookies, but the information about the thresholds is evergreen.
BMI: BMI is essentially a composite of weight & height. We usually talk most about BMI or weight regarding WRs; it's difficult to find examples of small, svelte WRs having sustained success in the NFL.
My fellow Nerd Zach has already done a much better job explaining measurables this than I will do; here's a link to his article.
---
Resources for Data & Analytics
There's a lot out there, but here's some of my favorite resources:
DynastyNerds Analytics Team: The 'Nerds writers are no slouch when it comes to analytics. Check out articles by David Zach, Jeff Henderson, Zach Fifelski, and Keith Ensminger.
Peter Howard: find him at @pahowdy. Peter's the host of the Dynasty Crossroads pod, and he's one of the best there is with data & explaining it in an intelligible manner. He's around on Twitter, and a helpful dude; plus, he gives away his college data spreadsheet for free to anyone that wants it. Follow this man, listen to his pod.
Jesse Reeves: find him at @JesseReevesFF. He writes for RotoUnderworld. Solid data guy with a lot of content available.
Jordan McNamara: find him at @McNamaraDynasty Literally wrote a book called the Analytics of Dynasty.
J. J. Zachariason: Find him at @LateRoundQB. JJ's pod, the Late Round Podcast, focuses more on redraft, but he's the best in the business at explaining an analytics-driven FF approach in an easily intelligible manner.
Draft Day
Draft day is here for you. The clock's about to start. What do you need to know?
Use Written Rankings
Have your rankings written down or in a spreadsheet. Nothing is worse than making a panic pick because your queue has just been obliterated in a run. Having your rankings in front you will help you be disciplined and stick to your values.
Take the Best-Player-Available.
In a rookie draft, you always want to go "BPA" instead of drafting for team need. Draft BPA, trade for need. So if you're up at the 5 spot in your SF league and you need an RB, but Tua somehow falls to you, you take him over Dobbins or Akers; you take the best value available on the board according to your rankings. Use team need as a tiebreaker if you have two players ranked equally.
Should I Be Trading Back, Like in a Startup Draft?
In short, no, except in very specific circumstances. In a startup draft the depth of the player pool and the volatility of the top performers year to year makes trading back to add assets a sound strategy.
Rookie drafts, on the other hand, are very shallow. The talent falls off sharply after the top of the first, and everything after the second round is essentially a dart throw, as you saw in the articles above. So it can be viable to move back just a few spots to acquire more assets if you're staying in the same tier, but if you have to make a tier drop, it's not likely to be smart.
For example, I moved back from 1.01 to 1.04 in a SF rookie draft and picked up the 1.12. I'm ok with that; I'll still have my pick of one of the top 2 back or top 2 QBs. But if the move back was past the 1.05 I wouldn't have done it.
In the Later Rounds, Draft for Upside
In the 3rd or fourth round I'll take players that have high-upside over a player that is likely to have a just-a-guy career arc. A great example from last year was Preston Williams; the talent of Williams was known, but he fell due to character concerns.
The other category of players I'll target late are RBs who are likely to slide into the handcuff role on their teams, particularly with a lead back nearing the end of their rookie contract.
Though it didn't yield immediate benefits last year, Ryquell Armistead was a good example of that; if Fournette holds out or goes down, Armistead becomes a fantasy RB2 immediately.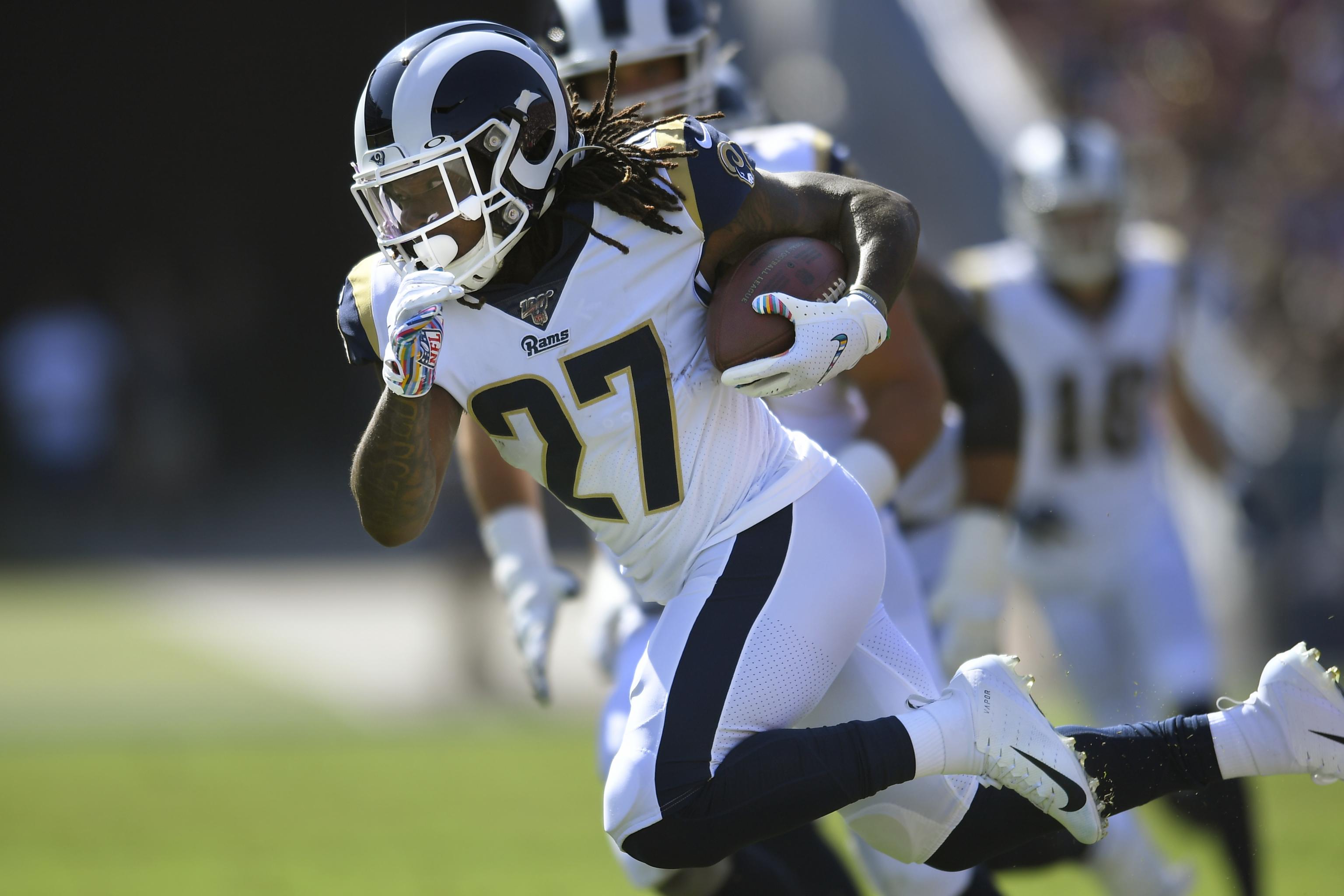 Damien Harris and Darrell Henderson were other good examples, but they went pretty high (2nd round picks in rookie drafts). Henderson investors will benefit from their selection in 2020; the circumstances in LA are exactly why we draft these high-upside handcuffs.
Ultimately, you want to look for prospects that will have some opportunity, even if it's not right away. Other guys for me last year were Darius Slayton and Jakobi Meyers, as neither had much in front of them on the depth chart. Slayton has worked out pretty well so far; Meyers might be in for a breakout, as he has an already-established rapport with likely NE QB, Jarrett Stidham.
---
Well folks, that's it for this one. Hope this was helpful. Follow me on Twitter at @ekballer. Hit me up for info / advice anytime.
Good luck with your drafts this spring- go dominate!