Dynasty fantasy football is a year-round affair. A sharp manager will be thinking about all aspects of the dynasty season at all times. Managers who are keen enough to look ahead will be the ones that can grab themselves an edge. A large portion of the dynasty off-season will be spent discussing incoming rookies and the related topic, the NFL draft. It is easy for us to fall in love with the next workhorse running back or prototypical alpha wide receiver, but a manager in tune with the entire draft class will find themselves ahead of the game. This article focuses on retooling New Orleans Saints!
Whether it is the next road-paving interior offensive lineman or genetic freak edge rusher, we can find ourselves at quite the advantage in April by building an entire picture of how the 2022 class will play out. Those that prepare ahead will not be often surprised at the outcomes. Check out some other Mock Drafts here!
The draft order used in this article reflects the finalized draft order. Credit to the mock draft simulation goes to The Draft Network. Team needs are also generated from this site. Compensatory picks have been assigned and will be included in this exercise.
Saints 2021 Season Recap
In what many didn't know would be Coach Sean Payton's final year with the team, the 2021 season was a difficult one. We knew that replacing legend QB Drew Brees would be a difficult task, but I'm not sure anyone expected that the Saints would start 4, YES 4, QBs in one season. Jameis Winston started the season at QB before suffering a Torn ACL in Week 7. Next up was Trevor Siemian, who performed admirably in his four starts but didn't do enough to win the job. Taysom Hill was designated the starter next but got injured, which forced rookie Ian Book to start a game in his stead. That didn't go well.
After that, Hill came back as the starter and led the team to the cusp of playoffs if everything went right for them, but they sadly didn't make the playoffs. To make matters worse, Taysom Hill suffered a Lisfranc injury the last week of the season. Mark Ingram returned to NOLA after Alvin Kamara had to miss time due to injury. Star WR Michael Thomas missed the entire season with a lingering ankle injury.
After that, Hill came back as the starter and led the team to the cusp of playoffs if everything went right for them, but they sadly didn't make the playoffs. To make matters worse, Taysom Hill suffered a Lisfranc injury the last week of the season. Mark Ingram returned to NOLA after Alvin Kamara had to miss time due to injury. Star WR Michael Thomas missed the entire season with a lingering ankle injury.
Unfortunately, the need for a WR proved to be the biggest issue as neither Marquez Callaway, Tre'Quan Smith, or any other WR showed anything close to being a WR1. Deonte Harris did perform well as the deep threat and proved he could be the WR2/3 on this team.
Saints Draft Needs/Free Agency Recap
Obviously, the team needs a QB. After they missed out on the Watson sweepstakes, the team re-signed QB Jameis Winston to a 2-year deal to be their bridge QB. He should be ready for Day 1 of training camp after recovering from his ACL tear. Thus, perhaps QB isn't the biggest need. They want to win this year with new Head Coach Dennis Allen. Therefore, taking a young QB this year might not be in the cards, especially when this class isn't as deep as, say, 2021. Plus, do they want the drama of who starts? They still have Taysom Hill at QB too.
As for the offensive line, well, losing Terron Armstead hurts bad. He left for the Dolphins on a 5-year deal. They now have a massive hole at LT. What about at WR? They brought back Deonte Hardy (formerly Harris) and hope to have a healthy MT who's now almost two years from the last time he played. Thus, they need a new WR1 for sure. That's their biggest need right now. On defense, the team needs an interior defensive lineman and another corner opposite Lattimore. They lost star Safety Marcus Williams to the Ravens but replaced him with a pretty decent safety in Marcus Maye. They still need help at safety, but it's not as pressing a need.
Let's talk about cap space. Well, the team entered the off-season by being almost 70 million over the cap for the 2022 season. Miraculously, through GM Mickey Loomis' cap wizardry, the team managed to restructure enough contracts to get 22 million below the cap line! I don't know how he did it without releasing any players, but he did. This gives them plenty of salary cap to keep adding free agents and draft picks. Thus, let's get started.
1.18 – Garrett Wilson, WR, Ohio State
There are three or four WRs duking it out for the WR1 title. Drake London, Treylon Burks, Chris Olave, and Garrett Wilson. I believe that when it comes, Wilson will ultimately be selected 2nd or 3rd out of the WRs. The Saints are a perfect spot for Wilson since they are desperate for an impact WR. That's exactly what Wilson is, especially after an impressive combine. Wilson ran a blazing and unexpected 4.38 40 along with a 4.36 20 yard shuttle. The 6'0 WR showcased his route running ability and the ability to make deep catches with ease. He needs to improve his route tree and can suffer from a lack of concentration. Yet, the Saints love Ohio St WRs. Why not take yet another?
The breakout player from Ohio St had 70 catches for 1,058 yards and 12 TDs with an impressive 15.1 yards per reception. He's comparable to Jerry Jeudy with his route running, breakout age (20), and overall skills. He excels at catching the ball in any way/shape. He can accelerate at will and knows how to use his strength to get in the best spot for the ball. One of the best traits he has is that he's slippery. He can easily slip in/out of tackles and break large gains. This would be a huge get for the Saints and your dynasty team. If the Saints take him, he's my WR3 in dynasty. That means I'm targeting to take him 1.04-06 range. If you want Wilson, buy an early/mid-first right now.
2.49 – Matt Corral, QB, Ole Miss
This pick is about the future. I was tempted to give the Saints another OT like Nicholas Petit-Frere or IDL Travis Jones, but if Matt Corral is here, I bet they take him. Admittedly, the Saints could just decide to give Winston an entire year and draft a QB from a potentially better class in 2023. However, Matt's an interesting prospect. He hasn't been able to participate much in draft evals due to the ankle injury he suffered in January. Yet, he has a lot of talent. He would benefit from sitting for a year and growing as a player and person. There have been rumors of an attitude problem, which is surprising. If that's true, perhaps sitting for a year would be the best.
Corral has a good build at 6'2 and 212, but we've yet to see the Red Shirt Junior run. The Ole Miss product had a good year in 2021 where he threw for 3,349 yards, 20 TDs, 5 INTs, and had 614 yards rushing with 11 TDs. That's pretty good. Corral is a decisive mobile QB that would do best in a spread-offense, or at least a player-friendly one. He never quits and is patient in the pocket. Sometimes too patient. His frame isn't made for a bunch of hits in the NFL, so he must learn to make timely throws or just take a short completion. His deep ball needs a bit of work.
Regardless, this would be a timely pick for the Saints as he can compete to start in year two. In dynasty, Corral would fall to a high-2nd pick if selected here since he's likely not playing in year 1. I'm not sure I would draft him in the first just because of the wait.
3.98 – Zach Carter, IDL, Florida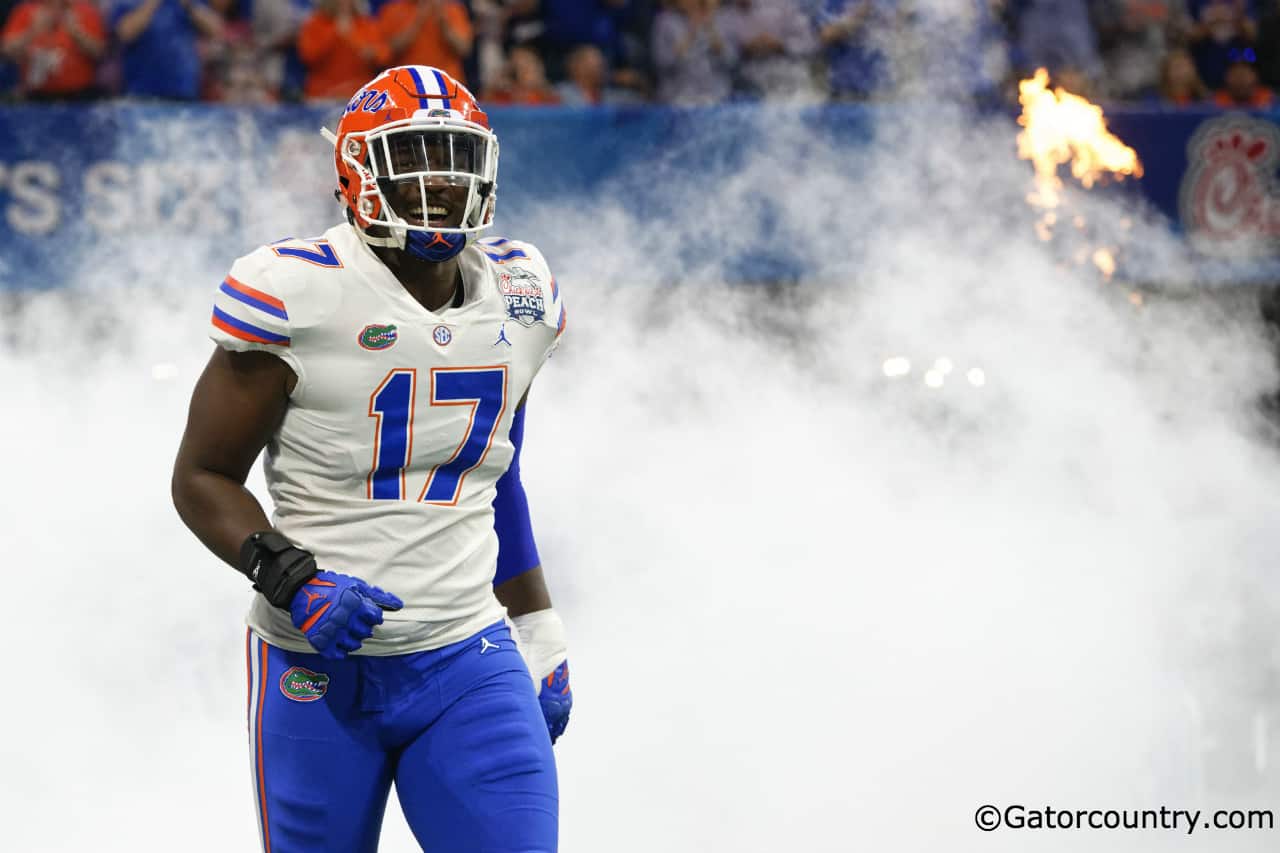 Even though the Saints have signed a couple of vets to man DT/IDL this year, they still need a young player to grow into the spot. That's why I have them taking a pretty player out of Florida, Zach Carter. He's a beast in the interior at 6'4 and 282 pounds. He can rush, push the pocket, and defend the run. The big man ran a 4.99 40, which is impressive at that size. He has the potential to be a full-time three-down player. Although his specialty is pass-rushing, he does need to learn to stop the run better. He can disappear at times in rushing plays.
Overall, Carter has the potential to become the mainstay at DT for the Saints in a year or sooner. He's got multiple techniques in his belt. He has the physicality to survive inside. Carter knows how to manipulate his leverage/size. While he does have negatives, all of them are coaching-related. With excellent defensive coaches in New Orleans, I see no reason why he doesn't succeed. As for IDP? Zach Carter is worth maybe a 5th round rookie pick. He should end up on waivers until he gets more playing time. If you have a huge taxi, take him in the 5th and wait.
3.101 – Max Mitchell, OT, Louisiana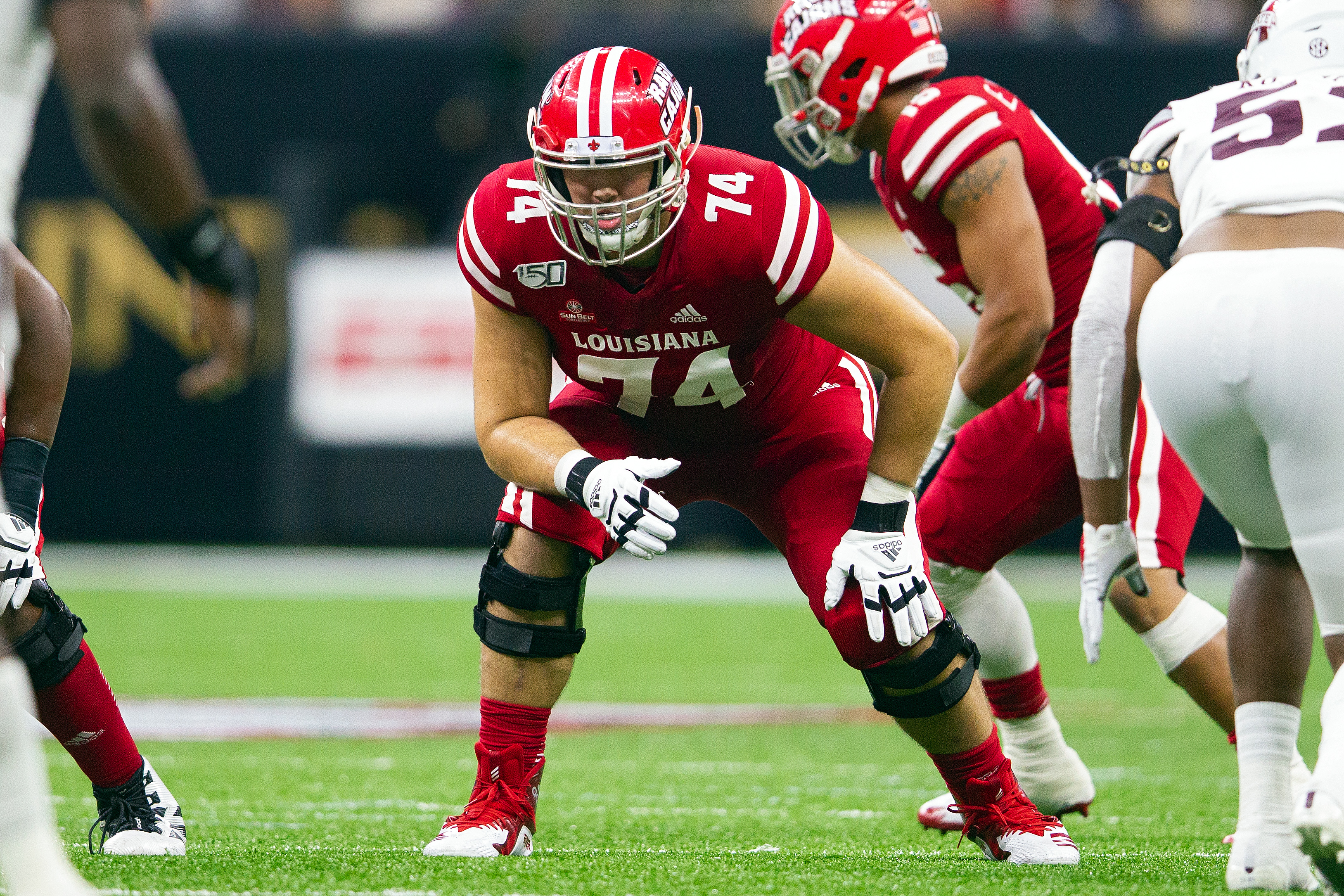 Losing Terron Armstead at LT is a hard thing to replace. Yet, the Saints must go about doing so after not paying him what the Dolphins did (5 years, 75 million). He was a top-5 LT, and although the team has a great RT in Ryan Ramczyk, there's no word if he will move to LT. Regardless, the Saints need another good young tackle. That's why I have them taking Max Mitchell out of Louisiana. Mitchell's a team leader with experience at both left and right tackle.
Max is built at 6'6 and 307 pounds with a surprising 4.65 20 yard shuttle. The hometown boy from Monroe would fit right in with the NOLA atmosphere/culture. He's a hustler that knows how to use his hips and feet to make blocks. Max has good twitch along with strong punches to push back blockers. Plus, he's athletic to use on the move. While there's a lot of good, there are also areas he needs to improve. His run blocking needs work using his feet more. He can be inconsistent with his blocks. Finally, he can lose his calm if the play breaks down.
Yet, most of those things and others can be fixed with proper NFL coaching. He has great potential, that of a starting L/RT in the NFL, and those are hard to come by. This would be a great pick for the Saints to keep AK47 healthy/rushing and give Jameis time to make those throws. Remember, O-lines affect dynasty too.
4.120 – Cam Taylor-Britt, CB, Nebraska
The Saints could use another cornerback to help their defense. After all, you can't have too many good cornerbacks. I was tempted to go Oline or a backup RB like Jerome Ford but decided against it. With that said, I selected Cam Taylor-Britt out of Nebraska. He's a talented perimeter corner that, with some more coaching, can do well in the NFL. He has decent size at 5'11 and 196 pounds. Another plus is that he can absolutely fly with a 4.38 40. He'll be able to keep up with any WR.
Cam is best used in a zone scheme since he can get too aggressive, which leads to some poor angles. However, NFL coaching should be able to help train him on what angles to take/pursue. He's great at reading zone plays and understands watching the QB's eyes. His feet are quick and move smoothly. Fast enough to catch up on WRs that get past him. His tackling does need a bit of work as he can get too "arm-ey" with his tackles. Luckily, the traits and size will get him drafted high enough to be used. If he's coached right, this kid has perimeter starting corner written all over him. In IDP leagues, he is safe to be ignored.
5.161 – Justyn Ross, WR, Clemson
Justyn Ross has the potential to be an absolute steal. He suffered a freak neck injury in 2019/20 and missed the 2020 season. There were concerns that his career would be over. However, he returned to football despite a fused neck/back and did just fine. Ross managed 46 catches for 514 yards in what was an off-year for Clemson. Honestly, he reminds me of a younger Mike Williams. What's funny is that Mike had injury issues coming into the league too. Another plus for Ross is that he had a breakout age of 18.7, which is excellent.
Ross is a high-point WR that can generate a lot of YAC when he breaks loose. The Saints utilize plenty of YAC plays, play-action, and running plays which is what Ross is used to. Furthermore, the 6'4 wideout can play perfectly opposite the shorter Garrett Wilson and Michael Thomas. With Jameis' big arm, Ross would have no trouble making the catches to move the ball down the field. I think that this is an ideal landing spot for Justyn. He has playmakers around him. If I had a dynasty rookie draft and this was his landing spot, I'd take him in the third round without hesitation. Stick him in your taxi, and you're good to go.
7.237 – Smoke Monday, S, Auburn
Since the Saints have Malcolm Jenkins, who's getting older, and a recovering Marcus Maye, they will hunt for a new safety. Smoke Monday could be that guy. One of the key players from Auburn's vaunted defense, Smoke's a versatile player. In addition to that, his size is excellent at 6'3″ and near 200 pounds. He'll provide strong physicality, effort, and athleticism. He's a former 4-star recruit that allowed only six catches in 200+ coverage snaps in 2019. Plus, he's able to do man or zone coverage and play in the box. He understands reading plays.
This would be a steal for the Saints. In IDP, he will provide a lot of upsides if he can reach his high potential. I'm talking high-end DB2 potential. Therefore, worth a later-round rookie pick like in the 5th round. He won't start right away, but he's worth being stashed on the taxi.
Make sure to subscribe to the #NerdHerd, where you get exclusive content, dynasty/rookie rankings, and DynastyGM! Additionally, if you want 15% off of ANY SUBSCRIPTION, USE PROMO CODE 'MAYTHEFORCEBEWITHYOU' or CLICK HERE.
Give me a follow on Twitter @DarthDbacks. I love to talk football, baseball, movies, shows, Star Wars, Marvel, and of course, interact with the fantasy football community.
As always, May the Force be with You…