The Dynasty Nerds IDP team steps up in this mock to give you the low down on the incoming rookie class. There are some draft capital questions to be answered in a rookie class with no clear first overall pick from either side of the ball.
1.01 Kayvon Thibodeaux, Edge
6'5″ 258
Dennis Bennett @Culture_Coach
Regarded as the top defensive player in the draft throughout the 2021 season, Thibodeaux put up 19 sacks and 35.5 tackles-for-loss in 30 games during his Oregon career. Thibodeaux has NFL ready size and should step into the starting lineup on day 1. He possesses an excellent power/speed combo to handle offensive tackles and get to the quarterback.
1.02 Nakobe Dean, LB
6'0″ 225
Jeff Abercrombie @thesofascout
It's unrealistic to ask anyone to match Parsons' level of play, but Dean is the top projected LB of the class and should see a starting role from Day 1. Snaps are opportunities in IDP, and Dean flew to the ball in college. Even if he has a typical rookie learning curve, I expect strong IDP production.
1.03 Kyle Hamilton, S
6'4″ 220
Raju Byfield @fantasycontext
Hamilton is a physically gifted safety who should become an immediate IDP contributor. He should be drafted to start and should see a near every snap role due to being just as good in coverage as he is rushing the passer or defending the run. Expect Hamilton to bully his way into the S1 conversation at some point during his rookie season.
1.04 Devin Lloyd, LB
6'3″ 235
Jeremy Baumer @IDP_Baumer
Devin Lloyd is the 2021 PAC-12 Defensive Player of the Year and a Consensus All-American. He finished the season with 111 combined tackles, 22 TFLs, 7 sacks, and 4 interceptions. Lloyd is a playmaker and will likely be one of the first linebackers taken in the upcoming draft. He was supposed to play in this year's Senior Bowl but was a late opt-out. With several teams needing a dynamic linebacker, he'll likely be drafted in the mid-late 1st round.
1.05 Aidan Hutchinson, DE
6'6″ 265
Jakob Oliver @darthdbacks
I am not sure why in the world Hutch lasted this long, but I'll take it. I love that I got him this late. This past season, Aidan had 62 tackles, 16.5 for loss, and 14 sacks on the year. The fact that he is projected to go as high as the top-3 picks yet fell this far is bewildering. While he needs to improve his pass-rushing technique, he can't just bullrush everyone. I have all the faith in the world he will do just that. I see him getting at least 10 sacks his rookie year with the right team. Additionally, it's hard to find his kind of talent in that large a human with the combination of IQ, speed, power, and agility. Look for Aidan to be one of the steals of rookie IDP drafts.
1.06 George Karlaftis, Edge
6'4″ 265
Dwight Peebles @ffpeebleschamp
I hoped against hope that Hutchinson would fall one more spot. No such luck. I do like Karlaftis, though. He's strong and quick, can bend the edge but doesn't have elite bend. He has good moves and is athletic for days, but I worry his lack of run support ability will hold him back.
1.07 David Ojabo, DE
6'5″ 250
Dennis Bennett @Culture_Coach
Ojabo broke out in 2021 with 11 sacks and 12 tackles for loss. In the back half of the first round, I was happy to grab an edge rusher with a knack for getting to the QB. A Nigerian immigrant by way of Scotland, Ojabo has only played football since he was 17. He will likely start as a situational pass rusher, but he has immense upside if he continues to develop.
1.08 Travon Walker, Edge
6'5″ 275
Jeff Abercrombie @thesofascout
Walker is going under the radar because of higher-profile names like Hutchinson and Thibodeaux and playing around other elite talents of the Georgia defense. Walker is an excellent run defender after playing inside his first two years. Still, he expanded his repertoire by rushing from the edge last year, showing athleticism and versatility that the NFL will covet.
1.09 DeMarvin Leal, DE
6'4″ 291
Raju Byfield @fantasycontext
Leal is a pass rusher with saliva-inducing tools. He did not quite develop as some hoped, and it took until his junior season for him to work his way into the Day 1 periphery, but once an NFL D-Line coach gets their hands on him, the sky's the limit. While he may not hear his name called until Day 2, Leal should be one of the first edge rushers off the board, and his versatility to play inside or out should help get him on the field immediately. Fantasy gamers outside of DT leagues will be hoping he sticks to the edge, where he will eventually boast DL2 value.
1.10 Christian Harris, LB
6'2″ 232
Jeremy Baumer @IDP_Baumer
Bama junior linebacker Christian Harris decided to take his talents to the NFL instead of sticking around for his senior season. Harris was a three-year starter for the Crimson Tide and was on the 2019 SEC All-Freshman team. He has a high motor and excellent run defense. He's one of those players whose weakness is really a side-product of his strengths… he can sometimes go too hard and struggles to change direction. This might prove to be an issue with some of the league's shiftier backs. But it's not something he can't correct with the right coaching. Harris was initially slated to be an early first-round pick but has slid down to a late 1st/early 2nd prospect. This year's playoff teams would love to have a player like Harris fall into their lap.
1.11 Daxton Hill, S
6'0″ 190
Jakob Oliver @darthdbacks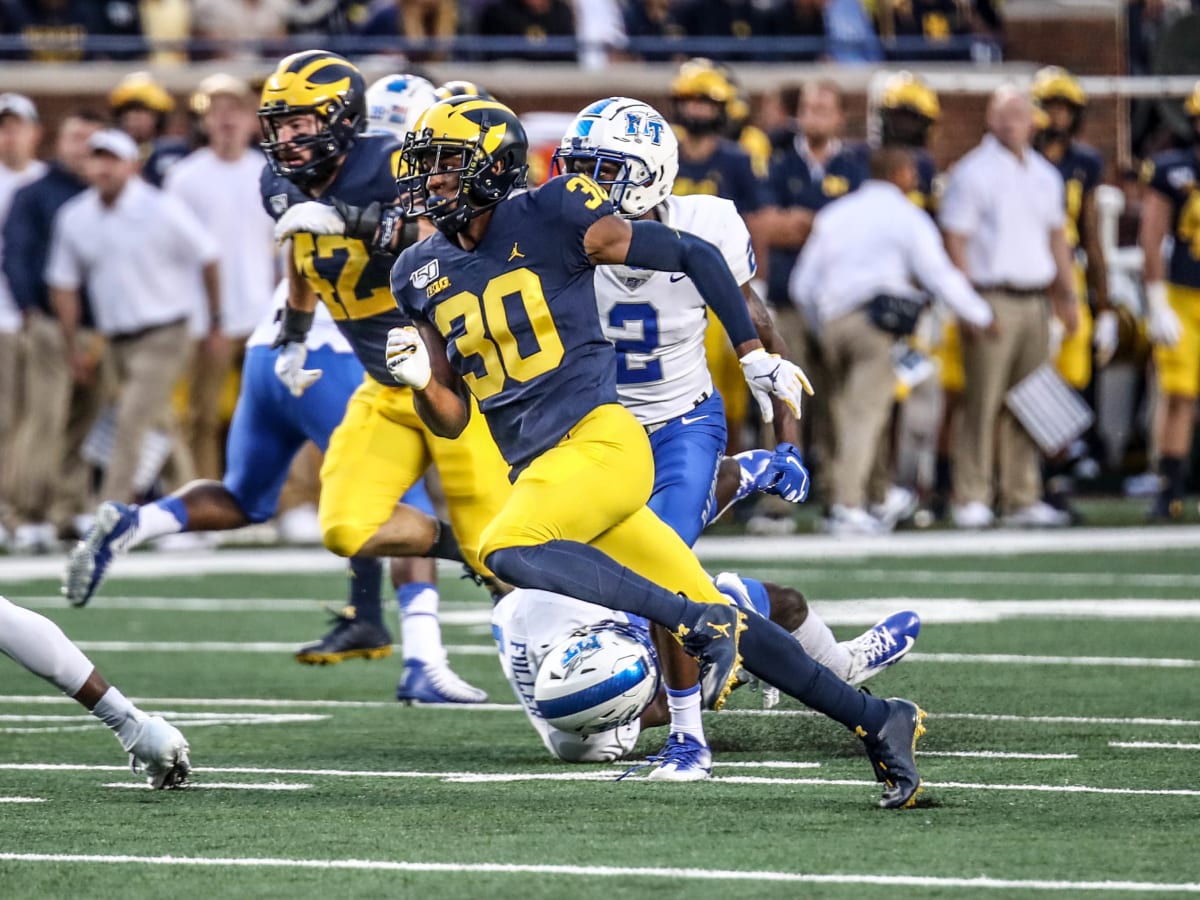 Daxton Hill is generally considered the second-best safety in this year's draft. It's a toss-up between him or Brisker. I prefer Hill, so I'm happy I got him. He can play safety or slot corner, ensuring he hardly leaves the field. Last season, Hill had 69 tackles, 4.5 for loss, .5 sacks, and 2 INTs. He was the captain of the DBs for Michigan. He covers well, tackles great, and should rack up the IDP points in that regard. Getting Hill this late is extremely exciting, especially if you find yourself in need of a safety.
1.12 Jaquan Brisker, S
6'1″ 203
Dwight Peebles @ffpeebleschamp
Brisker is a fun one – I love his instincts and hitting. He is a freak athlete and phenomenal in zone coverage. I like his leadership and range, and he's right near the top with Hill in the second tier of safeties in the draft for me.
That's a wrap
IDP mock draft V 1.0 is in the books. Who is too high? Who is too low? Hit the comments and let us know your thoughts on the draft.
Did you hear the big news? The Dynasty Nerds YouTube channel is up and running. Now you can see the podcast straight from the NerdHQ!! Smash that subscribe button. Sign up for the DynastyGM tool to keep that edge over your league mates. Manage all of your dynasty teams, use the trade calculator, and we just added a player shares tool so you can see all players you roster in one place.