The 2022 NFL Combine is in the books and Pro Days are already underway. The NFL landscape continues to evolve due to trades, and it is about to see a major shake-up when the legal tampering window opens up. This one-round mock draft incorporates the latest rumors as well as the significant trades that took place prior to free agency.
1st overall: Jacksonville Jaguars – Evan Neal (LT – Alabama)
Ikem Ekwonu has made the Jaguars pick more tricky to peg, but Neal remains the clubhouse favorite. The Jaguars could use an upgrade on the edge but having selected edge rushers in the first round in two of the last three years with Josh Allen and K'Lavon Chaisson, expect Jacksonville to target a franchise bookend at first overall before reaching into the defensive line well on Day 2.
2nd overall: Detroit Lions – Kavyon Thibodeaux (Edge – Oregon)
Aidan Hutchinson has been the popular projection here, but after a relatively disappointing Combine, he may no longer be viewed as the safer pick. With his projected floor now lowered, the Lions will likely opt for a home run swing at second overall. Thibodeaux has the tools and tape to go first overall and is viewed by some as the top overall player in the 2022 NFL Draft class. Hutchinson has the leadership and intangibles, but Thibodeaux is a potential future All-Pro.
3rd overall: Houston Texans – Aidan Hutchinson (Edge – Michigan)
The Texans had planned to focus on a Laremy Tunsil succession plan here, namely in the form of Ikem Ekwonu. Still, Hutchinson falling past the Lions quickly made them reevaluate that plan. Hutchinson is the type of culture setter that the Texans desperately need and will create a formidable duo with Jonathan Greenard for years to come.
4th overall: New York Jets – Ikem Ekwonu (OT – NC State)
The Jets have a lot of needs but should opt to go with the best player available, who luckily also fills a position of need. Former first-round pick Mekhi Becton, much like Ekwonu, can play left or right tackle, giving the Jets two strong options for the blindside while still having a franchise bookend on the other side. The addition of Ekwonu should spark the run game and allow Zach Wilson the time to pressure to flourish.
5th overall: New York Giants – Charles Cross (LT – Mississippi State)
The Giants are going to wait at least one more year before throwing in the towel on Daniel Jones, so their priority will be rebuilding their offensive line. They have a long-term starter in Andrew Thomas but will need to look to free agency and the draft to reshape a line that counts Will Hernandez and Nate Solder as free agents. Cross has the talent to man the left side but is complete enough to star on the right side as well. He will be an upgrade on Solder and will look to help spark what should be a reinvigorated Giants rushing attack.
6th overall: Carolina Panthers – Malik Willis (QB – Liberty)
Malik Willis has the most upside of any quarterback in this draft class, the only caveat being that he is not the most pro-ready of the bunch. However, with the Panthers saddled with Sam Darnold for at least one more season, the team can afford to exercise patience with their young signal-caller until he proves he is ready. Willis has the talent to usurp Sam Darnold before the season is over, and that is exactly the scenario the Panthers will be hoping plays out.
7th overall: New York Giants (from CHI) – Derek Stingley Jr. (CB – LSU)
The Giants will look to move back from this slot if possible, but if they hold the pick, expect them to be deciding between Ahmad Gardner, Stingley, Kyle Hamilton, and Jordan Davis. Davis will be the target if they manage to trade back, but they will look to address the secondary if they stand pat. Gardner and Hamilton are widely viewed as the top prospects at corner and safety, respectively, but no one had tape as dominant as Stingley boasted as a true freshman. Stingley should push Adoree Jackson for the starting job all offseason, and it would surprise absolutely no one if he manages to wrestle the job by Week 1. 
8th overall: Atlanta Falcons – Kyle Hamilton (S – Notre Dame)
The Falcons are prepared to roll with Matt Ryan for at least one more season, so they should look to select the best player available. Atlanta has holes everywhere but at linebacker and add a sure-fire stud in Kyle Hamilton. They will sniff around Garrett Wilson and Drake London in the wake of the Calvin Ridley news, but eighth overall is too high for either of them, especially with Hamilton still on the board. The Falcons have been known to stick to their board but should not have pushed Stingley past this mark due to the injury.
9th overall: Seattle Seahawks – Devin Lloyd (LB – Utah)
The Seahawks likely made the Russell Wilson deal with the intent of drafting Malik Willis, so we expect a trade up to sixth overall. However, if they stand pat, Nakobe Dean or Devin Lloyd will be their pick now that perennial All-Pro Bobby Wagner has been released. In this scenario, they opt for Lloyd and his superior three-down ability. Look for Seattle to trade down a couple of spots to land one of the elite off-ball linebackers in this class.
10th overall: New York Jets (from Seattle) – Garrett Wilson (WR – Ohio State)
Garrett Wilson is an excellent pick for a team that has already been selected in the top-10. He gives the Jets an alpha receiver for Zach Wilson to grow with and should be an immediate contributor. His addition would turn the Jets receiving corps into the strongest in the AFC East (pending what the Bills do in the draft and free agency).
11th overall: Washington Commanders – Daxton Hill (S/CB – Michigan)
Washington will not see Kenny Pickett or Sam Howell as an upgrade on Carson Wentz, so the expectation is that they look at the defensive side of the ball on Day 1. Coach Rivera will likely be pushing for a difference-maker on the defensive side of the ball, and with the release of Landon Collins, this puts Daxton Hill squarely in play. Viewed by some as the top safety in the class due to his cornerback level coverage skills, Hill will be day one starter for the Commanders. Washington will also look at offensive line options with this pick, with Kenyon Green, Trevor Penning, and Tyler Smith being in the mix.
12th overall: Vikings – George Karlaftis (Edge – Purdue)
The Vikings land a day one starter on the edge in Karlaftis. The young pass rusher will feast with Danielle Hunter commanding the attention on the other side. D.J. Wonnum is a solid player but has not shown enough to be someone the Vikings feel comfortable staying with, given the depth of the 2022 rookie class. Minnesota will also consider Nakobe Dean, George Karlaftis, and Roger McCreary here but opt for the Purdue product that solidified his stock during the pre-draft process.
13th overall: Cleveland Browns – Sam Howell (QB – North Carolina)
The Browns shock the world in this scenario, not due to drafting a potential succession plan for Baker Mayfield but due to drafting someone at 13th overall many feel could be had later in the first. Howell never quite improved like some had hoped following his electric freshman season but put together enough strong tape to be considered the top QB on the board by some teams. Cleveland needs defensive line and wide receiver help as well, but with this class being deep at those positions of need, they elect to swing for a home run.
14th overall: Baltimore Ravens – Ahmad Gardner (CB – Cincinnati)
Gardner has the tape to be a top-10 pick, but competition-level questions keep his stock lower than it should be. Gardner looked good against Alabama when matched up against their top weapons. Blessed with elite size, game speed, and quickness, Gardner just needs to clean up his tackling technique to become a Pro Bowler. Trevor Penning and Tyler Smith should be in the mix if Sauce Gardner is already off the board.
15th overall: Philadelphia Eagles (from MIA) – Tyler Linderbaum (C – Iowa)
The Eagles were likely angling to address other positions with their picks but quickly turn their card in with Tyler Linderbaum still on the board. Jason Kelce just signed a one-year deal, but is not getting any younger. Linderbaum is widely viewed as one of the top talents in the draft class, on either side of the ball.
16th overall: Philadelphia Eagles (from IND) – Nakobe Dean (LB – Georgia)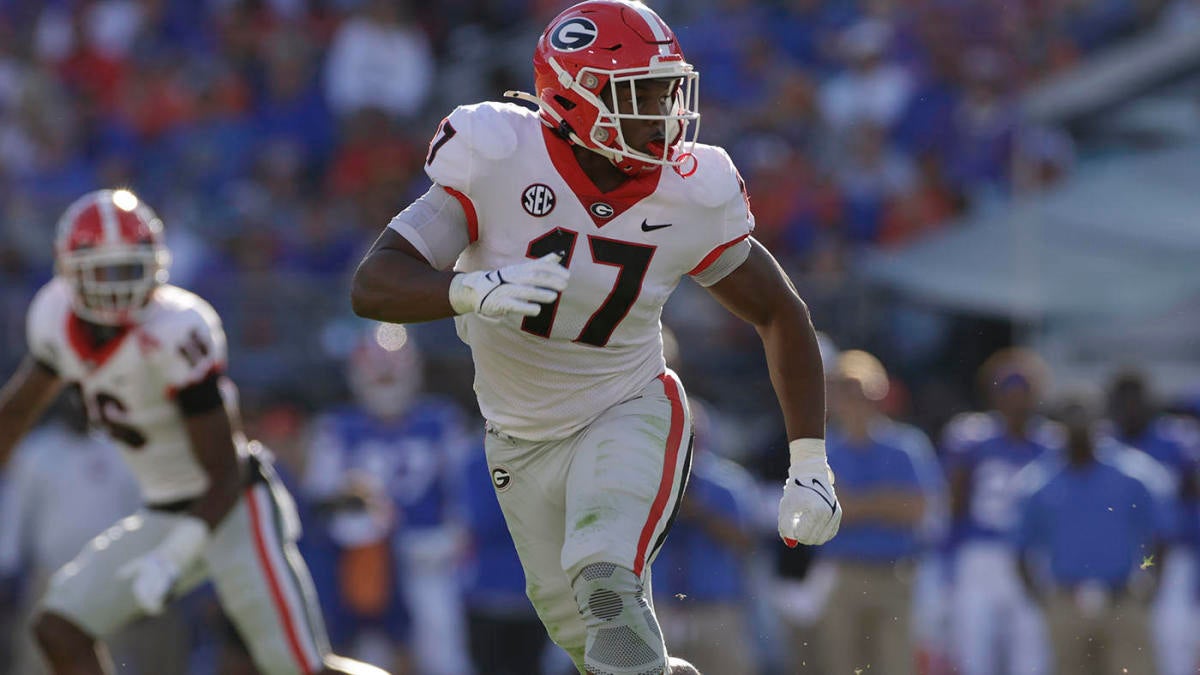 The Eagles have been looking for a long-term answer at middle linebacker for years and finally get one in Nakobe Dean. Eagles faithful will probably be upset if they pass on players like Drake London and Treylon Burks twice, but with the draft being deep at the position, they elect to add one of the top talents in the draft.
17th overall: Los Angeles Chargers – Jordan Davis (DT – Georgia)
This selection should be one of Georgia's interior defensive linemen. Many have Devonte Wyatt pegged as the superior prospect, but a motivated and in shape Davis could be a game-changer in any front. He is more well suited for the Chargers defensive scheme, and even if he only plays 70 percent of the snaps, he will make an impact against both the run and the pass, providing the Chargers with yet another difference-maker on the defensive side of the ball.
18th overall: New Orleans Saints – Travon Walker (Edge – Georgia)
Walker has been a massive riser in the pre-draft process, and while he may be rawer than some of the other defensive line prospects still on the board, he has more upside than anyone left for the Saints to select. Kenny Pickett will get a look here, but the Saints will look to the trade market for an answer if they do not retain Jameis Winston. Walker gives the Saints the third edge rusher they desperately need and a potential franchise cornerstone.
19th overall: Philadelphia Eagles – David Ojabo (Edge – Michigan)
If the Eagles still have their picks on draft day, it will be hard for them not to walk away with three steals, which is exactly what happens in this scenario. They already netted one of the top five offensive linemen in the class, nabbed arguably the best off-ball linebacker prospect, and then stole an edge rusher that could have easily been selected in the top-10. Ojabo will inject youth and talent into an aging pass rush and should develop into a long-term starter on the edge.
20th overall: Pittsburgh Steelers – Jermaine Johnson (Edge – Florida State)
Johnson is the type of edge rusher head coach Mike Tomlin covets but can rarely get his hands on. In 2022, the depth of the defensive line class allows the Steelers to walk away with a prospect many have in their top five at the position. There will be those pounding the table for a cornerback or Kenny Pickett, but Johnson is too good of a value to pass up at 20th overall. Pittsburgh can land a corner on Day 2.
21st overall: New England Patriots – Roger McCreary (CB – Auburn)
The Patriots desperately need some talent at corner after letting Stephon Gilmore and J.C. Jackson find greener pastures. Trent McDuffie will be a consideration here, but his less than ideal arm length may see his stock drop as he may now be ticketed for the slot by most evaluators.
22nd overall: Las Vegas Raiders – Kenny Pickett (QB – Pittsburgh)
The Raiders need to move on from Derek Carr sooner rather than later. He is coming off another strong season, and his trade value will never be higher. The AFC West just became too loaded for the Raiders to think they can compete with their roster, and they should cash in on their premium assets while they can. Carr is a fine quarterback but is easily the fourth-best signal-caller in a four team division. Adding Pickett will allow the Raiders to see what they have in Pickett while potentially setting themselves up to be bad enough to land a C.J. Stroud or Bryce Young next year, or a Caleb Williams or Quinn Ewers in 2024. Carr will keep them just good enough that they will never be in a position to land an elite rookie quarterback.
23rd overall: Arizona Cardinals – Trevor Penning (OT – Northern Iowa)
Penning could have easily been selected by the Ravens at 15th overall, but in this mock, he somehow slips all the way to the Cardinals at 23. In real life, some team will trade up for Penning if he falls to the 20s, but in this no trade mock, he lands with the Cardinals. Penning is excellent in the run game and should help the Cardinals become even stronger on the ground, regardless of who is lining up in the backfield. Expect Arizona also to consider names like Kair Elam, Trent McDuffie, and DeMarvin Leal.
24th overall: Dallas Cowboys – Treylon Burks (WR – Arkansas)
Scouting department, overruled. There is no way Jerry Jones lets Treylon Burks slip past his team at 24th overall. While an edge rusher would be ideal, the first-round locks are already off the board, leaving Dallas to choose between someone like Boye Mafe, Drake Jackson, or Arnold Ebiketie, or address the Amari Cooper sized hole at wide receiver. This may seem like a peculiar pick with Drake London still on the board, but some, including Jerry, have Burks rated higher.
25th overall: Buffalo Bills – Drake London (WR – USC)
There is no way that the rest of the NFL should have let someone like Josh Allen land a talent like Drake London at 25th overall. Arguably talented enough to be selected in the top-10 and be the first receiver off the board, London slips due to a deep class at offensive line and the edge. London will step in and assume the number two role for the Bills and keep Gabriel Davis where he belongs, as an electric number three receiver.
26th overall: Tennessee Titans – Arnold Ebiketie (Edge – Penn State)
The Titans need to find a long-term answer on the edge opposite Harold Landry and may have struck gold with Ebiketie. Bud Dupree is still on the roster for now, which should allow Ebikeitie to start in a rotational role until he wrestles the starting gig from Dupree permanently. The Titans should also consider Jameson Williams, Jahan Dotson, and Drake Jackson.
27th overall: Tampa Bay Buccaneers – Devonte Wyatt (DT – Georgia)
The Buccaneers were angling for a cornerback at this slot. That is only because they felt that Wyatt and teammate Jordan Davis would be off the board before the 20s. Kair Elam and Andrew Booth Jr. will be in play here, but Wyatt is too good of a value and talent to pass up. The Buccaneers may be saying goodbye to Ndamukong Suh and William Gholston this offseason, but even if they manage to retain both, a succession plan and injection of talent upfront is necessary. Wyatt has the versatility to shift to the edge in odd front while manning the inside in even fronts. His addition will make an already ferocious front move towards being impenetrable. 
28th overall: Green Bay Packers – Jahan Dotson (WR – Penn State)
Dotson will give the Packers the star number two receiver Aaron Rodgers and the fanbase have so desperately wanted for years. Dotson can play inside and out but will likely star in the slot, especially with Davante Adams commanding constant double teams. Jameson Williams could be in play here depending on his medical prognosis, but with the injury potentially keeping him out for the year, he is not the best value for a team in need of receiver help and in win-now mode.
29th overall: Miami Dolphins (from SF) – Jameson Williams (WR – Alabama)
Miami moving on from Brian Flores signals that the team acknowledges that they still have work to do before they can compete with an ever-improving AFC. Mike McDaniel's hire means that Tua Tagovailoa will be getting another chance to prove he can live up to his immense potential, and adding someone like Williams will help him get there. He will be an ideal complement to Jaylen Waddle and help form one of the most talented wide receiver duos in football when healthy.
30th overall: Kansas City Chiefs – Tyler Smith (LT – Tulsa)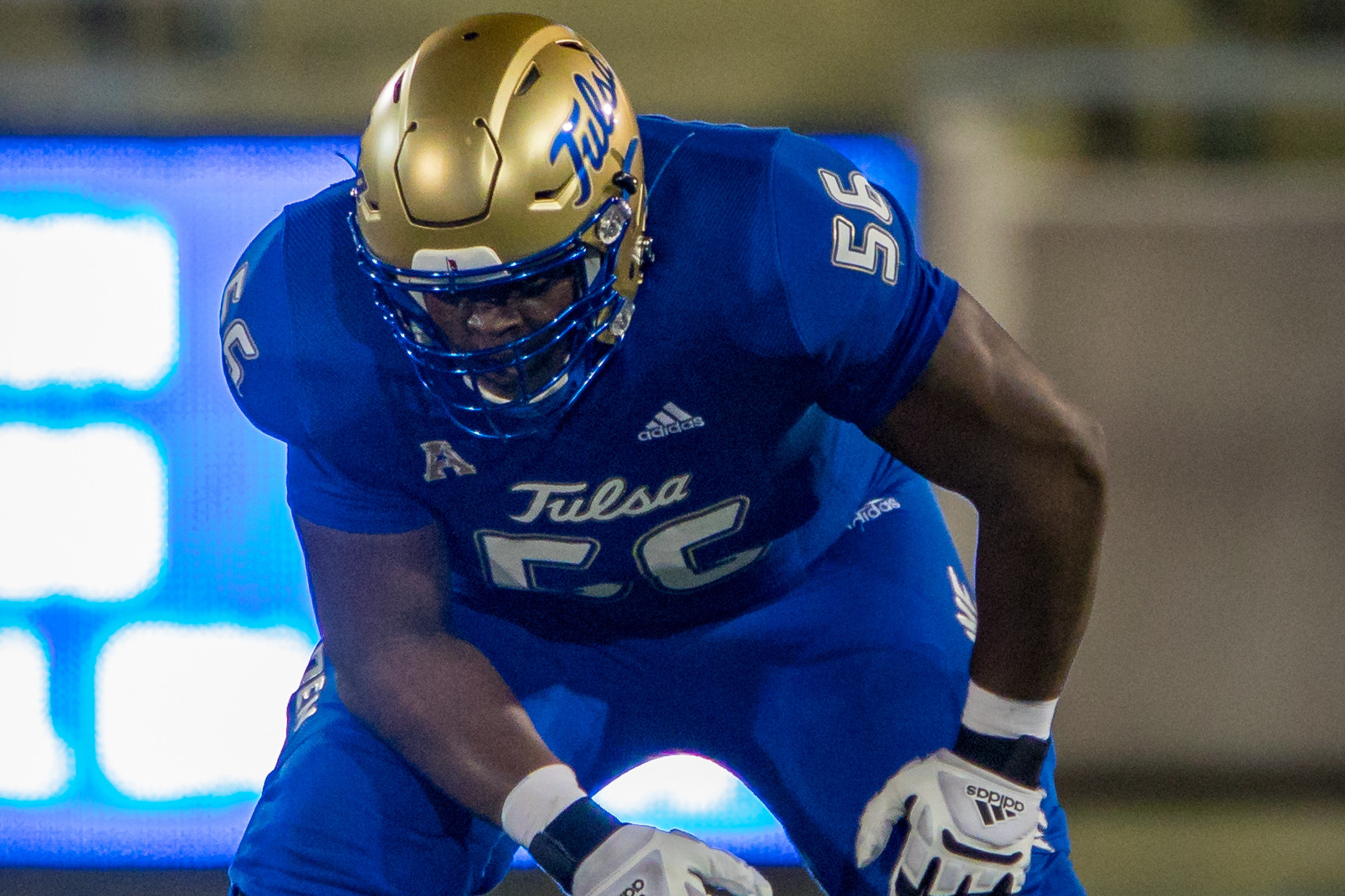 Kansas City placed the franchise tag on Orlando Brown but will not pass up Smith if he falls this far. Smith projects as a left tackle but could fill in anywhere along the line at a Pro Bowl level. The Chiefs are set at center, right guard, and left tackle, so expect Smith to push Lucas Niang to start immediately.
31st overall: Cincinnati Bengals – Kenyon Green (IOL – Texas A&M)
The Bengals need help all over the offensive line. Offensive tackle is the bigger need, but the Bengals cannot afford to pass up on a talent like Green this late in the first round. Green will help provide bigger lanes in the run game and increase the time to pressure in the passing game. His less-than-ideal Combine caused him to slip vis a vis his other offensive lineman counterparts, but his first-round tape and pedigree are no denying. Green should start for the Bengals for at least the next decade.
32nd overall: Detroit Lions (from LAR) – Trent McDuffie (CB – Washington)
McDuffie slipping this far seems incredulous, but he gets passed up in this mock due to measurements and the talent at other positions. The Lions will not pass on him twice, especially with their cornerback group still in flux. They have three nice pieces in Jeff Okudah, Armani Oruwariye, and Iefatu Melifonwu, but McDuffie would be an immediate starter, whether on the outside or in the slot. The Lions may look to trade this pick for a team looking for a fifth-year option for a quarterback, but if they keep it, expect them to go corner. Chris Olave should also be a consideration but can be had at 34th overall.
Did you hear the big news? The Dynasty Nerds YouTube channel is up and running. Now you can see the podcast straight from the NerdHQ!! Smash that subscribe button. Sign up for the DynastyGM tool to keep that edge over your league mates. Manage all of your dynasty teams, use the trade calculator, and we just added a player shares tool so you can see all players you roster in one place.