We are moving now. The draft is starting to take shape, and even though this is a Superflex draft, quarterbacks are still moving slow. We also see some post-combine disappointments dropping in Round 2.
You can find Round 1 of the Superflex draft here and Round 1 of the 1QB draft here.
2.01 Sam Howell, QB 6'1″ 218
Dan Toomey @DanT_NFL
I select Sam Howell out of North Carolina to kick off the second round. Going into the 2021 college football season, there was a debate on whether Howell or Spencer Rattler would be drafted first overall in the NFL draft. One lost his job to a true freshman, and the other has lost that pre-season prestige. The fact of the matter is that Howell lost most of his offensive weapons from 2020. So much so that the offense he ran was almost completely different in 2021. I am confident Howell can return to 2020 form, given a decent surrounding cast. Great value getting a potential NFL starter in the second round of our rookie drafts.
2.02 George Pickens, WR 6'3″ 195
Dom Johnson @domffl
Drafting George Pickens will make you look like a genius or a sillyhead. He's a more expensive Justyn Ross. BUT, his tape/stats from before his ACL tear can most certainly speak for themselves and should tempt any savvy dynasty manager to draft him in the back of the 1st round. With great size, speed, and a well-rounded route tree, Pickens could become a WR1 for any of the several WR-needy NFL teams.
2.03 Trey McBride, TE 6'4″ 246
Jayson Snyder @spydes78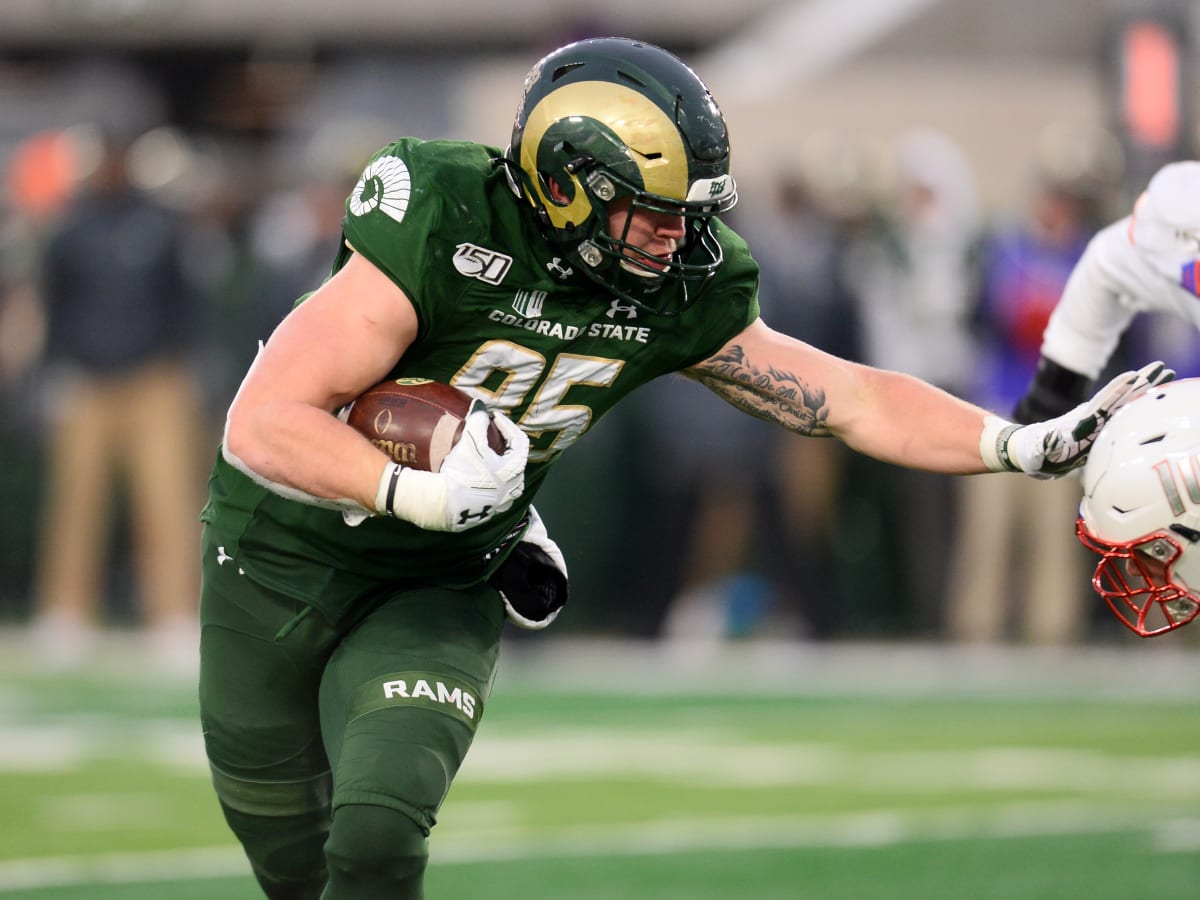 McBride was my top tight end prospect entering the combine, and I saw no reason to rethink that status. He has all of the traits to be successful at the next level. His hands measured at more than 10 inches, which is not surprising for a prospect known for his surehandedness. And though he can surely help an offense as a receiver, he also takes pride in his blocking. This may not hold direct appeal for fantasy, but keep in mind that this well-rounded play will quickly earn him the confidence of his future coaching staff. More playing time equates to more opportunities for fantasy production. At a position that can sometimes require patience for young players to develop, I am happy to snag a turn-key prospect like McBride at 2.03.
2.04 Rachaad White, RB 6'0″ 214
Kane Rob @4KaneRobVideo
Rachaad might not have had a whole lot of time on the field during his collegiate career, but the man is EFFICIENT! In just 15 games, White had 224 touches while averaging 6.3 ypc. Not to mention in his first full year as the lead back, he carried the rock into the end zone 16 total time. Rachaad is also a threat through the air hauling in 43 catches for 456 receiving yards last season. I love landing White with the 16th pick and would be thrilled to walk out of my draft with Spiller and White. My RB room would be looking promising as all get out heading into 2022-2023.
2.05 Christian Watson, WR 6'4″ 208
Justin Hulsey @FF_Hulsey
The time has come for the fantasy community to take Christian Watson very seriously. He has exceeded expectations at every turn throughout his collegiate career and now during draft season. His production was questioned due to FCS competition, so he dominated Senior Bowl week. Then while everyone in football searched for the next Deebo Samuel, Watson broke the Combine with a 9.98 Relative Athletic Score. His 4.36 40 time at 6'4" is so unfair that it should be illegal. He was a home run waiting to happen with creative jet sweeps and quick hitters at NDSU. Watson is refined fundamentally as well, especially with his release and ability to sink his hips. He is starting to get first-round buzz in the NFL Draft, but early Day 2 seems more likely.
2.06 David Bell, WR 6'1″ 212
Tim Martens @timbmartens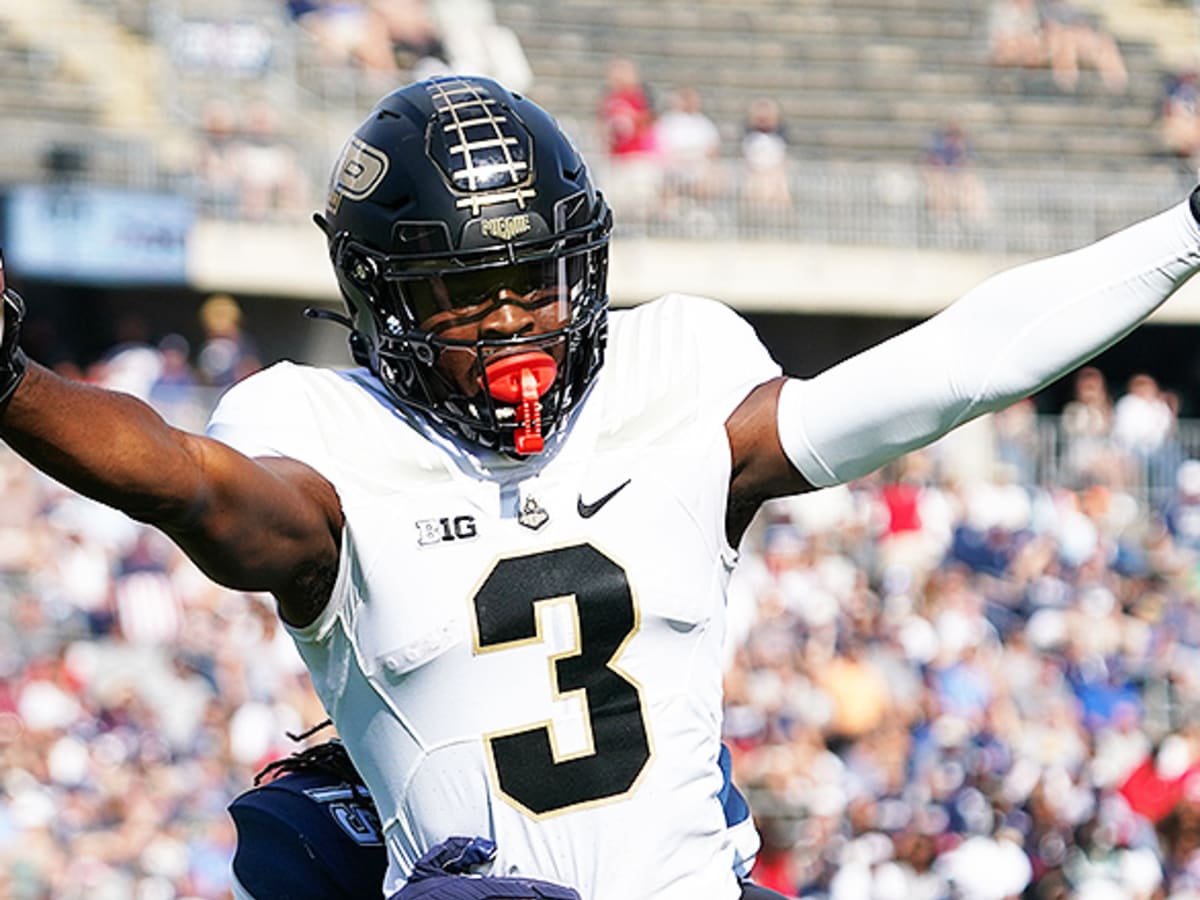 I know many of you are seeing this pick after watching the combine and thinking I'm crazy. Bell had…a less than stellar combine. A 4.65 40, 33″ vertical, and 7.14 3-cone drill are nothing any scout will be thrilled about. But I am taking Bell here based on the potential I see on tape and the value of him being available in the mid-second round still. Bell has never shown that he is the best athlete on the field on his tape, so his combine numbers were not as scary to me. What I do see on film is a smooth route runner with an ability to make plays with the ball in his hands. While the league doesn't seem as concerned about drafting WRs under 6 feet or 200 pounds, I still like the guys built more like an alpha, which Bell is. His combine may have been a bit of a disaster, but I am still willing to take him here until I see the draft. If he still gets picked within the first four rounds, I believe the team getting him will be willing to give him an opportunity in their offense. Bell will get his chance to show why he was so regarded coming out of Purdue.
2.07 Skyy Moore, WR 5'10" 195
Mike Manning @_Mike_Manning
Outside of Christian Watson and Calvin Austin III, no WR benefited more from the NFL Scouting Combine than Skyy Moore. The playmaker out of Western Michigan measured in at a good size (5'10", 195 lbs) and has massive 10 ¼" hands, the biggest hands of any WR and 2nd at the combine among all pass-catchers. Then Moore's stock continued to rise once he hit the field as he finished with a top-10 40 time and 3 cone drill at the position. Not to mention being one of the smoothest route runners on the field, as expected if you watched his tape from this past season. Moore will go on Day 2 of the NFL Draft and should have no trouble seeing the field as early as 2022.
2.08 Desmond Ridder. QB 6'3″ 211
Matt Cooper @devy2dynastyFR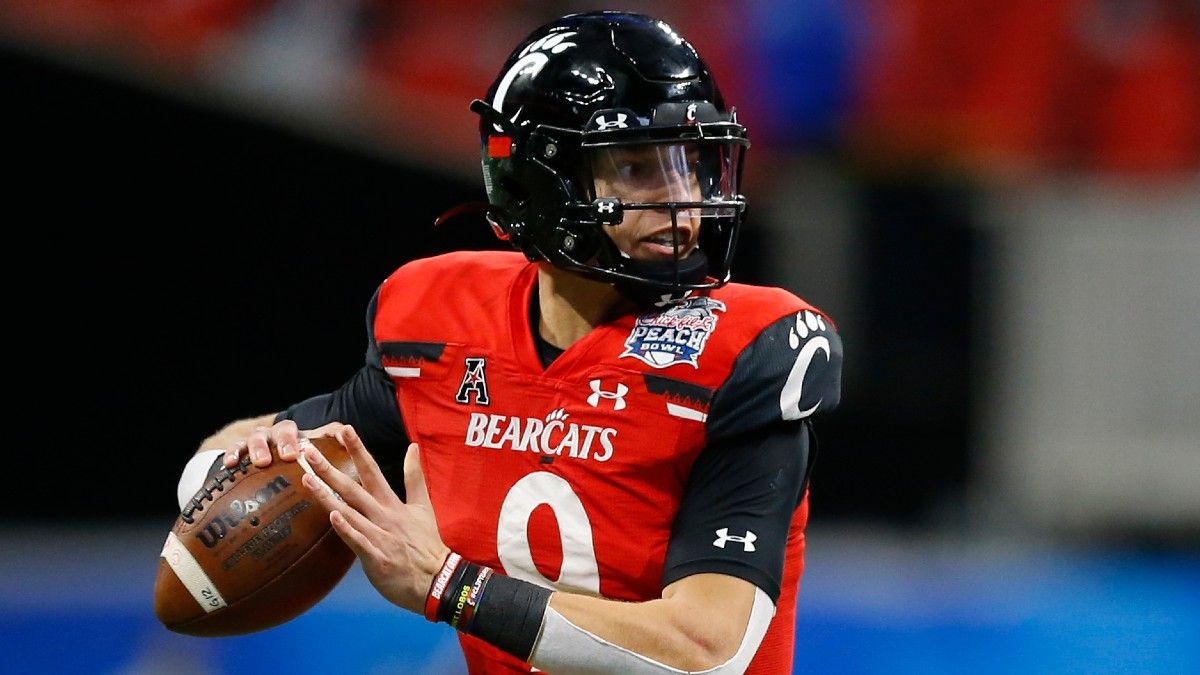 Honestly, I haven't been the biggest fan of Desmond Ridder as a prospect, which seems like a weird way to start a write-up on why I drafted him in this exercise. But, bear with me. Ridder has great size for the position and great physical tools. In fact, he just ran a 4.52 at the combine, which surprised and impressed many people and screams rushing upside. He is also expected to get good draft capital. So, while I do have questions about his ability to translate to the NFL successfully, it's also the late 2nd round, and there are question marks about everyone. So I'll gladly take an upside swing on a QB, which is by far the most important and valuable position in Superflex.
2.09 Zamir White, RB 6'0″ 214
Doc Mitchell @reflipewthenuz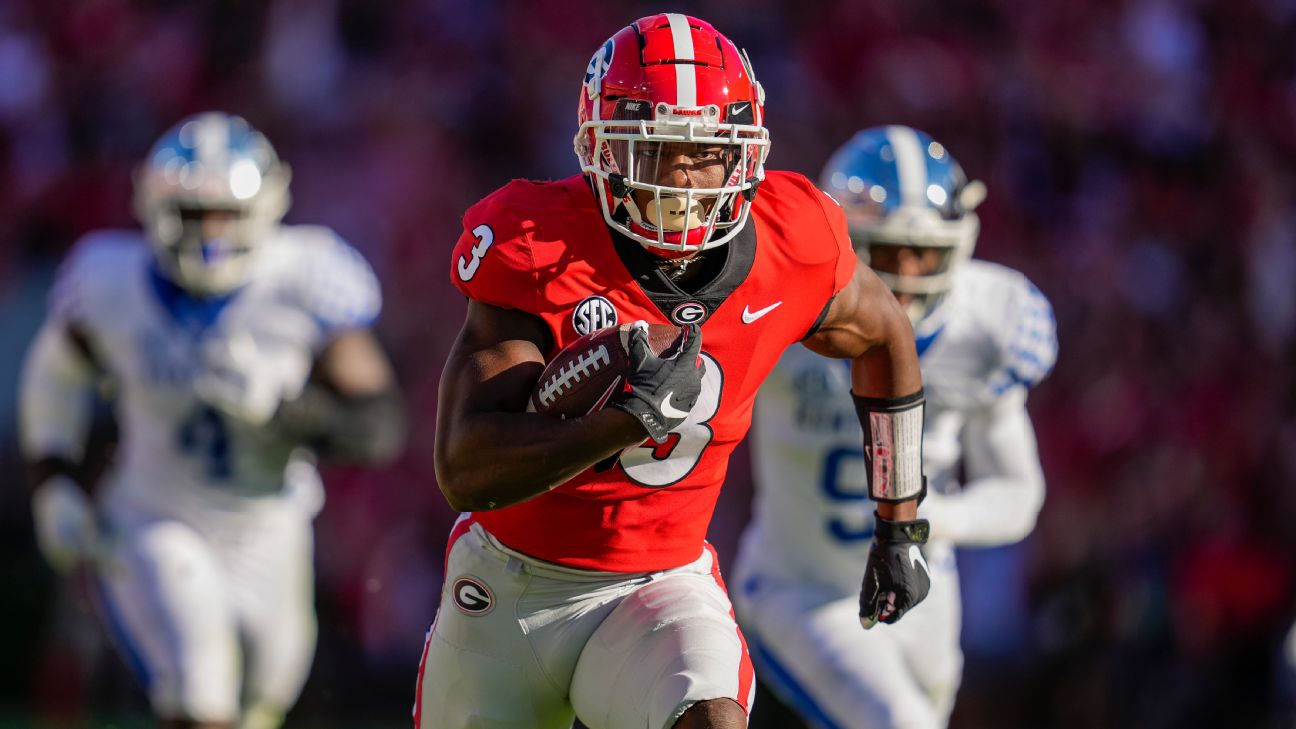 This deep in the draft, I will swing for the fences on a high upside RB. Once viewed as a top-level prospect in this class, White offers a nice NFL profile. A pair of knee injuries has caused him to be overlooked by the draft community at large. He tested extremely well at the combine, giving me hope he could enjoy a Frank Gore type of career where he's more productive in the professional ranks after numerous collegiate injuries.
2.10 Kyren Williams, RB 5'9″ 194
Keith Ensminger @TheSmingDynasty
Sigh. Is this "take lock" for me? Perhaps. Like many of us, I was surprised at Kyren's poor results at the combine. However, just as we preach not to let combine numbers overinflate a prospect, we should also caution not to let a poor 40-time from one evening ruin several seasons of high-level college production. If Williams follows up his combine results with a poor pro day in a few weeks, then I'll consider dropping him down the draft. For now, he's now an end-of-second-round guy for me rather than a late-first.
2.11 James Cook, RB 5'11" 199
Jake Oliver @darthdbacks
Two picks after his teammate, I take the Georgia RB with a ton more upside than Zamir. James is smooth like butter in his running and is the younger brother of Dalvin Cook. He ran an impressive 4.42 40 and ran for 728 yards on the ground while gaining 284 yards through the air. 11 TDs later, and he helped lead the Bulldogs to a Championship. Perhaps this rookie back can satisfy your flex-back role on your team until he takes over as the lead back for the team that drafts him. This late in the draft, your picks start to become lottery picks. Hitting on them can make your rookie draft golden. Getting a back with RB2 upside, speed, instinctive running, smooth hands/cutting, and the ability to take it to the house every time he touches the ball sounds good to me.
2.12 John Metchie, WR 5'11" 187
Erik Kortz @ekballer
I'm more than happy to take a Day 2, early declare wide receiver with pedigree at the end of the second round. Metchie isn't the best Alabama receiver this year, but he's as good or bad as any in the second tier. His snappy releases and crisp route running will translate.
Thanks for checking out Round 2. Rounds 3 and 4 will be out next week. Also, be on the lookout for Round 2 of the 1QB mock coming soon.
Get ready for your rookie draft with the DynastyGM!! Rankins, trade calculator, league analyzer, and much more. Just $4.99/month or better yet, bundle with the Nerd Herd for just $6.99/month and get extra podcasts, the Dynasty Prospect Film Room, and more.