We are on to Round 2 of our Superflex mock draft. You can find Round 1 here. After no quarterback went until pick 1.04, will there be any surprises in the second round? Let's take a look.
2.01 – George Pickens, WR 6'3″ 200
Dan Toomey @DanT_NFL
Just a year ago, George Pickens was in the conversation of WR1 in this 2022 class. He was riding high off a Peach Bowl performance of 7 catches for 135 yards and a touchdown against a very tough Cincinnati defense. Unfortunately, Pickens suffered a torn ACL in the Georgia spring game and only played 63 snaps in the 2021 season. I will take the injury discount as the talent is obviously there. He is an early declare with a solid production profile, something we should be looking for in our rookie drafts. 2.01 may be the floor for Pickens, whose draft stock will only rise from here.
2.02 – David Bell, WR 6'2″ 210
Erik Kortz @ekballer
I'm not the biggest David Bell fan, but it's undeniable that he has top-tier ball skills and elite production. My concern is his lack of ability to separate- this could hurt him at the next level, and it will make him landing spot dependent. He's going to need a guy that's happy throwing into the tight windows. I'm really interested to see how he does at the combine, but it's looking like he's going to get day two capital, so I'm taking him over the remaining RBs and QBs at this point.
2.03 – Kyren Williams, RB 5'9″ 199
Noah Wright @noahrwright
I was one pick away from a huge steal in David Bell, but Erik decided to snipe me. There was a plethora of RBs that I could have chosen here between Tyler Allgeier, Rachaad White, and Dameon Pierce, but I decided to go with the crafty Kyren Williams. I grew up near Notre Dame, so I might have a little bias, but Williams is a great value here in the second round. In his redshirt freshman season, he was named ACC Rookie of the Year for both offense and overall. In the last two years, he has rushed for over 1000+ yards both times and is very active in the passing game. I do worry slightly about his smaller frame, but I believe he will be more of a pass-catching back in the NFL anyway.
2.04 – Carson Strong, QB 6'4″ 215
Keith Ensminger @TheSmingDynasty
He is entirely dependent on when he is drafted, which will likely be mostly dependent on his physical. Carson Strong is likely a late first-round pick if his knees get the green light. If not, and he is drafted any later, he would be closer to my do-not-draft board than this pick. Right now, though, at 2.04 in a Superflex draft, I would be a fool to pass up drafting a quarterback with Strong's arm talent. Was he inaccurate at times during Senior Bowl week? Yes, but I'll trust what I saw out of him during his career at Nevada. He's a much better value here with a substantial drop-off at the quarterback position in this class than any other skill player remaining on the board.
2.05 – Jahan Dotson, WR 5'11" 184
Tim Martens @timbmartens
While Dotson is one of the more undersized WRs in the draft, he makes up for it with speed, strong route running, and a tenacity to attack the ball when it is thrown his way. Ultimately, when we get to this point in the draft, I am looking for guys with strong upside. Dotson is certainly that. His tape shows excellent speed that can take the top off the defense while still being a strong enough route runner to get separation over the middle of the field. Add to this that Dotson can play several different WR roles, and it gives him an even better chance to find his way onto the field on any team he ends up with. Hopefully, he has more early success at the next level than fellow Nittany Lion KJ Hamler, who has a similar build to Dotson.
2.06 – Tyler Allgeier, RB 5'11" 220
Justin Hulsey @FF_Hulsey
The days of being able to draft Allgeier with a mid-second will soon be over, but I'm happy to take advantage for the time being. He is a tough, consistent finisher with a low center of gravity. Yards after contact come easy for him. Allgeier has elite vision and surprising burst for a former linebacker listed at 220 lbs. The fantasy community will melt when he runs in the low 4.4's and depending on the landing spot, Allgeier may sneak into the 1.10-1.12 range of Superflex rookie drafts.
2.07 – Wan'Dale Robinson, WR 5'11" 185
Dom Johnson @domffl
After choosing Drake London in Round 1, I figured I should choose London's antithesis in Round 2: Wan'Dale Robinson. Although Kentucky lists Wan'Dale at 5'11, the photos I've seen of him next to Rondale Moore and Nick Saban suggests he's more in the 5'8 range. But that's neither here nor there. Height/weight aside, Robinson is a certified baller who has shown that he can produce in multiple schemes. He topped up 141 rushes and 195 receptions in 3 years (2 at Nebraska, 1 at Kentucky). His versatility will allow him to be on the field in basically any package. Wan'Dale is one of my favorite round 2 values in this upcoming draft.
2.08 – Trey McBride, TE 6'4″ 260
Jake Oliver @DarthDbacks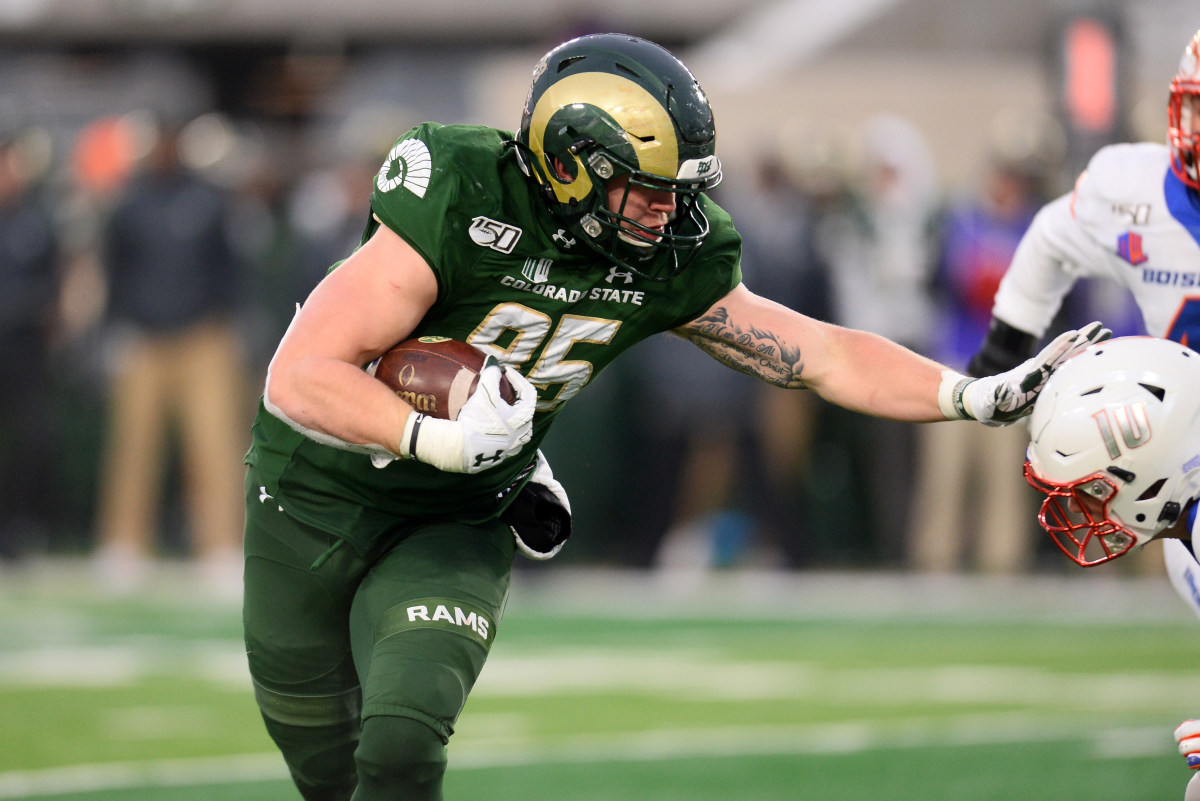 I don't know why Dom keeps sniping me or who gave him my notes, but once again, it happened. Thus, I was tempted to go Christian Watson or Rachaad White but decided that the fall for the TE1 this year needed to be stopped. Honestly, I don't know how these guys let him fall so low. McBride is the complete package. He can block, catch, route-run, and lead. He's reminiscent of Zach Ertz. He doesn't have one stand-out tool but is just good/great at everything. Getting a potential Zach Ertz this late in the draft is a massive steal.
2.09 – Christian Watson, WR 6'4″ 211
Josh Adkins @DynastyOasis
The hype has not been overblown, and it was present before the Senior Bowl. Jim Nagy, Senior Bowl Director, referenced this in an early January tweet, citing a Missouri Valley Conference coach who told Nagy that Watson is the "best FCS WR that his team has played against since Randy Moss was at Marshall." The Bison won another national championship in 2021, and Watson had his best statistical season, averaging 18.6 yards per reception and scoring 7 TDs. Christian's lanky 6'4″ frame and big-play ability stick out on film, primarily when running vertical routes. However, an interesting note when watching Watson is the number of times NDSU chose to use him as a backfield weapon, whether through jet motion or aligning him at RB. Christian may never live up to a Randy Moss comparison; however, it was clear that a Watson ratio was employed this year in Fargo. Now is the best time to join the #NerdHerd, and every target for this ascending FCS superstar is now available in the Prospect Film Room. Watson is worth the price of admission.
2.10 – Desmond Ridder, QB 6'4″ 216
Joe O'Leary @TheHQNerd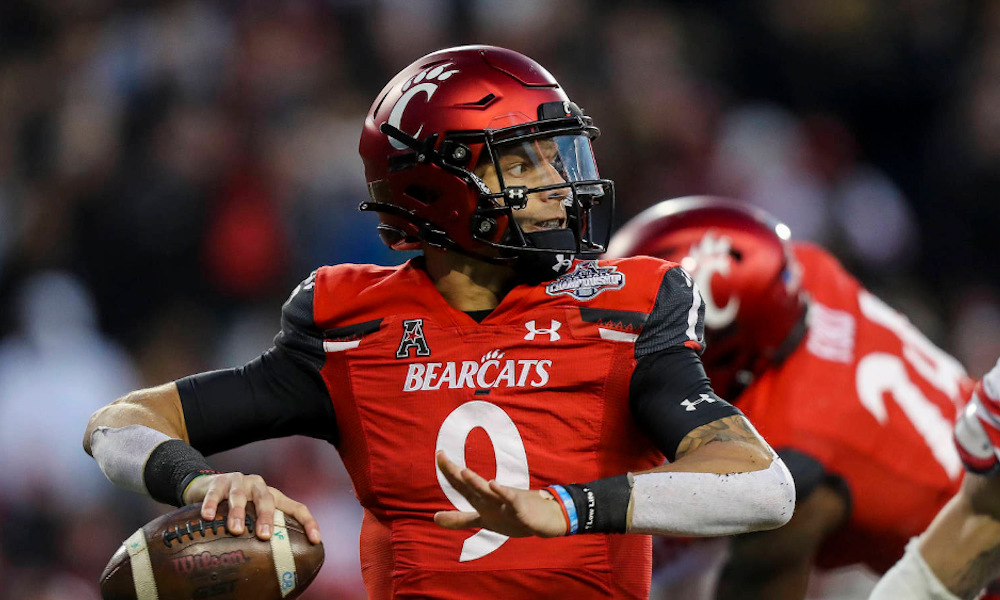 I'm not that high on Desmond Ridder, but this is Superflex, and I see a good amount of value in this pick. Ridder is a toolsy dual-threat quarterback with some imperfections. I have questions about whether he can consistently make the throws required at the next level. Despite that, there's no denying there's upside, and he will likely command solid draft capital. Ridder could even sneak into the late first round. At this juncture in rookie drafts, I'm comfortable taking a swing on Desmond Ridder.
2.11 – Rachaad White, RB 6'0″ 210
Matt Cooper @devy2DynastyFR
Rachaad White is a late bloomer, working his way from juco up to Arizona State, where he finally broke out this year as a senior. He posted nearly 1,500 all-purpose yards and 16 TDs this season. He has NFL size, good speed, great contact balance. I love his productivity as a pass-catcher. He seemed to have impressed at the Senior Bowl as well, which can only help his draft stock. It is a bit of a guessing game with this class after the top 3 RBs, but he is one of my favorites based on his tape. If he gets Day 2 draft capital, I can't imagine he will be on the board at 2.11 in any format.
2.12 – Jalen Wydermyer, TE 6'5″ 255
Jayson Snyder @Spydes78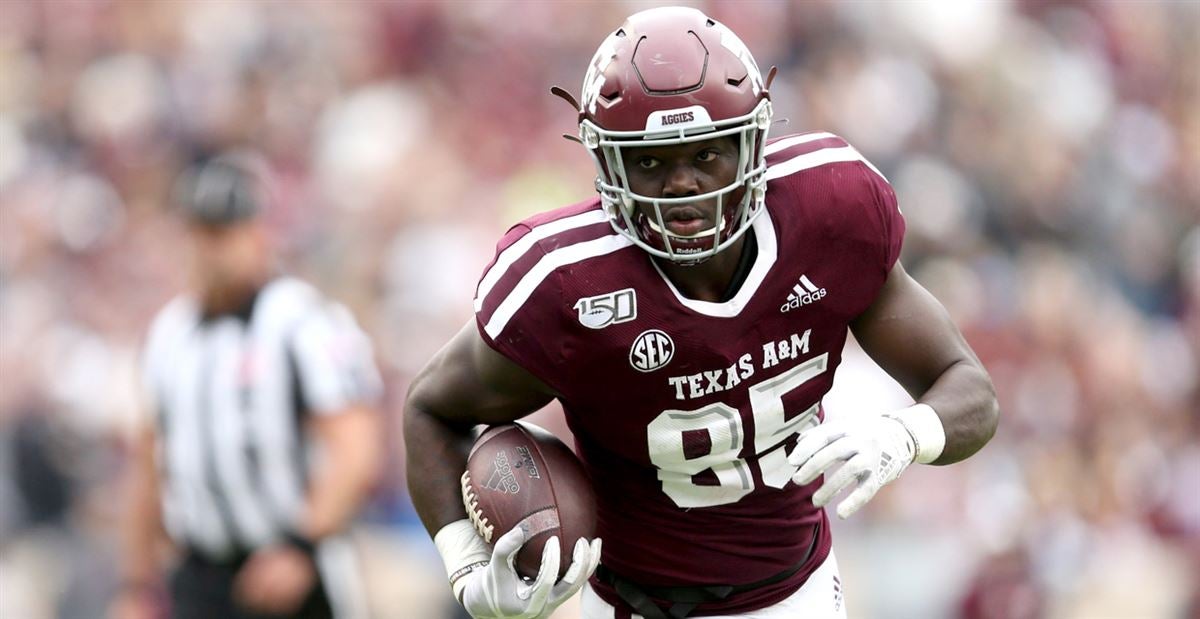 To date, Trey McBride has gotten the bulk of the attention for rookie tight ends. However, I expect that to change in early March with the start of the 2022 NFL Scouting Combine. Wydermyer is an impressive athletic specimen, and I anticipate some eye-catching metrics from this prospect when he gets under the NFL microscope. In addition to an athletic build, he showcases an array of great pass-catching traits while managing to hold his own as a blocker when called on to do so. I'm happy to land Wydermyer at the end of the second before he begins his imminent ascent up draft boards.
That wraps up Round 2 of the Superflex rookie mock draft. Be on the lookout for Round 1 of the 1QB draft to drop soon.
What was the biggest reach? Which player in the second round was the best value? Leave a comment and let us know.